Brown Sugar Snickerdoodle Cookies
Giant-sized snickerdoodle cookies made with brown sugar and rolled in cinnamon sugar for a sweet, crunchy exterior and soft, chewy center.
You guys, I tampered with my original snickerdoodle recipe. Guess what? Sometimes change is a good thing, and these brown sugar snickerdoodle cookies are proof.
I swapped out some of the granulated sugar and replaced it with dark brown sugar. The result is an extra soft and chewy cookie with a crunchy cinnamon-sugar exterior.
Oh, and I made them extra-large. Why? Because bigger is better. If you had to choose between an itty-bitty cookie and a massive, skull-sized cookie, which would you choose?
Exactly!
Like I said, bigger is better. Kind of like diamonds and dollar bills.
There is one thing I must warn you about… You have to let your dough chill for at least 4 hours in the fridge. No, these cookies are not what you would call instant gratification, but they're worth the wait.
Please, I beg of you, do not skip the part in the recipe instructions where it kindly informs you to chill the dough. And, if you do decide to not take my word and bake your cookies right away, don't come cryin' to me, because I told ya so.
So, if you want puffy, mammoth-sized cookies, chill your dough. In order to achieve my jumbo-sized cookies, I used a 1/4-cup cookie scoop. If you don't own said cookie scoop, measure out 1/4-cup sized dough balls using a measuring cup. Or, you can live on the edge and wing it.
Before you place your (chilled) dough balls in the oven, they take a swim in a cinnamon-sugar bath. Oh, how I wish I were that (chilled) dough ball.
Once baked, leave them to cool on the pan for at least 5 minutes. We don't want all of your effort to go to waste by trying to dislodge the cookies from the pan too early just to have turn into a crumpled heap.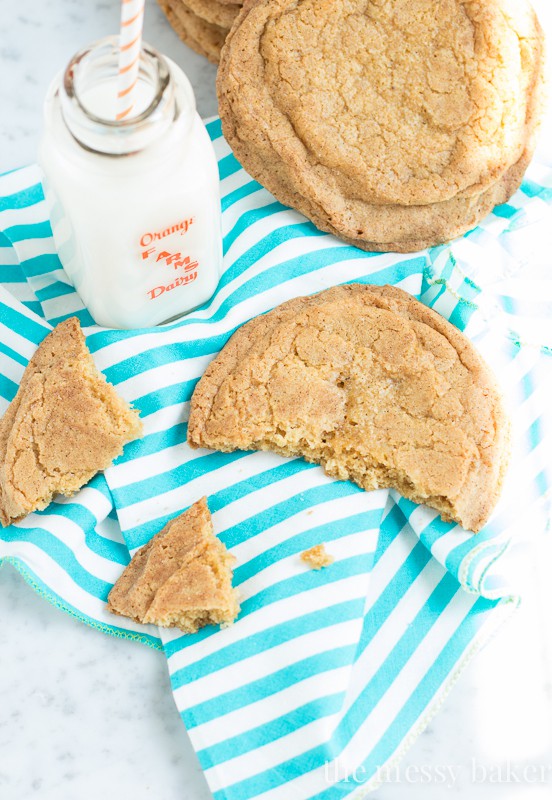 The outer layer of these doodles are glistening with cinnamon-sugar. One crunch through the crispy exterior and your lips graze the soft, caramelized center–so gooey, so chewy. It's pure doodle bliss.
Brown Sugar Snickerdoodle Cookies
Giant-sized snickerdoodle cookies made with dark brown sugar to create a moist, chewy cookie.
Ingredients:
1 cup unsalted butter, at room-temperature
1 cup granulated sugar, plus 1/2 cup for coating
1/2 cup dark brown sugar
2 large eggs
1 teaspoon vanilla extract
2 and 1/2 cups all-purpose flour
1 teaspoon baking soda
1/4 teaspoon kosher salt
2 teaspoons cream of tartar
1 tablespoon ground cinnamon
Directions:
In the bowl of a stand mixer fitted with the paddle attachment, cream butter, 1 cup of granulated sugar, and brown sugar on medium speed for 5 minutes, or until the mixture is light and fluffy. Be sure to stop the mixer a few times and scrape down the sides of the bowl. Beat in eggs, one at a time, for a total of 2-3 minutes, or until thoroughly combined. Scrape down the sides of the bowl. Beat in vanilla extract.
In a small bowl, whisk together flour, baking soda, salt, and cream of tartar. On low speed, slowly blend the flour mixture into the butter mixture. Turn the speed up to medium and beat the mixture until the flour is just combined, scraping down the sides of the bowl as needed.
Transfer the dough to an airtight container or a bowl covered with plastic wrap. Allow the dough to chill in the refrigerator for at least 4 hours (or overnight).
Preheat oven to 350 degrees F. Line a baking sheet with parchment or silicone baking mats.
In a small bowl, whisk together reserved 1/2 cup granulated sugar and cinnamon. Using a 1/4 cup cookie scoop, drop the dough into the sugar/cinnamon mixture and coat on all sides. Place four giant-sized dough balls on the prepared baking sheet, spacing them at least 5 inches apart. I stagger the dough balls on the pan instead of placing them in an even line.
Bake for 20-22 minutes, or until the cookies are a light golden color but still slightly soft in the center. Let the cookies cool on the baking sheet for 5 minutes before transferring them to a wire rack to cool completely.
Store the cooled cookies in an airtight container for up to 3 days.
If you prefer to bake regular-sized cookies, use a 1-tablespoon cookie scoop to prepare the dough as described above. Space the cookies 3-inces apart on the baking sheet and bake for 13-14 minutes. The recipe will yield between 24-28 smaller cookies.
Adapted from Flour Bakery + Cafe
All images and text © .
Whipping up one of my recipes? I wanna know about it! Snap a photo and tag your post with #onesweetmess on Twitter or Instagram. Seeing your creations come to life makes my day!