Pina Colada Fruit Dip
Whipped fruit dip with the flavors of coconut and pineapple.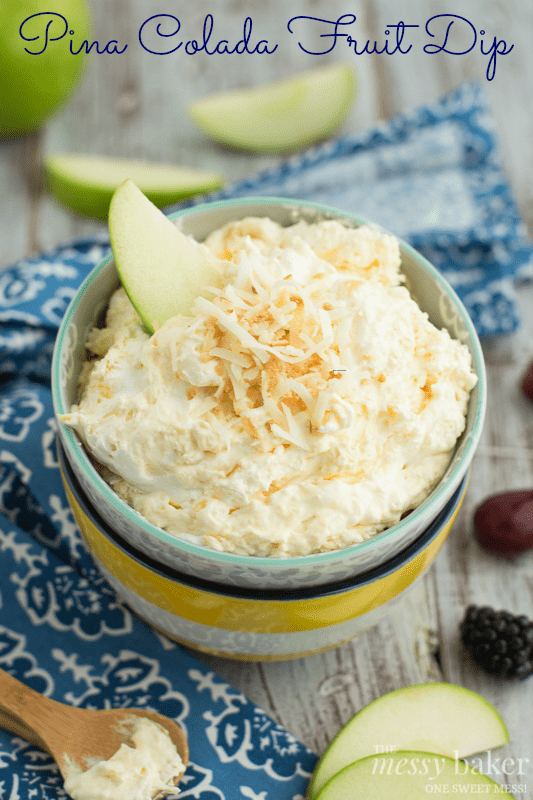 I'm back from vacation, and I already miss lazy days on the beach, glazed donuts, and mounds of pit beef topped with rich gravy.
Time flies when you're not at work.
Even though I slathered myself with layers of sunblock, I still managed to get a sunburn–go figure!
As promised, I made you a special summer treat after a long week of not posting any food.
I combined two of my favorite flavors–coconut and pineapple–to make one delicious dip. You're going to love dipping fresh fruit into this pina colada fruit dip.
It's creamy, fluffy, and perfectly sweet. I used coconut instant pudding and crushed pineapple to create that classic pina colada flavor that everyone loves so much.
I made a white chocolate version to take with us to the beach (since the guys turn their noses up at the sight of coconut), and everyone loved it. We dunked ripe strawberries, plump grapes, and crisp apples into the sweet whipped dip.
This dip only takes 5 minutes to whip up and an hour to cool in the refrigerator before serving. It's perfect for a summer barbecue, picnic, or late-night snack cravings.
The dip comes together easily in the bowl of your stand mixer or using a handheld mixer. Beat the cream cheese until smooth. Add the marshmallow fluff and instant coconut pudding and whip until light and fluffy and the pudding mixture dissolves and is no longer gritty. Stir in the crushed pineapple and fold in the whipped topping. Store in an airtight container and place the mixture in the refrigerator to chill for at least an hour.
It's that easy!
If you run out of fruit, there's no shame in using a spoon (or your fingers).
Pina Colada Fruit Dip
Whipped fruit dip made with tangy cream cheese, marshmallow fluff, coconut instant pudding, crushed pineapple, and whipped topping.
Ingredients:
4 ounces cream cheese, at room-temperature
1 (7-ounce) jar marshmallow fluff
1 (3.4-ounce) packet instant coconut pudding mix
1 (8-ounce) can crushed pineapple
1 (8-ounce) container whipped topping, thawed
Toasted coconut for topping, optional
Directions:
In the bowl of a stand mixer attached with the whisk attachment, whip the cream cheese until smooth. Add the marshmallow fluff and coconut pudding. Whip until the mixture is light and fluffy and the pudding mix dissolves and is no longer gritty, about 3 minutes.
Strain the crushed pineapple through a fine mesh sieve. Using your hands, press down on the pineapple until most of the juice is strained.
Add the crushed pineapple to the cream cheese mixture and whisk until just combined. Fold in the whipped topping.
Transfer the mixture to an airtight container and store in the refrigerator for at least an hour before serving. Top with toasted coconut.
Serve with fruit, graham crackers, vanilla wafers, or pretzel sticks.
All images and text ©
.
Whipping up one of my recipes? I wanna know about it! Snap a photo and tag your post with #onesweetmess on Twitter or Instagram. Seeing your creations come to life makes my day!