Funky Monkey Grilled Cheese ~ #SundaySupper
A sweet, gooey dessert grilled cheese oozing with chocolate, peanut butter, bananas, and melted marshmallows.
I have several favorites when it comes to food. I am, after all, a foodie. Cheese, however, is in an entirely different category. The word "favorite" doesn't even begin to describe my adoration for cheese.
I'll take any excuse to create a lavish cheese platter. If there is such a cheese platter present, I'll be the first in line with my plate, ready to gorge myself with several helpings of cheese.
When it comes to cheese, boundaries become obscured and limits are breached. I will eat all the cheese.
Squirrel mentioned the phrase too much cheese once, and only once. I quickly nipped that in the bud. I can't allow that kind of talk in this house. Who knows what could happen if that sort of information were to slip into the hands of the wrong person. I can't risk it. Psht, too much cheese! No. Such. Thing.
Today the #SundaySupper team is partnering with Gallo Family Vineyards to celebrate grilled cheese. Melted, gooey cheese sandwiched and oozing between two slices of fresh bread.
Grilled cheese is extremely versatile. The other day I spread left over soft garlic and herb cheese on homemade bread and topped it with thick slices of mozzarella. I grilled it on each side until the mozzarella seeped from the two slices of bread. I paired it with homemade roasted tomato soup. Just a little something I threw together on a rainy Saturday.
Today I'm going a different route and making dessert grilled cheese to pair with Gallo Family Vineyards' Café Zinfandel, a sweet and fruity red wine with a subtle effervescence.
You guys, this dessert grilled cheese is ridiculous. First, I used fresh bread. I woke up extra early and baked a loaf of simple white bread. Fresh bread will always make a better grilled cheese sandwich. If you want to get a little fancy, you can make or buy a fresh loaf of brioche bread.
I smeared one half of the bread with a mixture of cream cheese, peanut butter, and honey. I topped it with thin slices of ripe banana and a handful of mini marshmallows. I spread the second half of the bread with a generous scoop of chocolate hazelnut spread. I then slapped the two halves together and seared each side in a pool of butter until perfectly golden brown.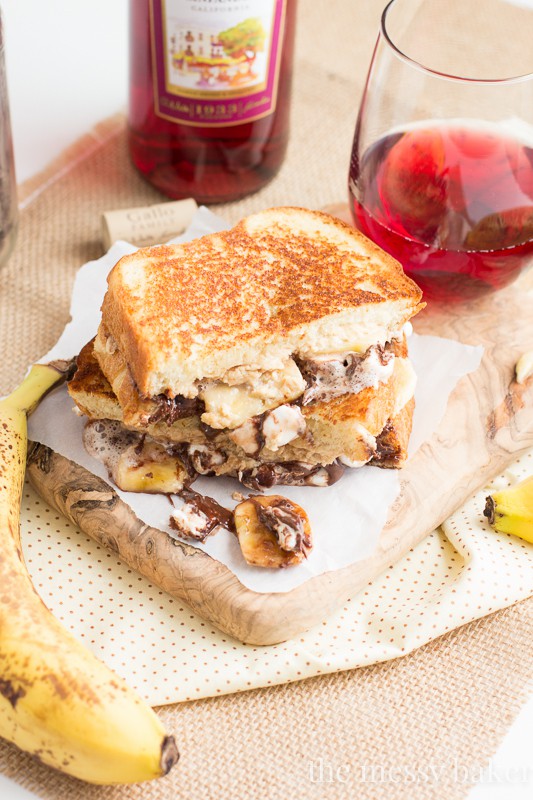 Sweet, crispy, and oozing gooey deliciousness.
The mallows melt to form a sweet, sticky layer that coats the banana slices and marries the two slices of bread. The cream cheese adds a slight tang that pairs perfectly and balances the sweet chocolate hazelnut layer.
Once cut in half, there's no controlling the sticky ooze that seeps out and creeps down your fingers as you devour the sandwich. Enjoy with Gallo Family Vineyards' Cafe Zinfandel.
You can follow Gallo on Facebook, Twitter, and Instagram. Click here to find a Gallo retailer near you.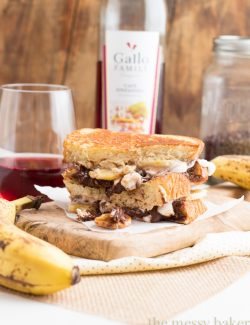 Funky Monkey Dessert Grilled Cheese
A sweet, gooey dessert grilled cheese oozing with chocolate, peanut butter, bananas, and melted marshmallows.
Ingredients:
2 slices white or brioche bread

1 tablespoon cream cheese, softened

2 teaspoons creamy peanut butter

1/2 teaspoon honey

1 tablespoon chocolate hazelnut spread

1/2 banana, sliced

2 tablespoons mini marshmallows

1 tablespoon butter
Directions:
In a small bowl, add cream cheese, peanut butter, and honey. Stir to combine.

Spread cream cheese mixture on one slice of bread. Top with banana slices and mini marshmallows. Spread chocolate hazelnut spread on the other slice of bread and place it on top of the slice with bananas.

Heat 1 tablespoon of butter in a sauté pan over medium-low heat. Place the prepared sandwich in the pan. Cook for 2-3 minutes on each side, or until golden brown.

Slice the sandwich in half and serve warm.

All images and text ©

.

Whipping up one of my recipes? I wanna know about it! Snap a photo and tag your post with #onesweetmess on Twitter or Instagram. Seeing your creations come to life makes my day!
Join the #SundaySupper conversation on twitter on Sunday! We tweet throughout the day and share recipes from all over the world. Our weekly chat starts at 7:00 pm ET. Follow the #SundaySupper hashtag and remember to include it in your tweets to join in the chat. Check out our #SundaySupper Pinterest board for more fabulous recipes and food photos.
Would you like to join the Sunday Supper Movement? It's easy! You can sign up by clicking here: Sunday Supper Movement.
Check out the other #SundaySupper grilled cheese recipes:
Compensation was provided by Gallo Family Vineyards via Sunday Supper, LLC. The opinions expressed herein are those of the author, and are not indicative of the opinions or positions of Gallo Family Vineyards.