Turtle Cheesecake Swirl Brownies
Rich, gooey brownies loaded with toasted pecans and Ghirardelli chocolate baking chips topped with a swirled caramel cheesecake layer.
Do you have a chip of choice that you use when whipping up sweet magic in the kitchen? My chip of choice is Ghirardelli Baking Chips. Whenever they go on sale, I become a chocolate chip hoarder, filling my cart to the brim. Running out of chocolate chips is not an option.
You just never know when the need for chocolate chip cookies will strike.
When Ghirardelli asked me to partner with them to create a Valentine's Day recipe, I could hardly contain my excitement. My heart rate began to steadily increase, my right eye started to twitch, and I began stumbling over my words.
"Mmm mm mm me?"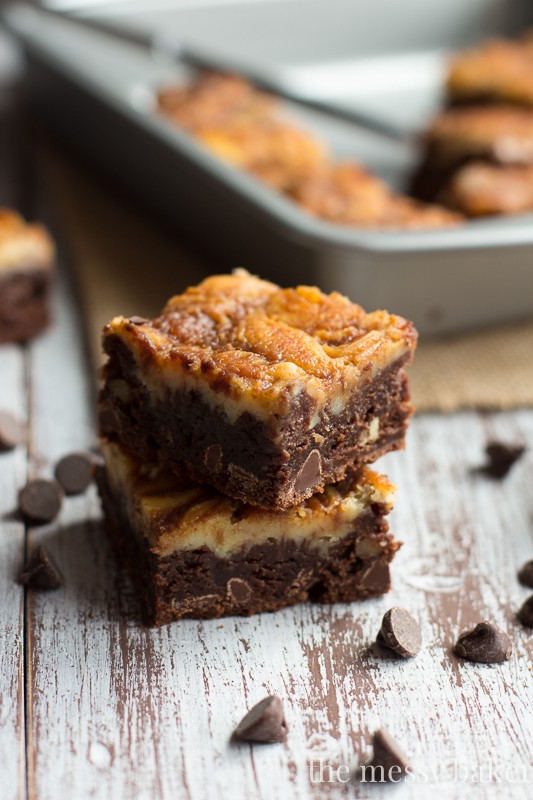 Thank goodness my inner cool girl intercepted. Here's how the conversation went:
"Snap out of it, Jennie. Don't go acting a fool just yet."
"But it's Ghirardelli!" I pleaded.
"I understand your excitement, but there's no need to embarrass yourself," she urged.
"Ugh, fine!"
It was tough, but I was able to take it down a notch and act like a civilized adult.
I use Ghirardelli Baking Chips in just about every recipe that calls for chocolate, so this partnership was like winning the chocolate lottery.
Why I love Ghirardelli:
They're chocolate is silky smooth and extremely creamy.
No sooner their chocolate hits your tongue, it begins to melt instantly, coating your tongue with velvety sweet chocolate.
Their baking chips melt better than any other chocolate chip I've ever used. Hello, truffles!
It's rich. Oh my, is their chocolate rich.
Their chips are readily available in my local grocery store–no special ordering or shipping required, which is great for this impatient baker.
For this recipe, I used Ghirardelli's 60% Cacao Bittersweet Chocolate Baking Chips. This specific chip teeters between semi-sweet and dark.  If you love dark chocolate, then you'll love these bittersweet morsels. They're pure chocolate flavor with a hint of sweetness.
The brownie base is thick, rich, and gooey. There's no need to break out the mixer because this recipe comes together effortlessly with a wooden spoon and some arm power. I stirred in a generous handful of toasted pecans and Ghirardelli  Baking Chips. The chips take this brownie from decadent to intensely chocolate-y.
The swirl is a combination of cheesecake and rich, buttery caramel sauce.
The cheesecake layer is made with four simple ingredients: cream cheese, one egg yolk, sugar, and vanilla extract.
I used my no-fail caramel for this recipe. Feel free to use your own caramel recipe or your favorite store-bought caramel.
The layers:
Spread the brownie mixture evenly into the bottom of the pan.
Spread the cheesecake mixture evenly over the brownie mixture.
Drizzle the caramel over the cheesecake layer.
Swirl together with a butter knife.
Blow someone's mind this Valentine's Day with this insanely decadent brownie recipe. Click here for more information about Ghirardelli Baking Chips.
Turtle Cheesecake Swirl Brownies
Rich, gooey brownies loaded with toasted pecans and Ghirardelli chocolate baking chips topped with a swirled caramel cheesecake layer.
Ingredients:
Brownies:
2/3 cup bittersweet chocolate chips (such as Ghirardelli)
1 stick unsalted butter, melted
2 eggs
1 cup sugar
1 teaspoon vanilla extract
2/3 cup plus 2 tablespoons all-purpose flour
1/4 cup cocoa powder
1/2 teaspoon kosher salt
1/2 cup toasted pecans, roughly chopped
1/2 cup semi-sweet chocolate chips
Cheesecake Layer:
8 ounces cream cheese, softened
1/4 cup sugar
1/2 teaspoon vanilla extract
1 egg yolk
4 tablespoons caramel
Directions:
Brownies:
Preheat the oven to 350 degrees F. Line a 8-by-8-inch square pan with parchment that overlaps on each side of the pan. Spray the pan with non-stick baking spray.
In a small bowl, whisk together flour, cocoa powder, and salt.
Melt the chocolate over a double boiler until smooth. Take off the heat and allow the chocolate to cool slightly.
In a large bowl, whisk together the sugar and the eggs until slightly pale in color, about 1 minute. Whisk in the melted butter, vanilla extract, until combined. Whisk in the chocolate.
Fold in the flour mixture until thoroughly combined.
Gently fold in the chocolate chips and toasted pecans.
Pour the batter into your prepared brownie pan.
Cheesecake Layer: In a large bowl, beat the cream cheese and sugar with a handheld mixer until smooth and creamy. Add the vanilla extract and egg yolk. Beat until combined.
Spread the cheesecake mixture over the brownie mixture. Drizzle with caramel. Using a knife, swirl the caramel and cheesecake layer together.
Bake for 35 minutes, or until a toothpick inserted into the center comes out mostly clean (a few crumbs are okay).
Allow the brownies to cool in the pan for 30 minutes before transferring to a wire rack to cool completely. When the brownies are completely cool, cut into squares with a serrated knife.
All images and text ©
.
Whipping up one of my recipes? I wanna know about it! Snap a photo and tag your post with #onesweetmess on Twitter or Instagram. Seeing your creations come to life makes my day!
I was selected for this opportunity as a member of Clever Girls Collective and the content and opinions expressed here are all my own.