Puppy Lovin': Peanut Butter Bacon Dog Biscuits
Crunchy peanut butter bacon doggie treats for your favorite furry friend. Because puppies need love, too!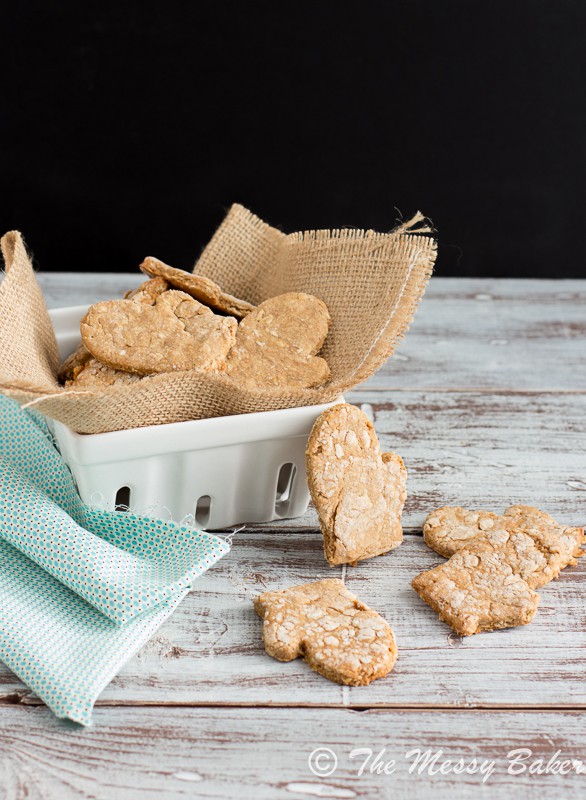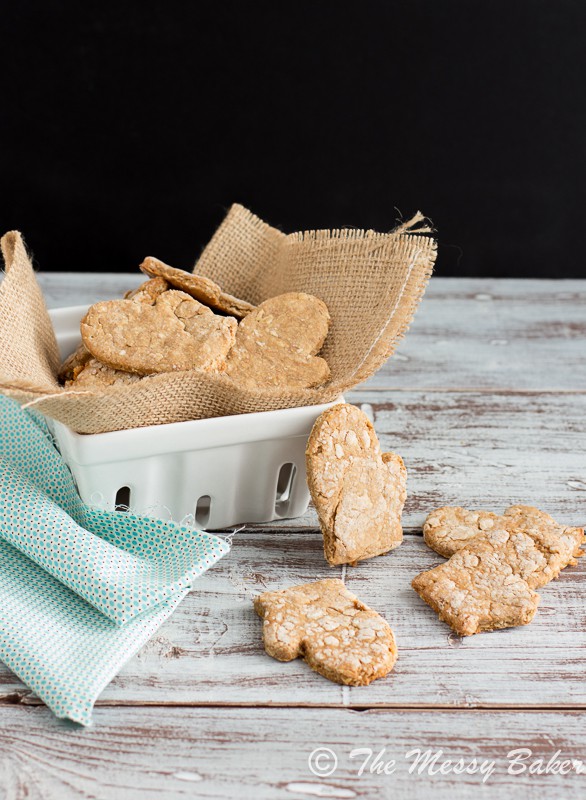 Hello, my lovely readers! I hope you guys had a wonderful, fun-filled, relaxing Christmas and New Year. I took a bit of time off from the blog to visit with some out-of-town family. It was so nice to relax and kick back with good food, laughter, and the love of family and friends. I'm excited to see what 2014 brings (delicious food, of course).
While I was pumping out batch after batch of cookies for Christmas, Maddox would sit in the kitchen staring at me with his sad, hopeful puppy eyes waiting for a handout. His staring was relentless, boring into my back pleading for a wee crumb of sugar cookie. 
Those eyes! How can you resist those damn expressive puppy eyes? It's hard, I tell ya.
By some smidgen of luck, I stayed firm and didn't give in to those pleading eyes. I did, however, make him a batch of homemade peanut butter bacon dog biscuits (also known as puppy cookies). I even used a cute, wintery mitten cookie cutter.
Spoiled much?
I'll admit it. I used to be the gal that spent mucho moolah on fancy dog treats…because those sad, puppy eyes are totally worth every penny, right?
Not anymore, my friends. I decided to get frugal and started rolling out homemade puppy treats for my favorite furry pal.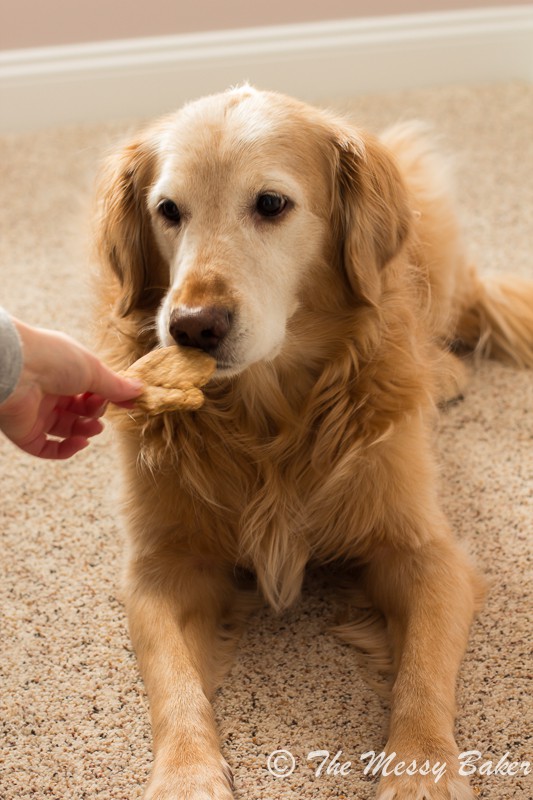 I was supposed to have this recipe to you before Christmas so you could whip up some for that sad puppy face of your own, but the dozens of cookies, fudge, and ice cream pies (thanks a lot, dad!) put me a wee bit behind.
No worries, though, your furry friend will accept these all year long.
This recipe comes together in a pinch and only requires one bowl for mixing. Hallelujah, less dishes!
After the dough comes together, transfer it to a lightly floured surface and begin rolling. No refrigeration required. Yup, the recipe just got better.
I like to roll my dough out to about 1/4-inch thick. Using a cookie cutter of your choice, cut out your cookies and place them on a parchment-lined baking sheet. Bake until golden brown in color.
Allow the cookies to cool before teasing your puppy with it, making him act like a circus clown, or getting him/her to use the outdoor facilities. Watch them happily devour the cookie and beg for more with those damn, sad eyes.
I suppose we'll be tormented with those sad eyes no matter what we do.
Warning: Prepare to be followed by a whining, tail-wagging, furry-faced friend until their next treat.
Peanut Butter Bacon Dog Biscuits
A crunchy peanut butter and bacon flavored treat for the furry friend in your life.
Yield: 40 Biscuits
Total Time: 35 minutes
Prep Time: 10 mins
Cook Time: 20-25 minutes
Ingredients:
1/2 cup creamy peanut butter
1/4 cup honey
2 tablespoons solidified bacon grease
1 cup chicken broth
1 cup old-fashioned rolled oats
1 cup whole wheat flour
1 cup all-purpose flour
1/2 teaspoon kosher salt
Directions:
Preheat the oven to 350 degrees F. Line a baking sheet with parchment paper or a silicone baking mat.
In a large bowl, whisk together peanut butter, honey, bacon grease, and chicken broth.
Add the dry ingredients. Mix with a wooden spoon until thoroughly combined (the dough will be very thick).
Transfer the dough to a lightly floured surface. Using your hands, press the dough into a disk. Roll the dough out to about a 1/4-inch thick. Cut the dough with a cookie cutter of your choice. My mitten was 2 inches wide by 3 inches in length. Place the biscuits 1-inch apart on your prepared baking sheet.
Bake for 20 minutes, or until golden brown. Allow the biscuits to cool for 5 minutes on the pan before transferring them to a rack to cool completely.
Store in a cookie jar (biscuit jar) or airtight container for up to 10 days.
If you use a smaller cookie cutter, cut down the baking time by a few minutes.
Whipping up one of my recipes? I wanna know about it! Snap a photo and tag your post with #onesweetmess on Twitter or Instagram. Seeing your creations come to life makes my day!
23 Responses to "Puppy Lovin': Peanut Butter Bacon Dog Biscuits"