Thin Mint Ice Cream Pie
A deliciously minty ice cream pie drizzled with fudge and sprinkled with Andes mint pieces and Thin Mint cookies.
Welcome to Day #5 of Christmas Week, a multi-blogger event co-hosted by Kim of Cravings of a Lunatic and Jen from Juanita's Cocina! Each day we will be celebrating the holidays with a different set of Christmas-themed treats, as well as a fabulous Christmas giveaway. We hope you enjoy this fabulous event. Tune in each day starting today, Monday, December 9th and ending Saturday, December 14th.
Guys, I saved the best for last. There's only one more day of Christmas Week left before it's over, and I knew I had to go out with an epic bang.
This recipe was inspired by this Peanut Butter Ice Cream Pie from Sally's Baking Addiction. I've made this pie (full fat version) for my peanut butter loving father a few times (five). Guys, he begs me for this pie…like, every week. He sends me texts of his lower lip dangling in sadness in hopes that I'll feel bad for him and make this pie. He has even gone so low as to threaten me in order to get pie, telling me he'll hold my mom hostage and not let her go shopping with me if he doesn't get pie. Granted, I don't think he has that kind of authority over my mom, but you see the point I'm trying to make here.
If I hear him say the word pie one more time…
After my dad received and ate his third (total fatty, guys) pie, Squirrel began begging me for a pie. Now I have two grown men whining for pie–it's a double whammy!
Squirrel: Why does your dad always get pie? That's not fair?
Me: I only own one springform pan. I'll make you a pie when he returns my pan.
Squirrel: Your dad always gets what he wants. I never get anything.
Me: Lies!
Squirrel: It's true. He's had like three pies, and I haven't had any.
Me: I said I'll make the pie when he returns my pan. I only have one pan. Quit being dramatic!
Squirrel: I want a pie now.
You guys, if I hear the word pie one more time…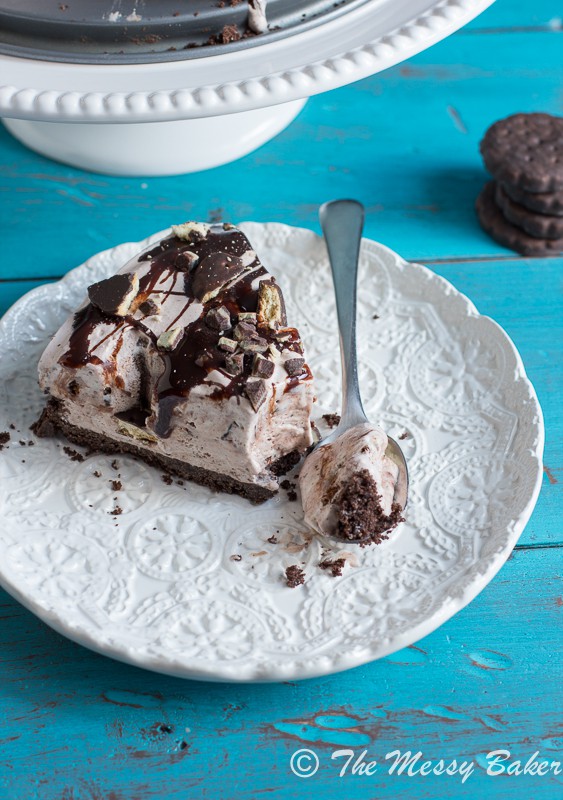 I came home the other day to a carton of Breyer's Thin Mint ice cream, courtesy of, you guessed it, Squirrel. "I want mint pie," he exclaimed. "Fine," I snarled, seeing red at this point for hearing the word "pie" again, for the millionth time.
Squirrel inspired this particular version of frozen pie when he came home from the store holding a carton of minty ice cream.
Three days after he bought the ice cream:
Squirrel: Where's my pie? I bought the ice cream three days ago.
Me: If you say the word pie one more time, I'm going to chuck the ice cream at your head. I decided to make a special pie using your ice cream for the blog. I'm going to make it on Friday and take pictures of it on Saturday. When I'm finished, you can have your damn pie.
Squirrel: Your dad didn't have to wait for you take pictures of the pie before he could eat it.
Given the circumstances, Squirrel is no longer with us. There was accident involving an ice cream carton to the head. It's real sad, but I'll move on.
This pie is super easy to make. It only takes 10 minutes from start to finish. You can use your favorite mint ice cream to make this pie. I used Breyer's Thin Mint ice cream because that's what Squirrel came home with.
The crust: I find chocolate grahams to be the easiest and tastiest cookie (cracker?) to use for the crust. Pulverize approximately 15 chocolate grahams in your food processor until it resembles a fine crumb and stir in the melted butter until the crumbs are evenly coated in buttery goodness. Press the pulverized cracker mixture into the bottom and up the sides of your springform pan. I got real technical and used a glass to press my crust into place. If you have some fancy pie crust press, feel free to use it. Viola, crust!
The innards: Stir the ice cream and Cool Whip together until thoroughly combined and spread it evenly over the crust. I find it easier to mix the ice cream and Cool Whip together after the ice cream sets out and softens a bit. Drizzle chocolate fudge over the ice cream. Sprinkle with coarsly crushed grasshopper cookies (or Thin Mints) and Andes chocolate pieces. Cover and freeze until firm.
When you present this pie, the crowd will go wild. My dad consumed an entire pie (alone, with no help) in a matter of days. Your peeps will gobble this up in no time. Now that I think of it, you might want to consider making two pies.
The chocolate crust is buttery and mildly sweet, creating the perfect vessel for ice cream inhalation. The ice cream layer is fluffy and super creamy, and, as if that weren't enough, the entire thing gets drizzled with decadent fudge and addictive Andes mints.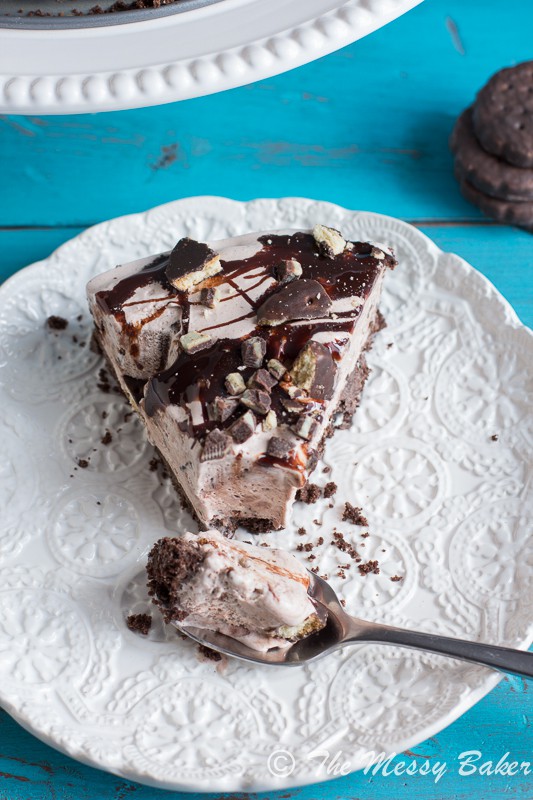 This thin mint ice cream pie will quickly become a favorite.
Thin Mint Ice Cream Pie
A deliciously minty ice cream pie drizzled with fudge and sprinkled with Andes mint pieces and Thin Mint cookies.
Ingredients:
2 cups (approximately 15 crackers) chocolate graham cracker crumbs
1 stick unsalted butter, melted
1 (1.5 quart) container Thin Mint ice cream, slightly softened
1 (8-ounce) container Cool Whip, thawed
1/3 cup fudge
1/2 cup crushed Thin Mint pieces
1/4 cup Andes mint pieces
Directions:
In a bowl, stir together cracker crumbs and melted butter until evenly coated.
Press the cracker mixture into the bottom and up the sides of a 9-inch springform pan.
In a large bowl, fold the Cool Whip into the softened ice cream until throughly combined. Spread the ice cream mixture evenly over the crust.
Drizzle the fudge over the top of the pie. Sprinkle with Thin Mint cookie pieces and Andes mint pieces.
Cover and freeze for at least 6 hours, or until firm.
Whipping up one of my recipes? I wanna know about it! Snap a photo and tag your post with #onesweetmess on Twitter or Instagram. Seeing your creations come to life makes my day!