Hot & Spicy Giardiniera ~ #SundaySupper
This week the #SundaySupper crew is preserving the summer harvest. That means we're canning, pickling, and jamming our favorite summer produce. I decided to make a Hot & Spicy Giardiniera mix. You won't believe how easy it is to make. Oh, it's way better than the jarred brands in the store.
I love summer. Really, I do. Yes, it's dog-breath hot outside (how'd you like that for imagery), but you can't beat all of the fresh produce that grows in the hot summer sun. Peaches. Big, ripe, juicy peaches. There's nothing like biting into a peach fresh off the tree and licking the juice that trickles down your wrists and onto your arms. Then there are the tomatoes. I look forward to those massive red orbs that glow bright red when the sun hits the vines just right in my garden. Homemade marinara, you never tasted so good! Let's not forget about the zucchini. They've practically taken over my garden with their enormous, elephant-ear like leaves. So many zucchini. Fresh juicy melons, cucumbers right off the trellis, pink radishes, any array of fancy beans, and the list trails on.
Canning is now considered retro, part of the good ol' past. It's unfortunate, really. I don't think people realize how easy canning can be. Some shy away from the process because it's intimidating and daunting. The word "botulism" comes to mind. As long as you clean you sterilize your jars and use new seals each time you can, you're good to go. Sterilize, fill, boil, wait until you hear the ubiquitous pop of the seal. It's that simple. No, canning doesn't require any fancy equipment: jars, lids, seals, dish towel, tongs, and a big pot are all you need. If you want an easy introduction on canning, read my peach butter post.
If canning still gives you anxiety, you can always resort to the refrigerator method. This hot & spicy giardiniera doesn't require old-fashioned canning. All you have to do is chop the veggies, heat the brine, fill the jar, and refrigerate. Viola!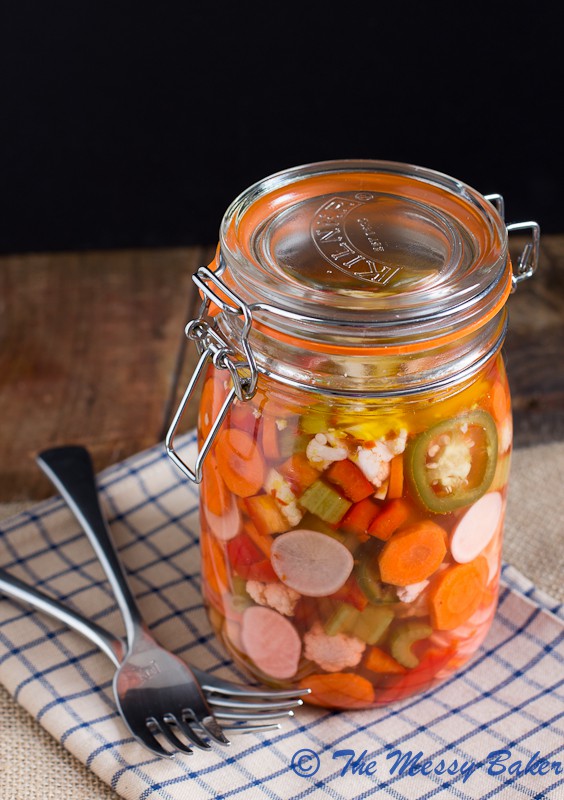 Whatever you do, don't be like me. Don't lean over the pot as you're stirring the brine and take a big ol' whiff. Don't do it! That vinegary brine took my breath away. I gagged and chocked and my eyes teared up. What possessed me to do that, I'll never know. Big dummy!
I started off by making a slightly sweet and salty brine by heating vinegar, water, salt, and sugar. I tossed in a heaping teaspoon of red pepper flakes to give it that warm background heat and added some jalapenos and Serrano chiles to pack a burst of heat in the foreground.
Spicy, sweet heat makes this giardiniera unlike any other you'll find in the store.
Like me, you're going to want to pile it high on a cold cut, layer it on a salad, or spoon into your mouth directly from the jar.
Check out the other summer harvest recipes:
Cool Condiments:
Chow Chow Relish from Magnolia Days
Homemade Hot Dog Relish from Juanita's Cocina
Fabulous Fruits:
Apricot Ginger Jam from Happy Baking Days
Banana Jam from Killer Bunnies, Inc
Blueberry Cheesecake Ice Cream from Gotta Get Baked 
Blueberry Lemon Basil Jam from Daily Dish Recipes
Candied Watermelon Rind fromWhat Smells So Good?
Fig and Strawberry Jam from Jane's Adventures in Dinner
Mixed Berry Rhubarb Jam from Hezzi-D's Books and Cooks
Mulberry Jam from Curious Cuisiniere 
Quick Peacharine Chutney from Shockingly Delicious
Pineapple Upside Down Cake Freezer Jam fromCookin' Mimi
Strawberry Butter from The Urban Mrs
Other Outstanding Recipes:
Fireweed Jelly fromThe Foodie Army Wife 
Flavoured Butters from Small Wallet, Big Appetite
Gravlax fromThat Skinny Chick Can Bake
Vivacious Vegetables:
Corn Cob Jelly from Blueberries and Blessings
Deep South Dilly Beans from Eat, Move, Shine
Fermented (Sour) Pickles from Growing Up Gabel 
Fire Roasted Salsa fromPeanut Butter and Peppers
Hot and Spicy Giardiniera from The Messy Baker
Hot Italian Giardiniera from Healthy. Delicious.
Jalapeños en Escabeche (Pickled Jalapeños) fromLa Cocina de Leslie
Oi Kimchi (Korean Cucumber Kimchi) from kimchi MOM
Refrigerator Dill Pickles from Country Girl in the Village
Spicy Sweet Tomato Chutney fromFood Lust People Love
Traditional Escabeche (Pickle) fromBasic N Delicious
Join the #SundaySupper conversation on twitter each Sunday. We tweet throughout the day and share recipes from all over the world. Our weekly chat starts at 7:00 pm EST. Follow the #SundaySupper hashtag and remember to include it in your tweets to join in the chat. Check out our #SundaySupper Pinterest board for more fabulous recipes and food photos.
Would you like to join the Sunday Supper Movement? It's easy. You can sign up by clicking here → Sunday Supper Movement.
Hot & Spicy Giardiniera
Recipe Type: Canning, Vegetable
Author:
Prep time:
Cook time:
Total time:
Ingredients
Brine
1 cup distilled vinegar
1 cup water
1/4 cup + 1tbs. sugar
2 tbs. kosher salt
1 tsp. red pepper flakes
1 jalapeño, thinly sliced
1 Serrano, thinly sliced
Veggies
1/2 cup diced red pepper
2 stalks celery, cut into 1/4-inch slices
4 radishes, sliced
2 carrots, peeled and sliced
1 1/2 cups cauliflower florets, cut into small pieces
Instructions
In a medium saucepan, add vinegar, water, sugar, salt, and red pepper flakes. Bring the mixture to boil. Take the mixture off of the heat and add the jalapeño and Serrano slices. Allow to cool for 15 minutes.
While your mixture is cooling cut up all of your veggies. Add the veggies to a bowl and mix to combine. Fill a 1.5 liter glass clip top jar or mason jar half way with the veggie mixture. Pour half of the warm brine over the veggies. Add the remaining veggies and top with the remaining brine.
Place in the refrigerator. Allow the mixture to pickle for at least 48 hours before serving. Store in the refrigerator for up to 1 month.