Blueberry-Coconut Bundt ~ #BundtAMonth
I learned something about myself on Friday. I'm getting old, and I'm no longer hardcore. I don't stay up late, wake up with hangovers, go clubbing, sky dive, or bungie jump. And you know what? I'm okay with that.
I'm more of a sit-back-and-watch-the-crazies while slowly sipping on a cocktail kind of gal. I realized just how non-hardcore I am when Squirrel and I were at the Limp Bizkit concert on Friday evening. I was standing against the rail on the second tier balcony above the stage so I would have a decent view of the stage and sort of seclude myself from the crowd. Thank goodness I did, because as soon as the show started, the crowd went bonkers. Like, gigantic mosh pit bonkers! I've been to several concerts, none of which have been as rowdy and wild as this one. I watched a guy leap over the second floor railing as if he could fly. Well…he couldn't. He ended up landing on some poor innocent soul on the first floor. Crazy! I would have feared for my life if I wasn't safely isolated upstairs and away from the crowd of wild monkeys.
I had a great view of the crowd from the second floor. Looking down over the rail, all I could see was a sea of people swaying back and forth like rolling waves, their heads bobbing up and down with the beat of the music. My brother-in-law was brave enough to face the crowd of wild monkeys. Squirrel and I? Not so much. I would have been trampled, kicked, and knocked around like a weightless rag-doll. I would have drowned in the sea of people. But not my brother-in-law. I watched him bump and sway with the crowd. I watched him like a hawk, fearful that he may go down and never resurface. He was a crowd-surfing trooper. I was in awe of his bravery.
I may not be a hardcore, crowd surfing diva, but I'm hardcore in other, less brutal ways. I can garden with the best of them. I'm a hardcore vegetable planter. Does that count? I can mix a cocktail like no other. How about that? Does that count as hardcore?
I know one thing. I'm a hardcore foodie–always have been, always will be. Who needs crowd surfing when you have baking skills?
This month's #BundtaMonth theme is berries, and since blueberries are one of my favorite berries, I decided to bake a blueberry-coconut bundt.
This bundt recipe was inspired by this very delicious blueberry muffin recipe I made a few weeks ago from Honey What's Cooking? The muffins were so good that I had to create something else that combined the flavors of blueberry and coconut.
The slightly sweet cake is buttery with a moist, tender crumb. Each bite is bursting with sweet blueberries and flecks of toasted coconut. I added a bit of lemon zest to brighten up the cake and add an extra layer of flavor.
I consider this the perfect breakfast cake. It's not too sweet and pairs well with a cup of coffee or tea.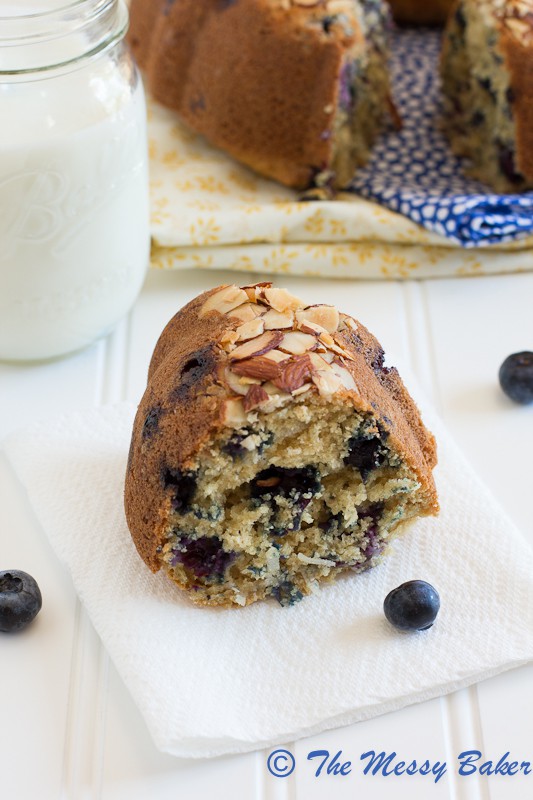 Enjoy!
Don't forget to check out the other berrilicious bundts:
We have a berrilicious theme this month for #bundt-a-month. 14 gorgeous cakes using berries in every form will be inspiration enough for you to bake with us this month.
Here ís how you can be a part of Bundt-a-Month:
• Simple rule: Use your favorite berries or a combination of two and bake us a Bundt for May
• Post it before May 31, 2013
• Use the #BundtaMonth hashtag in your title. (For ex: title could read #BundtaMonth: Cherry Bundt)
• Add your entry to the Linky tool below
• Link back to our announcement posts
Even more bundt fun! Follow Bundt-a-Month on Facebook where we feature all our gorgeous bundt cakes. Or head over to our Pinterest board for inspiration and choose from hundreds of Bundt cake recipes.
Blueberry-Coconut Bundt
Recipe Type: Cake
Author:
Prep time:
Cook time:
Total time:
Serves: 8
Ingredients
1 1/2 cups all-purpose flour
1 cup white whole wheat flour
2 tsp. baking powder
1/2 tsp. baking soda
1/2 tsp. kosher salt
1/2 cup toasted coconut
1 stick unsalted butter
3/4 cup sugar (I used Zulka)
2 eggs
1 tsp. vanilla extract
2 tsp. lemon zest
1 cup buttermilk
1 1/2 cups blueberries (do not thaw if using frozen)
1/2 cup sliced almonds
1/4 cup coconut
Instructions
Preheat oven to 350 degrees F. Grease and flour a bundt pan.
In a large bowl, whisk together all-purpose flour, white whole wheat flour, baking powder, baking soda, salt, and toasted coconut. Set aside.
In the bowl of a stand mixer, cream butter and sugar until fluffy and pale in color, about 3 minutes. Add the eggs one at a time, incorporating well after each addition. Add vanilla and lemon zest; beat to combine.
Scrape down the bowl. Add the flour mixture to the egg mixture in 3 batches, alternating and ending with the buttermilk. Scrape down the bowl and give it one more whisk.
Fold in the blueberries.
Add the sliced almonds and 1/4 cup of coconut flakes to the bottom of the bundt pan. Transfer the batter to the bundt, directly over the almond/coconut mixture. Smooth the batter with a rubber spatula.
Bake for 40-45 minutes, or until a toothpick inserted into the center comes out clean. Cool in the pan for 30 minutes; transfer to a wire rack and allow to cool completely. Slice and eat.