Blueberries & Cream Oatmeal Cookies
I have a ton laundry to do! It's a never ending chore in this house. Instead of hauling my booty downstairs to do the laundry, I'm going to sit here and chat with you guys about these Blueberries & Cream Oatmeal Cookies, which is way better than folding socks.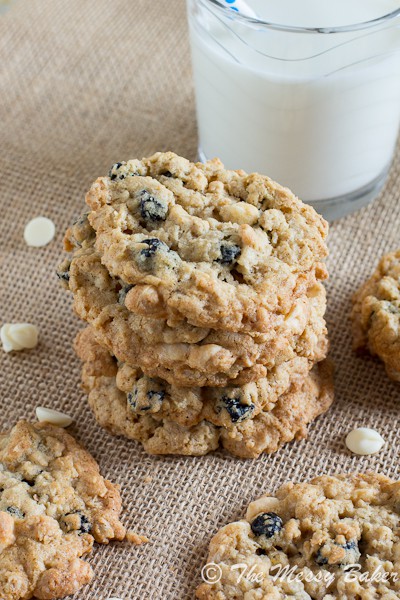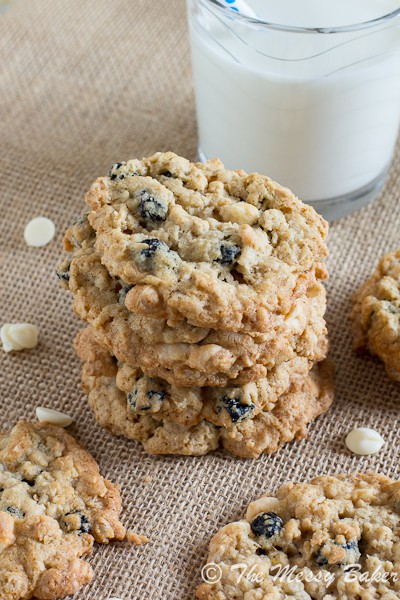 How two people create such a massive amount of dirty clothes is beyond me, but I have several piles of sorted clothes on the basement floor to prove it. I'm a gigantic procrastinator. I always have been, so until I'm out of undies, the clothes will remain unwashed.
I adore oatmeal cookies, with their nutty flavor and chewy texture, who could resist? Not this gal. I wanted to create what I consider to be the perfect oatmeal cookie recipe. One that's chewy on the inside and crunchy on the outside. These blueberries & cream oatmeal cookies are everything I've ever wanted in an oatmeal cookie.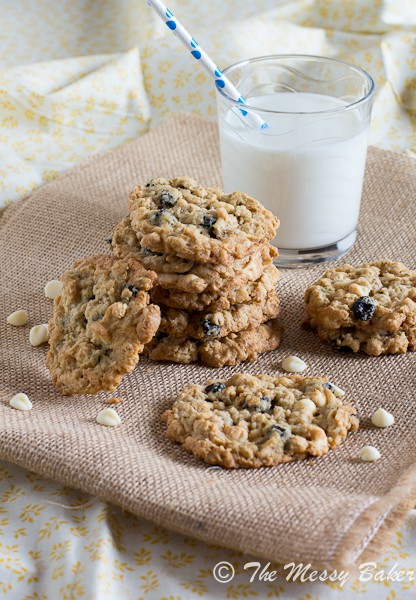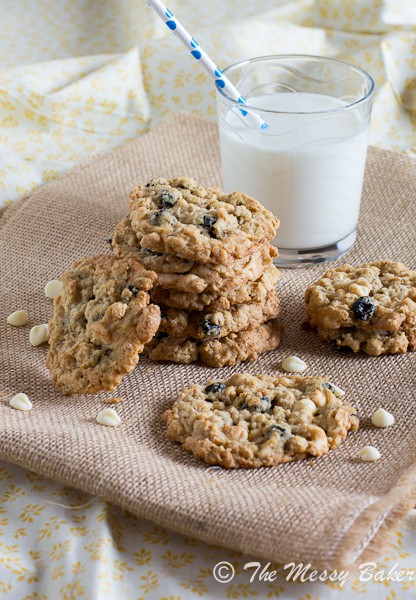 I found dried blueberries at Costco the other day, so I decided to impart the flavors of spring into my newly created oatmeal cookie recipe. I added a generous helping of dried blueberries and white chocolate chips to mix. I also boosted the vanilla extract to give the cookies a creamy flavor and sprinkled in some lemon zest to brighten them up. They're amazing!
I tested these cookies by baking them directly after mixing up the batter and after chilling them in the refrigerator for an hour. I found that both versions of the cookie taste and bake up equally the same. So, if you're having a major cookie craving, go ahead and bake away.
These cookies were instantly gobbled up by family and friends. Every single person fell in love with them and proceeded to shove cookie after cookie into their faces.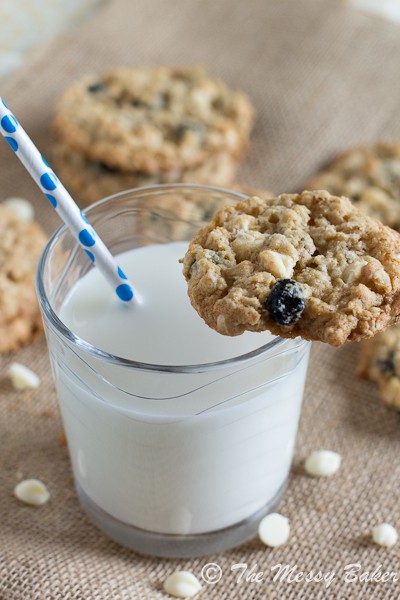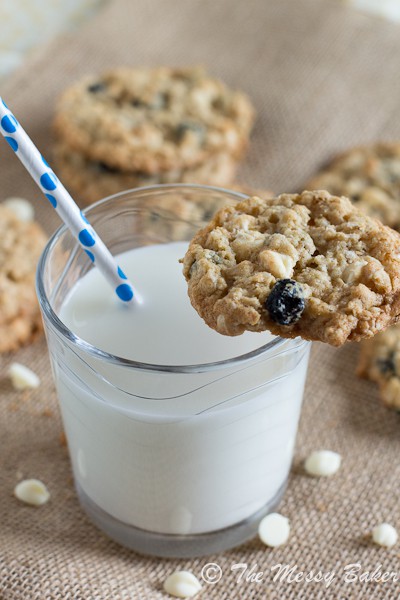 Serve with a big ol' cup of cold milk, and you have yourself a delicious snack.
Blueberries & Cream Oatmeal Cookies
Ingredients:
1/2 cup unsalted butter, at room-temperature
1 cup brown sugar
1 egg
2 teaspoons vanilla extract
1 cup all-purpose flour
1/2 teaspoon baking soda
1/4 teaspoon kosher salt
Zest of 1 lemon
1 and 1/2 cups old-fashioned oats
1/2 cup white chocolate chips
3/4 cup dried blueberries
Directions:
Preheat oven to 350 degrees F. Line 2 cookie sheets with parchment or silicon mats.
In a medium-sized bowl, whisk together flour, baking soda, salt, lemon zest, and oats. Set aside.
In the bowl of a stand mixer attached with a paddle, cream the butter and sugar until light and fluffy, about 3 minutes. Whisk in the egg until incorporated. Whisk in vanilla extract.
Turn the mixer down to a low speed and slowly add the flour mixture in two batches, scraping down the bowl after each addition.
Fold in the blueberries and white chocolate chips.
Using a 1-inch cookie scoop, scoop the dough onto the parchment or silicon lined baking sheets, leaving 3 inches between each dough ball.
Bake for 13-15 minutes, or until lightly golden brown in color. Do not over bake or you risk the cookies being crunchy and not chewy. Cool the cookies on the cookie sheet for 5 minutes before transferring to a wire rack to cool completely.
All images and text ©
.
Whipping up one of my recipes? I wanna know about it! Snap a photo and tag your post with #onesweetmess on Twitter or Instagram. Seeing your creations come to life makes my day!