Chicken Soup with Dumplings
This Chicken Soup with Dumplings will keep you warm on a cold day. It's loaded with tender chunks of chicken, fresh veggies, and loads of homemade dumplings.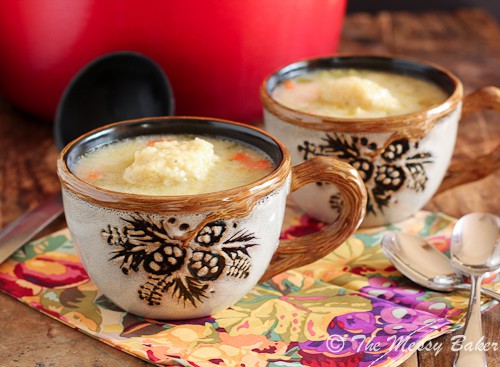 I'm happy to announce that Squirrel and I survived Frankenstorm. We didn't float away, lose power, or suffer any damages to our house. I consider ourselves extremely lucky! The only damage is the few extra pounds I gained from eating my way through the storm. I'm embarrased to admit the consumption of cookies, pies, chips, bread, and, my favorite, Coca Cola. Desperate situations call for carbs…lots and lots of carbs. I'm feeling bloated and ashamed. We may have been lucky, but there are others that suffered severe damage in New York and New Jersey, and my thoughts and prayers go out to them.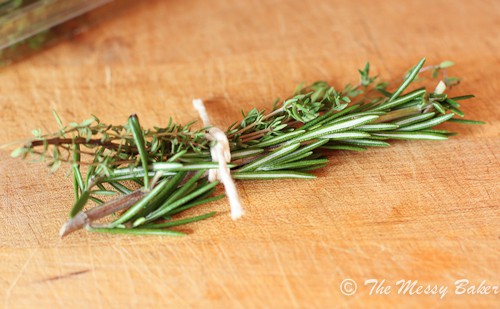 This week's #SundaySupper theme is all about food that warms the soul. What is soul warming? Well, anything that makes you feel like you're wrapped in a great big hug when you eat it. It's the type of food that warms your soul on a cool, blustery night while cozying up with loved ones. The food that warms you up on the inside as it's going down.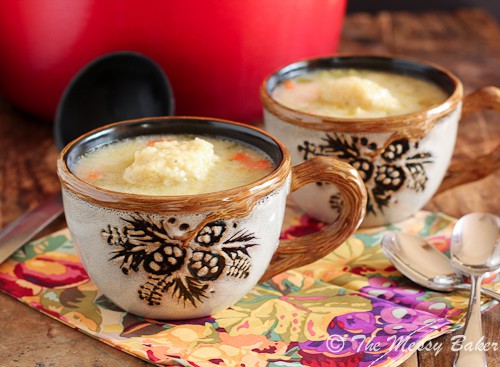 When I think about soul warming food, I think of soup. Nothing else warms you on the inside like a piping hot bowl or, if you're weird like me, mug of this Chicken Soup with Dumplings. I find it easier to eat soup out of a big ol' mug because the handle stays cool. I even have special soup mugs that I break out every winter for soup season. They're perfect!
I was originally going to make chicken noodle soup; however, my husband had other plans.
Me: I'm making chicken noodle soup today. I have a whole chicken I'd like to use, so I decided to make soup. Excited?
Squirrel: Yeah, soup sounds great. Instead of noodles, can you make dumplings? Mmmm, dumplings!
Me: I'm making it with noodles!
Squirrel: Aw, but I like dumplings. Please!
Me: Too bad, you're getting noodles. You're lucky I'm making soup, and I wasn't planning on making dumplings, too.
Squirrel: But it would be so much better with dumplings.
Me: Fine. If you'll stop saying the word dumplings, I'll whip up some dumplings.
Squirrel: Victory! I get what I want.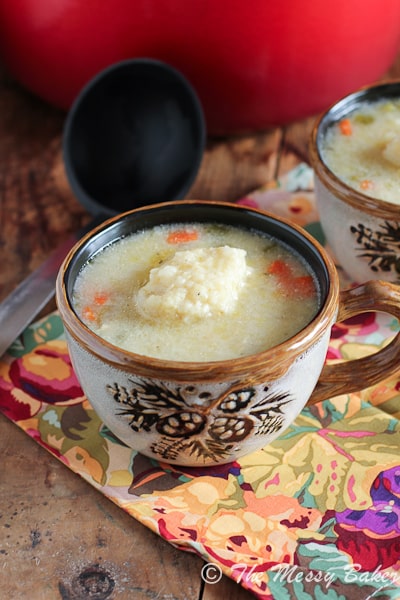 Needless to say, my spoiled husband got dumplings. He sure knows how to work the system…by begging and pushing my buttons, that's how. I'll admit, the dumplings took the soup up a notch and made it extra special.
I hate when he's write.
I used homemade stock, but you can just as easily use some store bought stock. If I use store bought stock, I tie together a thyme and rosemary bundle to give the stock that homemade flavor. It's a stock fake-out.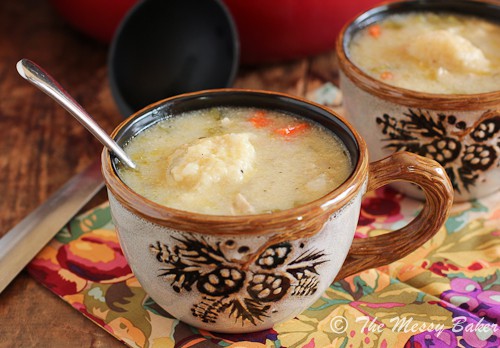 The great thing about this soup is that it tastes like it has been simmering for hours, but really only takes about 45 minutes. If you're on a time crunch, you can buy a rotisserie chicken and shred it up.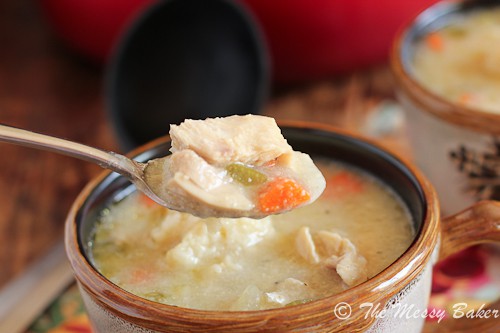 Enjoy!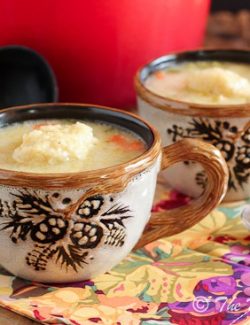 Chicken Soup with Dumplings
Ingredients:
Soup
10 cups chicken stock
4 cups shredded chicken
2 tablespoons olive oil
6 carrots, diced
4 celery stalks, diced
1 large onion, diced
2 cloves garlic, diced
1 bay leaf
2 sprigs thyme
1 sprig rosemary
2 teaspoons fresh thyme, chopped
1/2 cup heavy cream
3/4 tsp. Bon Appetit Seasoning
Salt & Pepper
Dumplings
1 and 1/2 cups all-purpose flour
1/2 cup cornmeal
1 teaspoon kosher salt
1 tablespoon baking powder
1 and 1/2 cups buttermilk
Directions:
Bundle the thyme and rosemary sprigs together and secure with some kitchen twine. Set aside.
In a large pot, heat 2 tbs. olive oil over medium heat. Add diced carrots, celery, onion, and bay leaf. Sprinkle in a pinch of salt and pepper. Sauté for 4-5 minutes, then add garlic. Cook for an additional 2 minutes. Pour in the stock and add the thyme/rosemary bundle. Stir to combine.
Add the shredded chicken, chopped thyme, and bon appetit seasoning. Turn the heat down to medium low and cover. Simmer for 30-40 minutes until the vegetables are tender.
While the soup is simmering, make up the dumplings.
Dumplings: In a large bowl, combine flour, cornmeal, salt, and baking powder. Whisk to combine. Slowly whisk in the buttermilk. Store in the refrigerator until you're ready for them.
When the soup is done simmering, remove the bay leaf and thyme bundle, then pour in the heavy cream and stir. Season with salt and pepper to taste.
Using a small cookie scoop or tablespoon, drop the dumplings into the simmering soup. Cover the pot, leaving it cracked, and cook for an additional 10 minutes. Serve.
All images and text ©
.
Whipping up one of my recipes? I wanna know about it! Snap a photo and tag your post with #onesweetmess on Twitter or Instagram. Seeing your creations come to life makes my day!