Cherry Sour Cocktails
Guess what next week is on the blog. Go on, take a guess. All right, I'll tell ya. It's #icecreamweek!
AND THE CROWD GOES WILD!!!
At least that's how I'm imagining your reactions to this exciting news. You know, doing the wave, pumping your fists in the air, stomping your feet to "We Will Rock You." Hold on, that's football, isn't it? Either way, this is exciting news, so feel free to go wild and do all of those crazy gestures, especially the wave. I'd love to see a #icecreamweek wave.
In preparation for #icecreamweek, I painted my nails ice cream parlor turquoise with glitter sprinkles. Whoa! Nerd alert. What can I say, I take my themes seriously.
To tide you over until next week, I've made y'all some cherry sour cocktails. I know we had the discussion about me being a lush, and all I can say is I'm trying. In my defense, this recipe was just too delicious to pass up. I promise I'll try to be a better person next week. Pinky swear!
This cocktail is the perfect combination of sweet, sour, and tart.
I found this recipe on Chasing Delicious. Russell is the creative genius over at Chasing delicious and, if you're not familiar with Russell's site, I highly suggest you go on over and give him a visit. He takes the most beautiful food photos I have ever seen. On his site you'll find towering blueberry pies, doodle instructions on chalkboards (my favorite is his picture of the drill), and fancy do-it-yourself mason jars.
Lemons.
Limes.
Two things you'll need to make your lips pucker when you sip on this cocktail.
Beautiful ruby red cherries.
I pitted cherries. Then, I pitted some more cherries. After that, I mashed the cherries into a deep, crimson liquid with the citrus juice and simple syrup. Talk about a gorgeous color. My next shoe purchase is going to be a pair of cherry red pumps.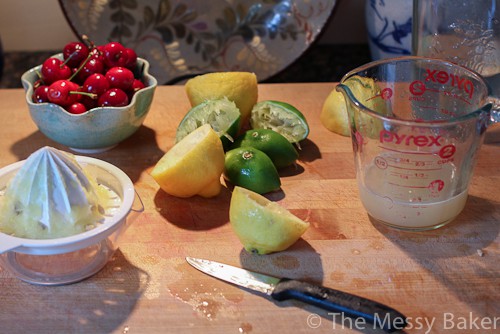 This here's my cocktail makin' station. It's where all the magic happens.
Pitting cherries is hard work, but, for this cocktail, it's worth it.
Cheers!
[print_this]
Cherry Sours
2 cups cherries, pitted
2 lemons, juiced
3 limes, juiced
1/2 cup grapefruit juice
1/4 cup maraschino cherry juice
1/2 cup bourbon
1/4 cup brandy
1/2 cup simple syrup
In a large bowl, add the pitted cherries, lemon juice, lime juice, and simple syrup. Mash with a potato masher to break up the cherries. Add the maraschino cherry juice, bourbon, and brandy. Stir to combine. Pour into a pitcher and pour over ice. Garnish with a cherry.
[/print_this]
20 Responses to "Cherry Sour Cocktails"

Trackbacks/Pingbacks

Leave some love. It makes me happy!