Chicken and Beef Teriyaki Skewers
Katie Workman, the author of The Mom 100 Cookbook, is participating in this weeks #SundaySupper. All of her recipes are simple, accessible, and delicious. I made her chicken and beef teriyaki skewers. The marinade was extremely easy to put together, and it was so good that I could have stuck a straw in it and drank it straight up.
Katie's believes that homemade food is better for you, and I completely agree with Katie's concept. When I cook the meal, I know exactly what goes into my dish. I have complete control. The end result is a homemade meal that my family will enjoy. And, they may not know it, but it's healthy for them, too. Shh, that's our little secret.
These skewers make the perfect weeknight meal. You can prepare the marinade the evening before and let the chicken and beef get happy in the marinade overnight. All you have to do the next evening is skewer and grill the meat. They literally take 6 minutes to cook. That's my kind of weeknight meal.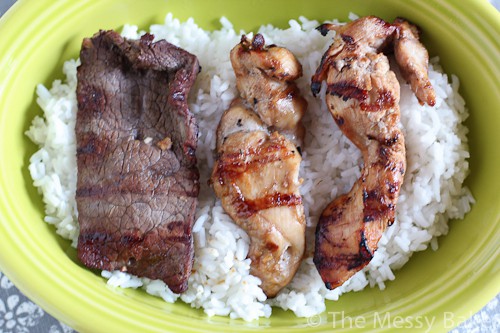 Your family will love these chicken and beef teriyaki skewers!
Chicken and Beef Teriyaki Skewers
Ingredients:
2 tablespoon ginger, peeled and chopped
1 tablespoon garlic, chopped
2/3 cup low sodium soy sauce
2 tablespoon water
2 teaspoons canola oil
3 tablespoon mirin
1/4 cup packed brown sugar
1 teaspoon cornstarch
1 pound chicken or beef
Wooden skewers
Toasted sesame seeds, optional
Directions:
Place the ginger, garlic, soy sauce, oil, mirin, brown sugar, and cornstarch in a small bowl and whisk to combine.
Pour the teriyaki marinade into a heavy-duty zipper-top plastic bag or a larger plastic container with a lid. Add the chicken or steak and mix to coat well. Seal the bag or container and let the chicken and steak marinate in the refrigerator overnight.
If you are using wooden skewers, soak them in water for at least 30 minutes before cooking to prevent burning.
Preheat your grill.
Remove the chicken or steak from the marinade, setting aside the marinade. Skewer 1 or 2 pieces of chicken or steak on each skewer lengthwise, threading them so they are on securely. Place the skewers on the grill and cook for 2-4 minutes on each side until the chicken is cooked through. If you like your steak medium, cook for 2 minutes on each side.
Pour the reserved marinade into a small saucepan and bring to a boil over high heat. Reduce the heat to medium and let the marinade simmer until it becomes slightly reduced and glazelike, about 4-5 minutes.
Serve the skewers on a platter sprinkled with the sesame seeds, if desired. Use the boiled marinade for dipping or drizzling on your meat.
All images and text ©
.
Whipping up one of my recipes? I wanna know about it! Snap a photo and tag your post with #onesweetmess on Twitter or Instagram. Seeing your creations come to life makes my day!