Mesquite Grilled Chicken Tacos with Honey Hot Sauce Crema
Mesquite Grilled Chicken Tacos with Honey Hot Sauce Crema are easy to prepare for a quick weeknight meal.
Back to school so soon. I feel like summer just started, and now it's coming to an abrupt end–like, "Peace out, I'm outta here. Bye, Felicia!" Oh, Mother Nature, would it hurt you to be nice and ease us in to the situation?
Parents, are you looking forward to shipping your children back off to school, or do you get all nostalgic and sad? I'm not a parent, so I really can't chime in, but I do now this much: if the pup went to doggy day camp, I'd get a whole heck of a lot more work accomplished during the day.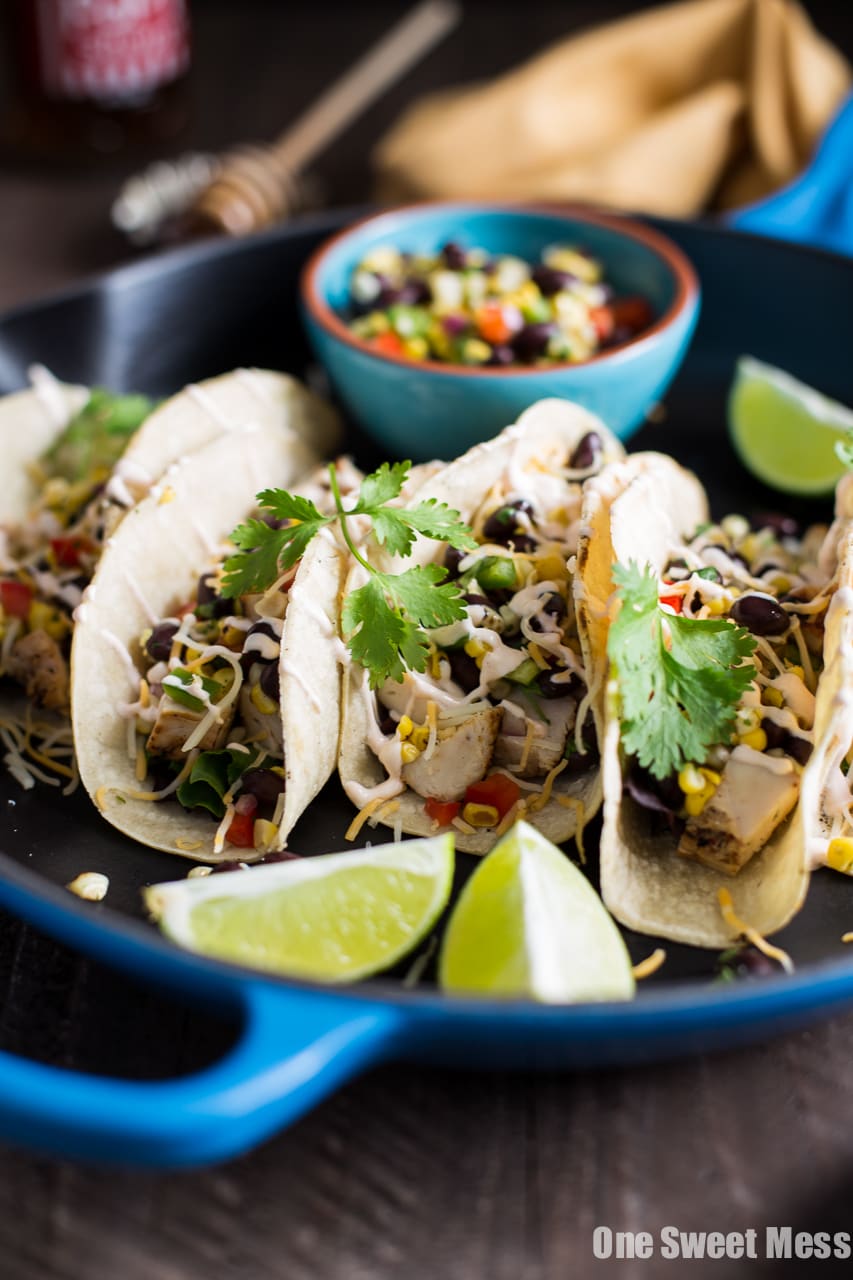 All it takes is one look from those sad puppy eyes, and I immediately lose the tough-guy act. Is it the same way with kids? Do they beg, plead, and nag until you throw your arms up in the air and drop everything just to get them to stop yapping? "Fine! We'll go to the pool, but on one condition: You have to promise to leave me alone; don't even a look in my direction! Do we have a deal?"
If I could negotiate with the dog, I'd do it. Unfortunately, Sully doesn't take kindly to negotiations. He has major doggy 'tude. If you follow me on Snapchat, then you've witnessed said attitude. He'll bark incessantly, and if I don't respond to his barking—thinking, if I just ignore him, he'll stop—he'll proceed to howl. Where did I go wrong?
Hold on, I know where I went wrong. What had happened was, I decided to laugh at his bad behavior instead of correcting it. Don't be like me.
Bribing almost always works, and I'm assuming it's the same with kids? Sully responds well to treats. Heck, I'd do just about anything for a bag of black jellybeans and bottle of bourbon, so I guess we're not all that different. And tacos… I'll scrub your bathroom with a toothbrush for a plate of these Mesquite Grilled Chicken Tacos with Honey Hot Sauce Crema.
Put a plate of these tacos in front of your kiddo(s), and you'll earn yourself a few precious moments to yourself.
I puffy heart these tacos in a major way. It probably has something to do with the honey tequila mesquite marinade. Or, maybe it's the grilled corn and black bean salsa. Oh, I know, it's most definitely the honey hot sauce crema. Okay, maybe it's everything combined and the fact that it all gets snuggled inside a crispy corn tortilla.
The flavor and versatility of honey is highlighted throughout this dish: 1.) I added a few tablespoons to the marinade to help balance the tart acidity of the lime juice, 2.) I used it in the salsa to bring out the sweetness in the corn and help tame the heat of the jalapeno, and 3.) I combined it with sour cream and hot sauce to make a sweet and spicy crema that gets drizzled over the tacos.
Do yourself a huge favor and make these tacos!
Mesquite Grilled Chicken Tacos with Honey Hot Sauce Crema
Ingredients:
Mesquite Chicken
2-lbs. boneless, skinless chicken breasts
Juice of 3 limes
1 tablespoon olive oil
2 tablespoons mesquite seasoning
2 tablespoons honey
2 tablespoons tequila
1 teaspoon cumin
½ teaspoon coriander
¼ teaspoon smoked paprika
1 teaspoon kosher salt
½ teaspoon black pepper
Grilled Corn & Black Bean Salsa
3 ears corn, husked
2 teaspoons canola oil
¾ cup black beans
¼ cup diced red pepper
3 tablespoons minced red onion
1 jalapeno, seeded and minced
2 tablespoons chopped cilantro
Juice of 1 lime
½ teaspoon honey
Salt and pepper
Honey Hot Sauce Crema
½ cup sour cream
2 teaspoons hot sauce
½ teaspoon honey
Tacos
8 corn tortillas
1 cup shredded Monterey Jack cheese
1 avocado, sliced
Lime wedges
2 cups shredded lettuce
Directions:
In a small bowl, whisk together lime juice, olive oil, mesquite seasoning, honey, tequila, cumin, coriander, smoked paprika, salt, and pepper. Add the chicken to a large zip-closed bag and pour in the marinade. Give the bag a shake to coat the chicken. Refrigerate for at least 4 hours or overnight.
Preheat a gas or charcoal grill. Drizzle the corn with canola oil and season with salt and pepper. Place the chicken and corn on the grill. Grill the chicken for 5-7 minutes on each side, or until the juices run clear and the chicken is thoroughly cooked. Grill the corn, turning every 1-2 minutes until all sides are lightly charred. Allow the chicken to rest for 10 minutes before chopping into bite-size pieces.
While the grill is still hot, add the corn tortillas. Cook on each side for 30 seconds to 1 minute, or until each side is lightly charred. Remove from the grill and place on top a sheet of aluminum foil. Close the aluminum foil around the tortillas to keep warm.
To make the corn salsa, remove the corn kernels from the cob and add them to a large bowl. Add the remaining salsa ingredients and mix to combine. Season with salt and pepper to taste.
To make the crema, add sour cream, hot sauce, and honey to a small bowl; whisk to combine.
Assemble the tacos by adding a layer of chopped chicken to the bottom of the tortilla. Top with lettuce, corn salsa, shredded cheese, and avocado slices. Drizzle the crema over the top. Serve with hot sauce and lime wedges.
All images and text ©
.
Whipping up one of my recipes? I wanna know about it! Snap a photo and tag your post with #onesweetmess on Twitter or Instagram. Seeing your creations come to life makes my day!
Disclosure: This recipe was developed for the lovely folks at the National Honey Board. All opinions are my own. Thank you for supporting my recipes and site while I work with brands I adore.