Sweet Potato Fajita Cottage Cheese Bowls (Vegetarian + Gluten-Free)
Creamy cottage cheese gets a fancy makeover with the addition of a spicy sweet potato fajita mixture, chunky salsa, and a sprinkling of fresh cilantro.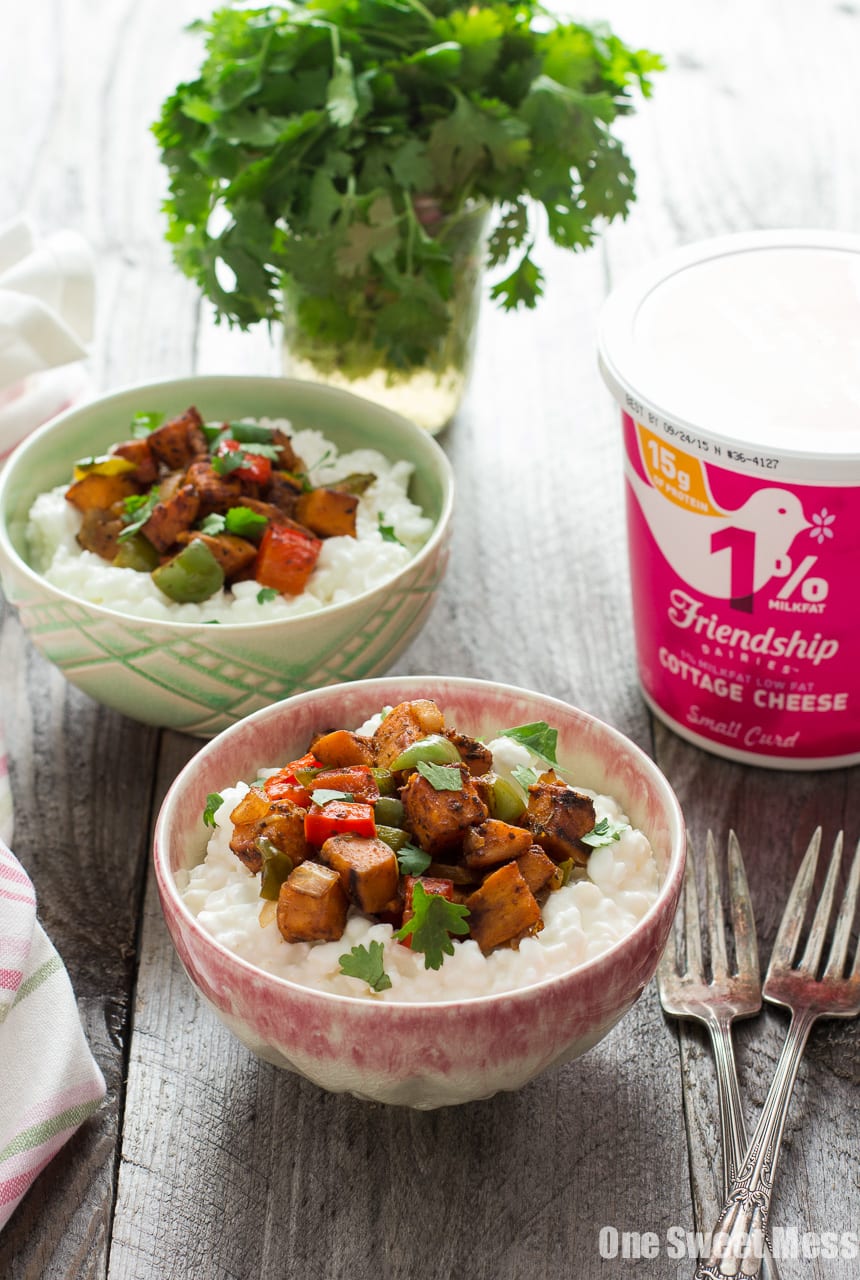 This is the type of dish that will get you excited for lunch. You'll be sitting at your desk counting down the minutes until you can run to the refrigerator and unpack your lunchbox.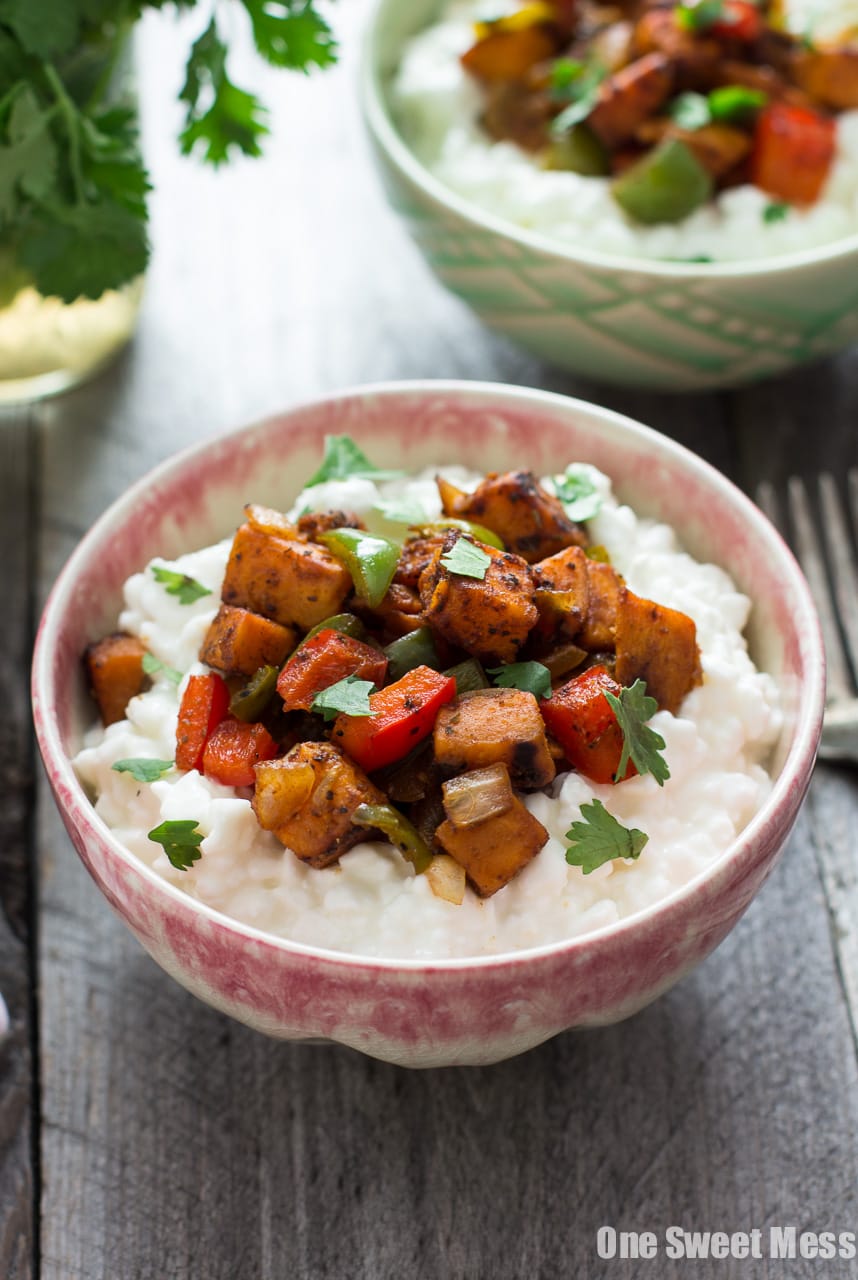 This vegetarian recipe uses sweet potatoes as its base to create a hearty lunch that will keep you full until dinner. The addition of homemade fajita seasoning and a few tablespoons of diced jalapeño peppers gives the dish a burst of bold flavor and a touch of heat.
Oh, did I mention these sweet potato fajita cottage cheese bowls are gluten-free? It's not something I planned. It just so happens that all of the ingredients in this recipe are naturally gluten-free, so everybody wins!
I used Friendship Dairies Cottage Cheese to create a creamy, protein-packed base for this recipe. One serving of their cottage cheese contains 15 grams of protein–that's enough to fill you up and keep you full until your next meal. It's known as the original superfood for a good reason!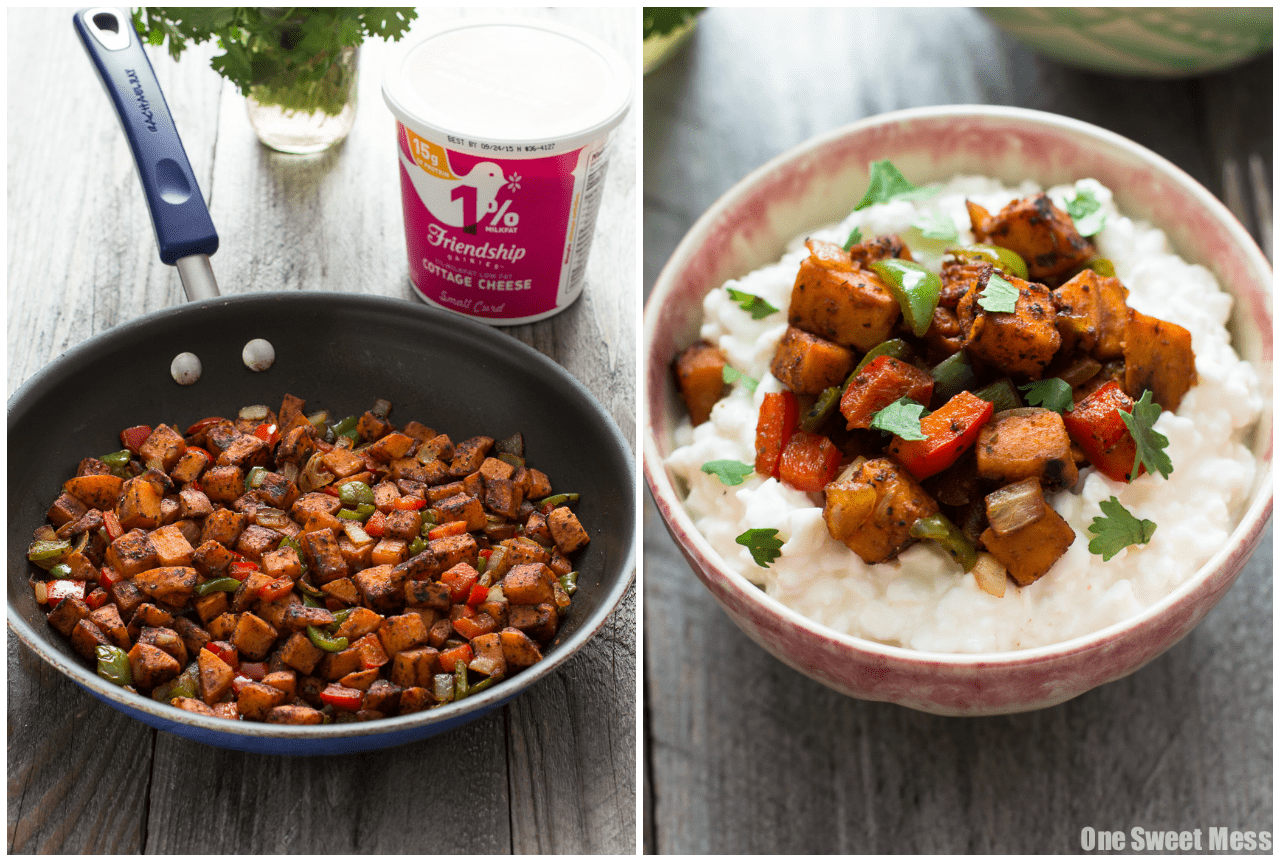 I love experimenting with cottage cheese in the kitchen. It pretty much takes on any flavor you choose to give it, including this Mexican-inspired version and this Roasted Tomato Basil Cottage Cheese Bowl recipe. I love that the creaminess of the cottage cheese balances the heat of the fajita mixture. As we all know, fajitas wouldn't be the same without cheese, which is why adding the fajita mixture to a bed of cottage cheese makes it that much more irresistible.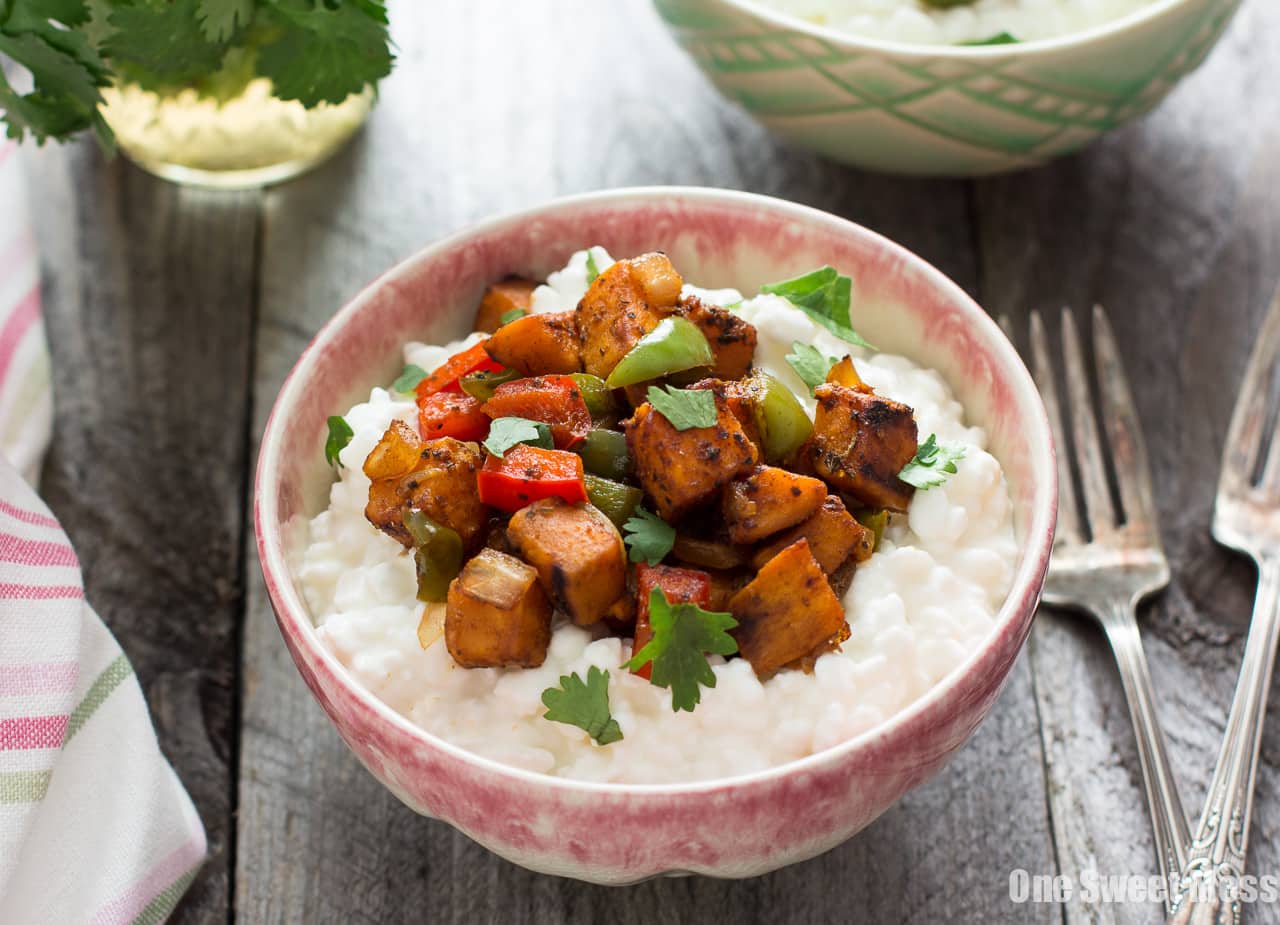 Visit Friendship Dairies for more mix-in inspiration using their Superfood Generator.
Sweet Potato Fajita Cottage Cheese Bowls
Creamy cottage cheese gets a fancy makeover with the addition of a spicy sweet potato fajita mixture, chunky salsa, and a sprinkling of fresh cilantro.
Ingredients:
2 tablespoons olive oil, divided
1 large sweet potato, peeled and cut into 1/2-inch cubes (about 2 cups)
1/2 cup chopped onion
1/2 cup chopped red bell pepper
1/2 cup chopped green bell pepper
2 tablespoons diced jalapeno, seeds removed
2 teaspoons fajita seasoning
Salt and pepper
3 cups cottage cheese
4 tablespoons salsa
Cilantro for garnish
Directions:
Heat 1 tablespoon of olive oil in a large saute pan over medium heat. Add the sweet potato to the pan and give it a stir to coat with oil. Sprinkle with a generous pinch of salt and pepper. Cook, stirring occasionally, for 10 minutes.
Add the remaining olive oil to the pan. Stir in the onion, red and green bell peppers, jalapeno pepper, and fajita seasoning. Cook, stirring occasionally, for an additional 10 minutes, or until the potatoes are tender. Season with salt and pepper to taste.
Add 3/4 cup of cottage cheese to a bowl and top with a heaping 1/2 cup of the sweet potato mixutre. Drizzle the salsa over the top and add a sprinkle of chopped cilantro. Serve immediately or cover the bowl and store in the refrigerator for up to 4 days.
The bowls are just as delicious served cold. Prepare the bowls and store in individual airtight container for an easy, grab-and-go lunch option.
If you prefer your sweet potato mixture warm, store the sweet potato mixture in a separate container in the refrigerator until you're ready to serve. Before perparing the bowls, reheat the potato mixture before assembling the bowl.
All images and text ©
.
Whipping up one of my recipes? I wanna know about it! Snap a photo and tag your post with #onesweetmess on Twitter or Instagram. Seeing your creations come to life makes my day!
Disclosure: Thank you to Friendship Dairies for sponsoring this post. All opinions are 100% my own. Thank you for supporting my site while I work with brands I use in my kitchen.