Thirsty Thursday: Tiki Punch
This Tiki Punch is about to become your go-to summer boozy beverage. It's sweet, fruity, and loaded with a triple dose of tropical-infused rum. 
Flip-flop weather has officially made its way to Baltimore. Is it warm in your neck of the woods? To celebrate the warmth and long awaited summer rays, I made you a big ol' pitcher of tiki punch. This booze-infused punch is bursting with tropical flavors.
This is the kind of drink you order at a five-star resort in the Caribbean while your lounging under your own personal cabana.
Ah, I can picture the cabana boy now…
Growing up, I was a huge fan of fruit punch, but I find that it's a bit too sweet for my refined adult palate. After several years of fruit punch deprivation, I recently discovered a fruit punch I can get behind. After a recent trip to my local grocery store, I spotted Simply Fruit Punch on the shelf. I adore their other products, so I knew it was going to be a winner. I ravenously grabbed a bottle off the shelf, hugged it to my chest, and threw it in the cart, instantly knowing what I would make.
The fresh, fruity juice is delicious on its own, but it's even better with the addition of tropical-flavored rum. I used a combo of pineapple, coconut, and black cherry rum in this recipe. It's fiercely boozy!
You've been warned.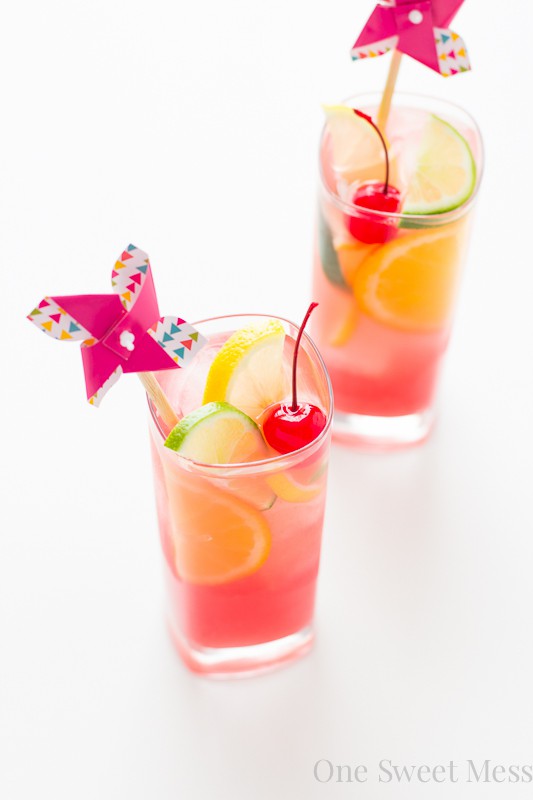 This punch is great for entertaining. You can prepare a pitcher (or two) a few days ahead of your scheduled gathering and let your guests serve themselves. I'm really loving Captain Morgan's new Pineapple Rum. It tastes just like you're biting into a juicy pineapple fresh off the vine. It's that good!
Also, it wouldn't hurt to bust out the coconut bras and grass skirts, because a party will quickly ensue directly after pouring the first round.
This punch has quickly become a summer favorite. I have no doubt that I'll be serving up several pitchers over the next couple of months.
Tiki Punch
Sweet, fruity, and extra boozy. This Tiki Punch recipe will have you thinking you're on an island vacation in the Caribbean.
Ingredients:
3 cups fruit punch
1/2 cup black cherry rum
1/2 cup coconut rum, such as Captain Morgan
1/4 cup pineapple rum, such as Captain Morgan
juice of 1 lemon
juice of 1 orange
1 cup lemon lime soda
ice for serving
Directions:
Add all of the ingredients to a large pitcher (minus the ice). Stir to combine.
Refrigerate for at least 2 hours or overnight.
Stir in the lemon lime soda directly before serving.
Serve over ice. Garnish with a variety of fruit (pineapple, maraschino cherries, orange slices, etc).
All images and text ©
.
Whipping up one of my recipes? I wanna know about it! Snap a photo and tag your post with #onesweetmess on Twitter or Instagram. Seeing your creations come to life makes my day!
Disclosure: Captain Morgan provided the rum that I used in this recipe. I was not compensated for this post and, as always, the opinions in this post are 100% my own.