Classic Negroni
Sweet. Bitter. Boozy. 
I'm sure you're all familiar with the popular television series Mad Men? I watch very little television, but I got hooked on Mad Men two years ago when I discovered the series on Netflix. I fell in love with the show instantly–the arrogant, overly proud, daytime booze-drinking male characters, and the promiscuous, fashionable, and tenacious female characters won me over.
I binge watched the series for days, holed up in my dark basement on the couch, disheveled and grungy from not showering. I'll admit, it was kind of gross, but there I sat, wide-eyed, staring at the screen as I crunched on salty snacks and peanut m&m's.
"Press A to watch another episode." And so I did, over and over for days.
I was heartbroken when I came to the end of the series. No more Don Draper, Peggy, or Joan. No more office sex scenes, angry banter, and daytime boozing. No more late nights gripping the remote control. And so I showered.
Life went on, but it wasn't the same without my daily evening rendezvous with my favorite dapper gang.
After a long, drawn-out break, AMC is finally wrapping up the series. The premiere of the final episodes begins this Sunday, and I couldn't be more excited.
To celebrate the the premiere of what I consider to be one of the best damn series ever created, several Mad Men obsessed bloggers have joined forces to throw one hell of a going away party. I'm talkin' booze, food, and a pretty sweet vintage-inspired giveaway.
Won't you join us?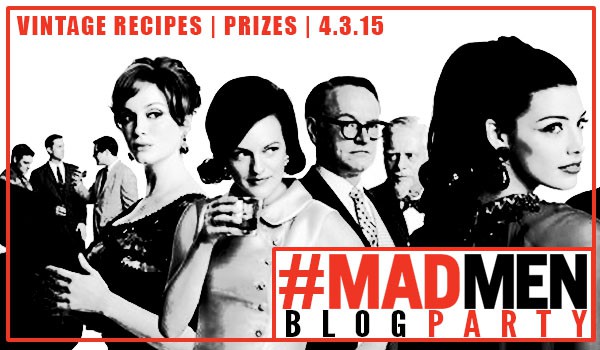 Since the entire cast was permanently fixed with a cocktail glass in their hand, I, of course, made a classic that appeared often in the show: the classic negroni.
If you're not familiar with the classic cocktail, it's an equal-parts blend of gin, sweet vermouth and Campari. That's three different types of alcoholic beverages, folks.
It's a bold, boozy drink for major-league drinkers. It's a cocktail meant for sipping, not guzzling. I nursed my cocktail glass for an hour before my negroni was no more.
I highly recommend using a London dry style gin for this cocktail. I used a floral-style gin (it's what I had in stock) during my first test run, and the result was overly floral and aromatic. Because sweet vermouth is also herbal and aromatic, the floral-style gin doesn't work in this case. Definitely stick with the London dry gin for your negroni.
If you're hardcore and want to hang with the big dogs, this classic negroni is the way to go. It's equal parts sweet, bitter, and aromatic. But, most of all, it's boozy.
Classic Negroni
This classic negroni cocktail is equal parts sweet, bitter, aromatic, and boozy.
Ingredients:
1 ounce London dry gin (such as Tangueray)
1 ounce sweet vermouth
1 ounce Campari
Directions:
Add all three ingredients to a cocktail shaker. Stir to combine. Transfer the mixture to a rocks glass and add a large ice cube.
All images and text ©
.
Whipping up one of my recipes? I wanna know about it! Snap a photo and tag your post with #onesweetmess on Twitter or Instagram. Seeing your creations come to life makes my day!