Toasted Almond & Cherry Ice Cream
Sweet, creamy cherry ice cream loaded with plump black cherries and toasted almonds.
I've been a cherry junkie this summer. Bag after bag of sweet, ripe cherries are no match for this cherry lover. I was able to spare a few for this toasted almond & cherry ice cream.
You're welcome.
There's nothing better than a big bowl of homemade ice cream. Not only is it rewarding, but it tastes so much better than anything you'll find in the store.
The thing I love most about making ice cream at home is that I'm in complete and total control. I decide what ingredients I mix into each batch, and I'm able to seek out the freshest ingredients for each batch of ice cream that I produce.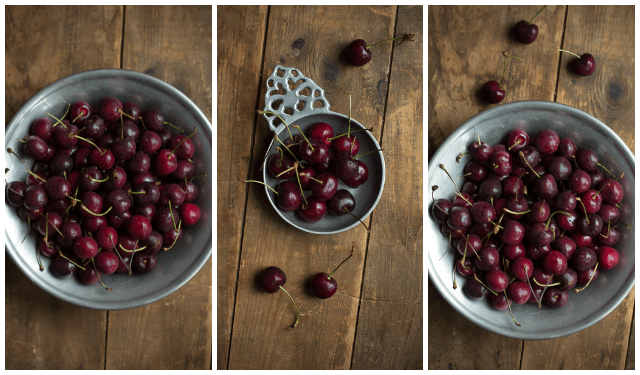 For this batch, I hand picked and pitted more than my fair share of black cherries. Worth every stained fingernail.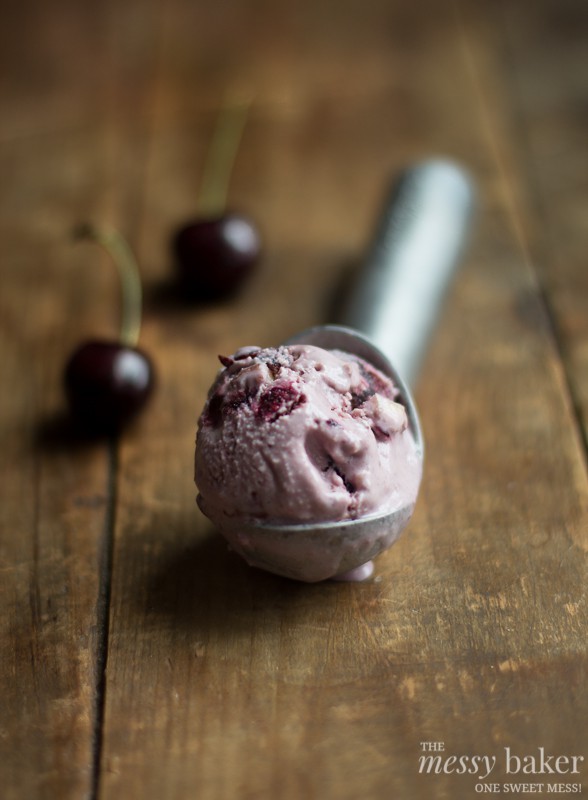 This toasted almond & cherry ice cream has quickly become a favorite of mine. The base of this ice cream is made with 2 cups of sweet pitted cherries that get cooked down into a thick syrup and blended with the vanilla ice cream base. I added a touch of almond extract to enhance the natural flavor of the cherries and stirred in some toasted almonds because…yum!
If you really want to make this ice cream special, you can stir in some chopped dark chocolate.
I'm not ashamed to admit that I ate the entire quart of this creamy ice cream all by my lonesome.
Get your scoop ready!
Toasted Almond & Cherry Ice Cream
Ingredients:
Cherries:
2 cups pitted cherries
1/4 cup granulated sugar
Ice Cream:
1 cup whole milk
1/2 cup granulated sugar
2 cups heavy cream
5 egg yolks
1 and 1/2 teaspoons vanilla paste (or extract)
1/8 teaspoon almond extract
1 cup cherries, pitted and roughly chopped
3/4 cup toasted almonds, chopped
Directions:
Cherries: Add cherries and sugar to a saucepan. Bring the mixture to a simmer over medium-low heat. Simmer for 10-12 minutes until the mixture thickens slightly and the cherries become tender.
Ice Cream:
In a large bowl, add 1 cup of heavy cream and place a mesh strainer on top.
In a medium bowl, add the egg yolks. Whisk to combine.
Heat the milk, sugar, and remaining cup of heavy cream in a medium saucepan over medium-low heat just until the mixture is hot to the touch (do not boil).
Slowly pour the heated milk mixture into the egg yolks, whisking constantly. Add the egg mixture back to the saucepan and cook over medium heat, whisking constantly until the mixture thickens, about 4 minutes. Pour the mixture through the strainer and stir into the cream. Stir in the vanilla and almond extract. Add the mixture to the blender with the cherry syrup. Pulse until smooth. Place the mixture in an airtight container and chill completely before churning, at least 8 hours.
When the mixture is completely chilled, place it in your ice cream maker and churn according to the manufacturer's instructions. When the ice cream is finished churning, stir in the chopped cherries and toasted almonds with a rubber spatula. Place ice cream in an airtight container and freeze.
All images and text ©
.
Whipping up one of my recipes? I wanna know about it! Snap a photo and tag your post with #onesweetmess on Twitter or Instagram. Seeing your creations come to life makes my day!