Homemade Caramel Bailey's Irish Cream
Smooth, creamy homemade Bailey's Irish cream spiked with buttery caramel and an extra splash of whiskey.


Guys, Christmas is only 5 days away.
I don't know what your situation is like, but I'm knee deep in sugar, flour, and butter over here. There's glitter on the floor that refuses to come clean. When the sun shines through the window, my house shimmers like a disco ball. The cat won't leave the candy canes on the tree alone. The dog knocked red wine off of my coffee table with his tail (I was trying to self medicate), splashing red drops all over my cream-colored sofa.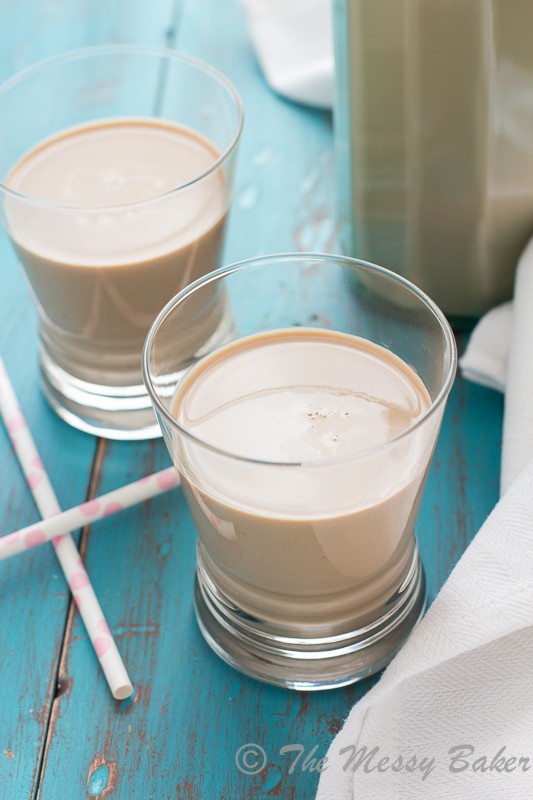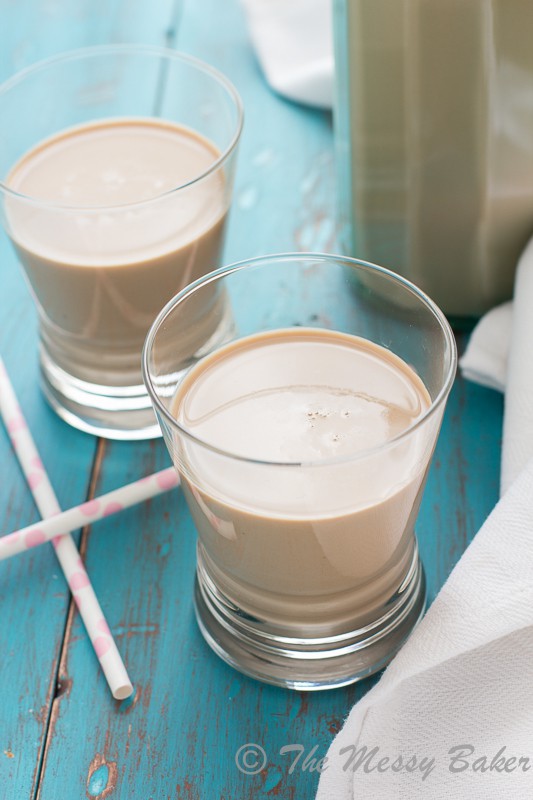 Someone pass me the booze!
*Glug*
Okay, all better.
I believe that booze was created to alleviate holiday stress. Drinking is the only way to make it through the holidays with some shred of sanity. So, in honor of the holidays and all the crap that still needs to be checked off of the to-do list, let's have a drink.
This recipe for homemade caramel Bailey's Irish cream will have you forgetting about that pesky to-do list in no time.
Now, I know you have a ton of crap to accomplish, so I won't take up too much of your time. This cocktail only takes 5 minutes to throw together, and, even better, you're going to save a ton of money making this at home. How much? Oh, only about more than half the cost of what you would spend at the liquor store. Boom, money saved!
Make room on your list, because this recipe is worth the 5 minutes of effort.
I've made homemade Bailey's in the past, but none of the recipes compare to this version. I added caramel to give it that toasted, buttery flavor that I love so much. You think caramel is great in coffee? Wait until you swirl together with some whiskey—magic!
The mixture is velvety smooth and creamy–think a thicker version of chocolate milk, only with booze. The espresso powder adds a subtle hint of coffee flavor in the background and the caramel adds toasted, buttery notes while also sweetening up this cocktail perfectly.
Here's what you will need:
Half and half
Whiskey (Seagram's 7 or Jameson)
Chocolate syrup
Sweetened condensed milk
Caramel (homemade or store-bought)
Instant espresso or coffee powder
Vanilla extract
Pay close attention because it's about to get complicated. Grab yourself a big pitcher, dump everything in, and give it a swirl. Pour over ice and serve. Boom—homemade Bailey's.
I slapped cute tags on a few jars and gifted them to coworkers this year. Let's just say that I'm now the favorite at work. Booze has that affect on people.
Homemade Caramel Bailey's Irish Cream
A creamy cocktail made with half and half, caramel, a hint of espresso, and a splash of whiskey.
Ingredients:
2 cups half and half
1/4 cup chocolate syrup (such as Hershey's)
1 teaspoon instant espresso or coffee powder
1 teaspoon vanilla extract
1/2 cup caramel sauce
1/2 cup sweetened condensed milk
1 cup whiskey (such as Seagrams or Jameson)
Directions:
Mix all of the ingredients in a large pitcher. Store in the refrigerator until ready to use. Serve over ice.
All images and text ©
.
Whipping up one of my recipes? I wanna know about it! Snap a photo and tag your post with #onesweetmess on Twitter or Instagram. Seeing your creations come to life makes my day!