Blueberries & Cream Granola ~ #SundaySupper
Clearly I have an obsession, people. I'm not here to deny it. Frankly, I relish in this type of obsession. Crunchy oats, toasted coconut, sweet berries, and white chocolate–I don't have the strength to resist.
As you all may know, I love granola. It's one of my favorite recipes to experiment with. Mix a bunch of your favorite flavors–bam, you have yourself a healthy snack.
Just recently I started selling my granola. Out of no where, friends, family, and strangers started placing orders. My granola is famous. Okay, so maybe it's not famous, but people (other than me and my family) like it. Success!
Once the orders started rolling in, I knew I had to up the ante. My next recipe had to be epic–the recipe everyone goes bonkers for. A granola recipe that beats all other granola recipes.
Enter blueberries & cream granola. It's sweet and creamy. Crunchy and toasty. Bursting with blueberry flavor and morsels of white chocolate. You won't be able to walk past the granola container without stealing a fistful.
The #SundaySupper crew has school in mind this week. Only a few more weeks before the kiddies strap on their back packs and bust out their shiny new folders and colorful pens. Summer sure did fly right on by. I remember loathing the day I had to go back to school–not even colorful pens and funky animal shaped erasers could entice me to get excited about the upcoming school year.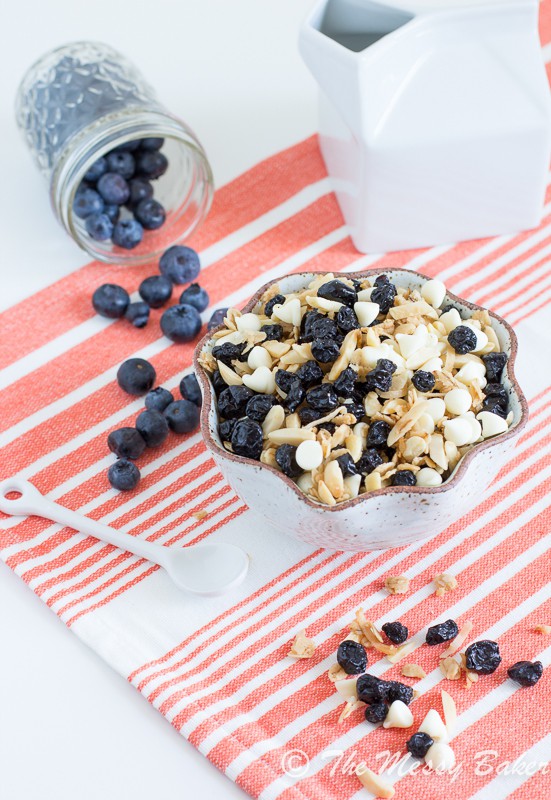 Lucky for lunch boxes everywhere, this granola makes the perfect back-to-school snack for your kiddos. Heck, it makes the perfect lunch box snack for the adults, too. A batch will last you a few weeks… Unless you're like me and eat it for breakfast, lunch, and dinner; then it may only last you a week.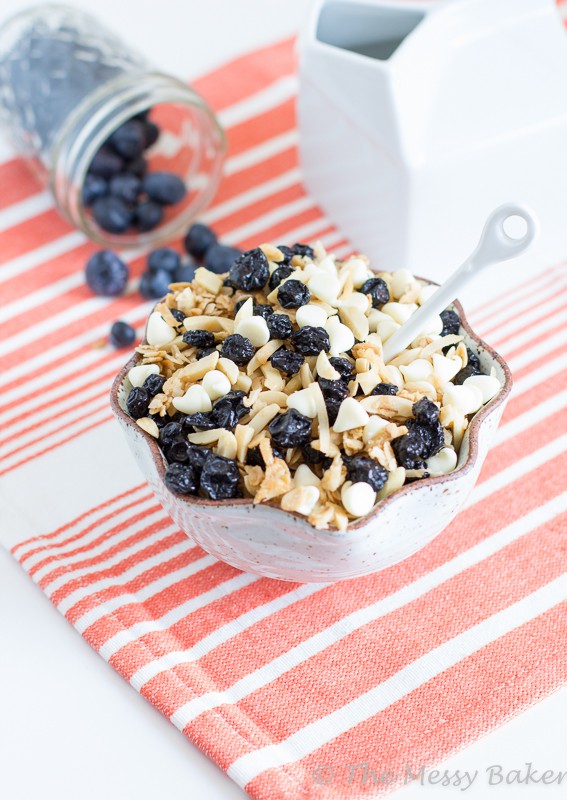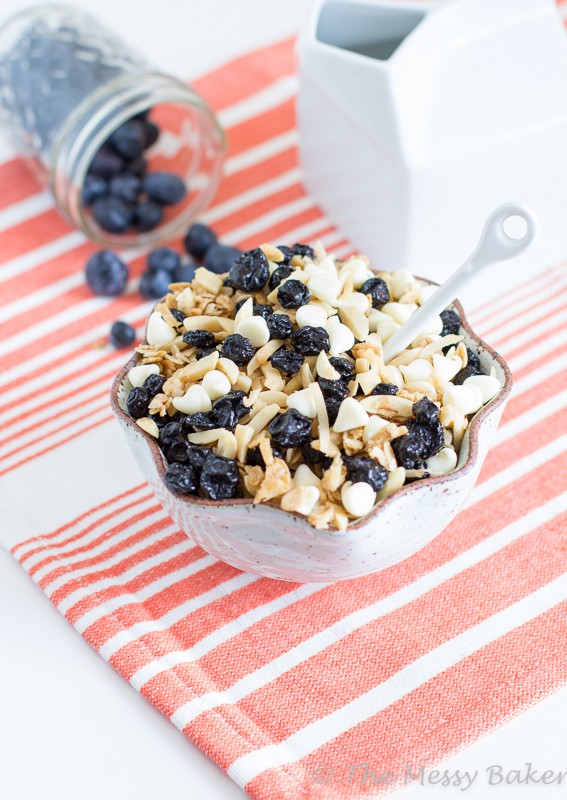 To give this granola its creamy flavor, I used a whopping 2 tablespoons of vanilla extract. I also sprinkled in some white chocolate chips to boost the creaminess and sweeten up the granola.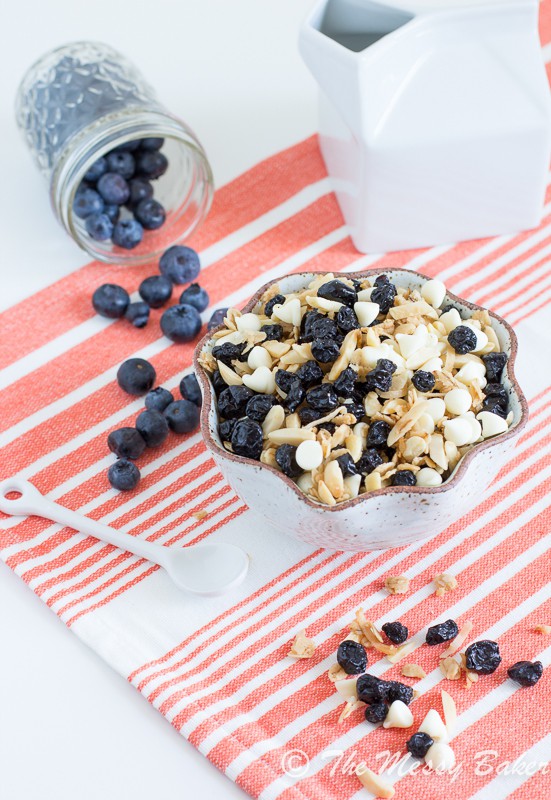 My new favorite dried fruit is dried blueberries. Drying the blueberries condenses their flavor, giving them more blueberry flavor than a fresh blueberry.  They're soft, chewy, and super sweet.
Your kids won't be able to resist this crunchy snack.
Enjoy!
Check out the other #SundaySupper lunch box creations:
Sandwiches, Wraps and Entrees:
Munchies, Salads and Sides:
Sweet Treats:
And remember that we have a #SundaySupper chat at 7 PM each on Sunday evening. We tweet throughout the day using the hashtag #SundaySupper, then we all gather to share ideas, recipes and answer questions from 7-8 PM ET. Check out our #SundaySupper Pinterest Board for more fabulous recipes and food photos.
Blueberries & Cream Granola
Recipe Type: Breakfast, Snack, Granola
Author:
Prep time:
Cook time:
Total time:
Serves: 2.3 pounds
Ingredients
2 cups old-fashioned oats
1 cup coconut flakes
2 cups slivered almonds
1/4 teaspoon kosher salt
2 tablespoons brown sugar
1/3 cup maple syrup
1/4 cup coconut oil, melted
2 tablespoons vanilla extract
1 1/2 cups dried blueberries
1 1/4 cups white chocolate chips
Instructions
Preheat the oven to 300 degrees F. Line a baking sheet with parchment paper.
In a large bowl, add oats, coconut flakes, almonds, salt, and brown sugar. Stir to combine.
In a small bowl, whisk together maple syrup, coconut oil, and vanilla extract. Slowly pour the mixture over the oats. Fold the wet mixture into the oat mixture until the oats are evenly coated.
Transfer the mixture to your prepared baking sheet. Bake for 25-30 minutes, or until the granola is golden brown in color. Remove from the oven and allow to cool completely on a wire rack.
When the granola is cool, stir in the blueberries and white chocolate chips.
Transfer the mixture to an airtight container. The granola will stay fresh for up to 2 weeks.