Strawberry-Basil Lemonade: Spiked or Unspiked ~ #SundaySupper
Happy Memorial Day weekend!
Memorial Day weekend is a favorite of mine. 1. It marks the start of summer and flip-flop weather, 2. I get to enjoy an extra day off of work, and 3. It means a smorgasbord of grilled meat and picnic food.
This week the #SundaySupper crew is cookin' up picnic food. I always imagined riding my bike to the park with an assortment of simple ingredients in the handlebar basket. Laying out a blanket on the plush green grass and popping the cork to cold bottle of bubbly. Me sprawled out on the blanket with arms propped up and hands under my chin, and Squirrel laying on his side next to me as we chat about our future. Sounds romantic, right? I need to hurry up and make that little fantasy a reality. It sounds relaxing.
The truth is, I've never actually been on a picnic; well, at least not a picnic as relaxing and breezy as the one in my day dream. I've experienced the beach picnic before, but that's more of a hassle–sand, everywhere! Crunching on grit while I chew my sandwich is not my idea of delicious.
Whether you're sitting on a patchwork blanket or hosting an outdoor barbecue, I have the perfect drink to go with your meal–strawberry-basil lemonade. You have the option to turn this delicious, refreshing drink into a cocktail, which is where the spiked or unspiked in the title comes in. If little ones are going to join in on the fun, obviously unspiked is the way to go. If it's an adults-only party, booze it up! You can even make two batches, one child-friendly version and one adult version.
I always choose to spike my strawberry-basil lemonade. What can I say, I live the wild and crazy life. Spiked = good times, and I'm all about good times. Yes, you can leave it unspiked, but what fun would that be?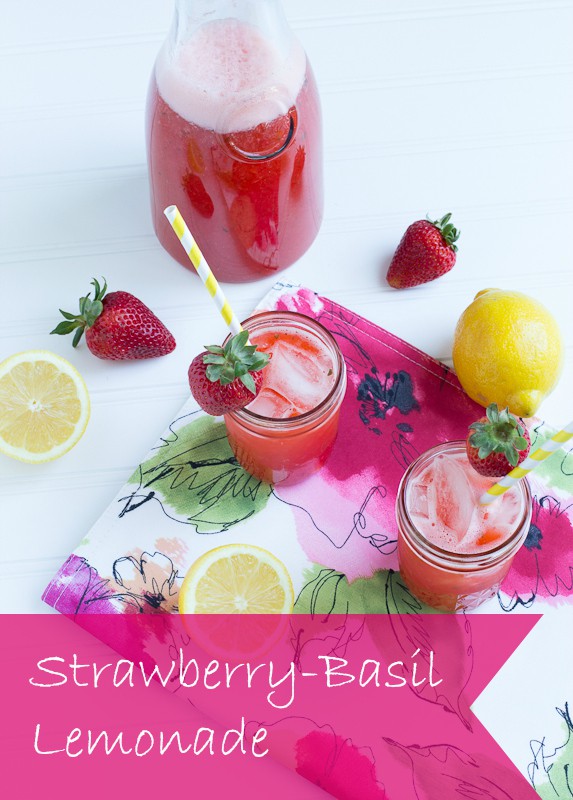 This beverage is perfect on a hot summer's day. It's refreshing, tart, and sweet.
I decided not to strain the strawberry pulp; however, if you're not a fan of pulp, feel free to strain the simple syrup mixture through a sieve after blending. I really like the pulp in this recipe. It thickens the drink slightly and boosts the strawberry flavor. The result is a smooth, velvety drink bursting with juicy strawberries, tart lemons, and hints of sweet basil.
Add a few splashes of vodka, rum, or even prosecco, and you have yourself a refreshing summer cocktail.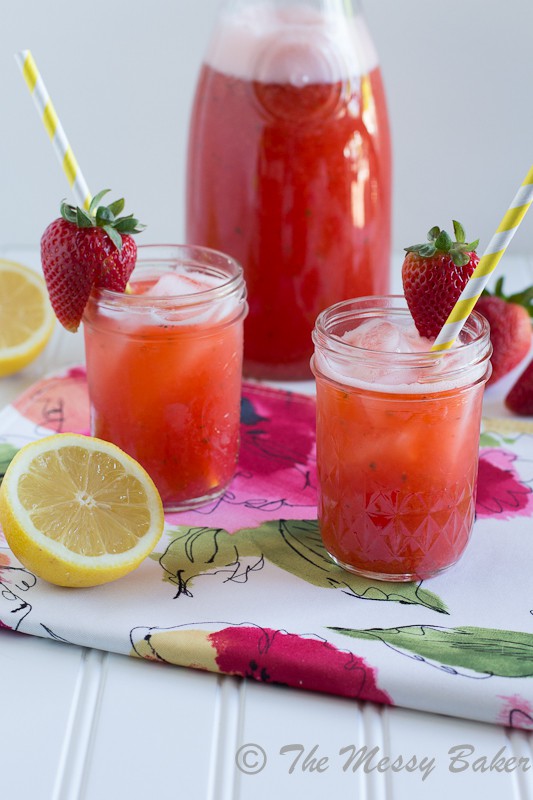 If you're leaving the lemonade alcohol free, add 2 extra cups of water in place of the alcohol.
Enjoy your Memorial Day!
Check out the other picnic-inspired #SundaySupper recipes:
Salads and Slaws:
Sandwiches and Mains:
Desserts:
Drinks:
Strawberry-Basil Lemonade: Spiked or Unspiked
Recipe Type: Beverage, Cocktail
Author:
Prep time:
Cook time:
Total time:
Ingredients
2 cups fresh-squeezed lemon juice
4 1/2 cups water, divided
1 1/2 cups sugar
1 lb strawberries
1 cup basil leaves + 4-5 leaves, divided
2 cups vodka, rum, or prosecco, optional (if leaving unspiked, add 2 more cups of water)
Instructions
Add sugar, 1 1/2 cups water, strawberries, and basil to a saucepan. Cook over medium-low heat until the sugar dissolves, about 10 minutes. Take off the heat and allow the mixture to set for 30 minutes.
Add the mixture to a blender and pulse until smooth. Add 4-5 basil leaves and pulse to break up the leaves. Feel free to run the mixture through a sieve if you don't like pulp.
Add the lemon juice, water, sugar mixture, and vodka (if using) to a large pitcher. Stir to combine. Pour over ice.