Creamy Parmesan Pasta with Chicken & Mushrooms
This week I have the pleasure of working with Land O Lakes® to create this Creamy Parmesan Pasta with Chicken & Mushrooms. This simple dish is full of flavor using their new Sauté Express® Sauté Starter kits for #SundaySupper.
What's a Sauté Express® Sauté Starter kit? I'm glad you asked. I like to call it convenience in a packet. It combines everything you need to start whipping up dinner in a flash:  olive oil, butter, herbs, spices, and garlic. It's a one stop trip to flavor town.
Land O Lakes® understands that life can get a bit hectic, so they took the busy chef into consideration when they created their new Sauté Express® Sauté Starter kits. Late meeting at work? After-school activities with the kids? Gym? No worries, Land O Lakes® has you covered.
I'm all too familiar with how busy life can get; I work a full-time job, go to school, run a blog, and go to the gym every week. My active schedule requires simple, no-fuss meals during the week. Simple doesn't have to mean flavorless, which is where Land O Lakes® comes in. They're Sauté Express® Sauté Starter kits are full of fresh flavors just waiting to enhance your weeknight meals.
The Sauté Express® Sauté Starter kit comes in four delicious flavors: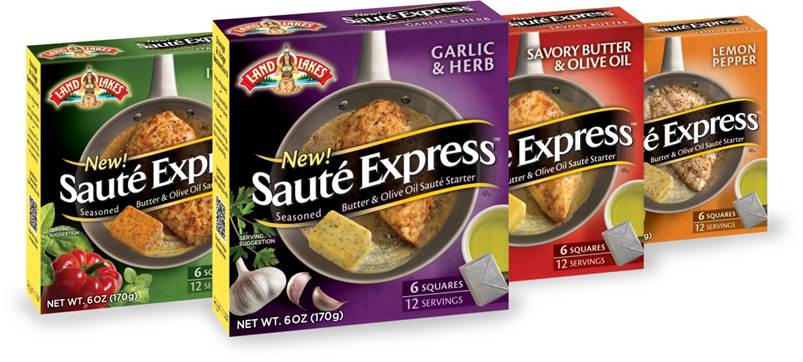 My favorite go-to ingredient for simple weeknight meals is pasta. It's quick and extremely versatile. I decided to make a creamy parmesan pasta with chicken & mushrooms that only takes 30-minutes from start to finish.
I decided to use the garlic and herb kit for this recipe. It added a huge boost of flavor and complemented my sauce perfectly. As soon as you unwrap the butter packet, you're instantly hit with the aromas of fresh garlic and chopped herbs.
This pasta is so GOOD! The creamy sauce is full of fresh parmesan, sun dried tomatoes, garlic, fresh basil, hearty chunks of moist chicken, and sliced mushrooms.
I love that this Creamy Parmesan Pasta with Chicken & Mushrooms can be prepared in less than 30-minutes; it's perfect for the busy chef. This may be a quick, weeknight meal, but it doesn't lack in the flavor department. You get all the flavor from this dish as you would a slow-cooked, gourmet meal.
Enjoy!
Creamy Parmesan Pasta with Chicken & Mushrooms
Ingredients:
8 ounces dried spaghetti
2 cups cooked chicken, cubed
2 tablespoons butter
1 and 1/2 cups portobello mushrooms, sliced
3 cloves garlic, minced
1/4 cup sun-dried tomatoes, chopped
1/4 cup chicken stock
1 and 1/2 cups half & half
1/2 cup reserved pasta water
3/4 cup parmesan cheese
1/4 cup fresh basil, chopped
1 tablespoon lemon juice
Directions:
Bring a large pot of water to a boil. Generously salt the water and add the dried spaghetti. Cook until al dente, reserving 1/2 cup of the pasta water. Drain and set aside.
In a large non-stick skillet over medium heat, add one garlic & herb Sauté Express square. Add the mushrooms and brown. Add the garlic and sauté until tender, about 2 minutes. Add a pinch of salt and pepper and the chopped sun-dried tomatoes and cook for 1 minute.
Add chicken stock and reduce slightly. Turn down the heat to medium-low and add the half & half, bring to a gentle boil and allow to reduce slightly, about 2 minutes. Stir in the reserved pasta water, lemon juice, parmesan cheese, and chicken, cook for 1 minute. Taste the sauce and add salt and pepper to taste.
Stir in the cooked pasta and chopped basil. Transfer the pasta to a serving dish. Top with extra parmesan cheese. Serve.
All images and text ©
.
Whipping up one of my recipes? I wanna know about it! Snap a photo and tag your post with #onesweetmess on Twitter or Instagram. Seeing your creations come to life makes my day!