Nutella Swirl Pumpkin Chocolate Muffins
Push aside that healthy bowl of oatmeal for one of these Nutella Swirl Pumpkin Chocolate Muffins. They're sweet and decadent, moist and tender.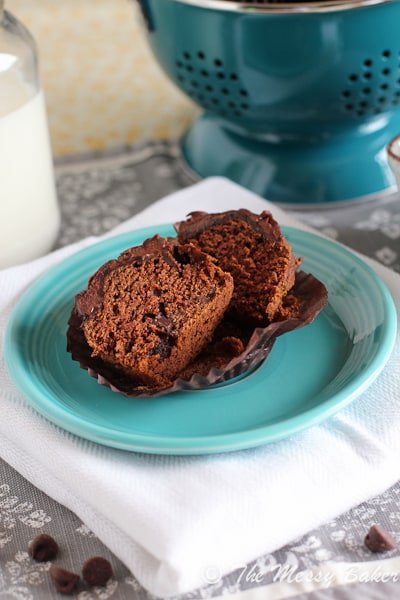 Why should you make muffins? Um, they're delicious! Need more convincing? Oh, all right.
They're individual, which means there's no need to share and, as you all know, I don't respond well to sharing. I'm like Joey on Friends… Jennie doesn't share her food. Sorry!
They only take a few minutes to whip up, and I'm a huge fan of instant gratification. When this girl wants something, she doesn't like to wait for it.
They're extremely versatile. Like bananas? Throw some in. Chocolate fan? Add those, too. The list goes on.
Did I mention that they're delicious? Well, they are.
Convinced?
This week's muffin recipe happened to be something I already have on the blog, Double Chocolate Banana Muffins. So, I decided to shake things up a bit and make a nutella swirl pumpkin chocolate muffin, and it's damn good!
I know I'm going a bit overboard with pumpkin, but, in my defense, it's fall.
The chocolate really shines in this recipe. There's a touch of cocoa powder in the batter, a generous amount of chocolate chips studded throughout, and a dollop of Nutella swirled in the center. Chocolate fans… You're welcome.
The pumpkin is there to aid in the moist, cake-like texture of this cupcake. This may be the moistest muffin I've ever had.
Nutella Swirl Pumpkin Chocolate Muffins
Ingredients:
1 and 1/2 cups all-purpose flour
1 teaspoon baking soda
1/2 teaspoon cinnamon
1/4 cup cocoa powder
1 cup pumpkin puree
1/2 cup unsalted butter, melted
2 eggs
1/2 cup brown sugar
1 teaspoon vanilla extract
1/2 cup chocolate chips
1/3 cup Nutella
Directions:
Preheat oven to 375 degrees F. Line 16 muffin tins with paper liners.
In a small bowl, whisk together flour, baking soda, cinnamon, and cocoa powder. Set aside.
In a large bowl, whisk pumpkin puree and melted butter. Whisk in eggs, brown sugar, and vanilla. Fold in dry ingredients until just combined, then gently fold in chocolate chips.
Fill each of the tins half way. Using a 1/2 teaspoon, add a dollop of Nutella, then top with batter. Swirl with a knife. Bake for 15-18 minutes, or until a tooth pick inserted in the center comes out clean.
All images and text ©
.
Whipping up one of my recipes? I wanna know about it! Snap a photo and tag your post with #onesweetmess on Twitter or Instagram. Seeing your creations come to life makes my day!