Hello, Cupcake!
I made cupcakes! I just love making cupcakes. I mean, who doesn't adore a cupcake? They're individual cakes that you don't have to share. That's right, no sharing. I'm stingy. I will not share my cupcake. Hello, get your own, there's 23 more right over there in the cupcake holder. Geesh!
I searched for the perfect cupcake recipe for our Easter festivities, and what I found was a Bakery-style vanilla cupcake on Sweetapolita. Thanks, Rosie. If you haven't been to Rosie's site, you're missing out. Her site is full of beautiful, sprinkled confections, copious amounts of fluffy frosting, and tons of sweet treats. You'll leave inspired and drooling. Click the link and say hi to Rosie. She'll have you coming back daily to see what treat she's baking up next.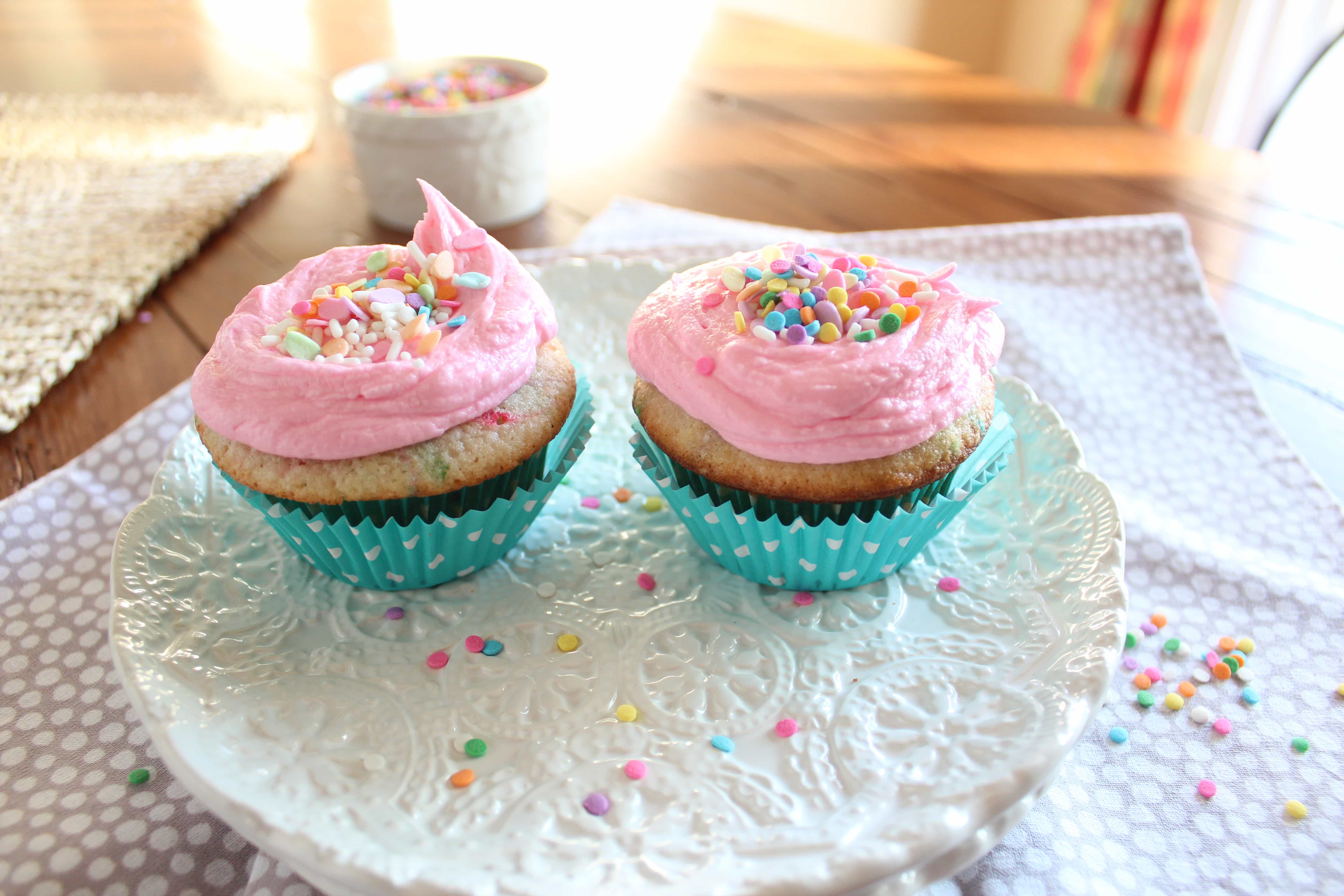 Let me just tell you, I love sprinkles! They make everything pretty and cheerful. I'd put them on everything if I could. I even added sprinkles to the batter- I couldn't resist!
These cupcakes are absolutely delicious. I ate one. I scarfed it down in 3 bites. Then, I proceeded to lick the frosting spatula clean. I should probably be ashamed, but I'm just unable to conjure up that feeling- it just felt so right! You will not be disappointed with this cupcake. It's impossible. They're buttery, fluffy, and moist. The frosting, oh the frosting. It's sweet, light, fluffy, and melts in your mouth. Pure heaven.
I wish all of you a very happy Easter. Enjoy it with loved ones. Share each other, share food, share the love. Don't share your cupcake! You don't have to- there's 23 more.
Love and sweet treats,
Jennie
Recipe
adapted from Sweetapolita
1 1/2 cups self-rising flour
1 1/4 cups all-purpose flour
1 cup (2 sticks) unsalted butter, softened
2 cups sugar
4 large eggs, at room temperature
1 cup whole milk
2 tsp. vanilla extract
1/4 cup nonpareil sprinkles
Preheat the oven to 350 degrees F. Line two muffin tins with cupcake liners.
In a small bowl, combine the flours and set aside. In a large bowl, on medium speed of an electric mixer, cream the butter until smooth. Add the sugar gradually and beat until fluffy, about 3-5 minutes. The mixture will become very pale. Add the eggs, one at a time, beating well after each addition.
Add the dry ingredients in three parts, alternating with the milk and vanilla (I added the vanilla to the milk) with each addition, beat until the ingredients are incorporated, but do not over beat. Scrap down the bowl with a rubber spatula after each addition. Fold in nonpareils.
Spoon the batter into the cupcake liners. I use a stainless steel scoop. It makes scooping much easier and ensures that the cupcakes will be consistent in size. Bake in the middle of the oven until tops are golden brown and a toothpick inserted into the center comes out clean (a few crumbs are okay), about 15-18 minutes. Cool cupcakes in tins for 5 minutes. Remove from tins and cool completely on a wire rack before frosting.
Pink Vanilla Frosting:
3 sticks unsalted butter, softened
5 cups confectioners' sugar, sifted
2 tbs. whole milk
2 tsp. vanilla extract
pinch of salt
In a bowl of an electric mixer fitted with the whisk attachment, whip butter for 5 minutes on medium speed. Butter will become very pale (almost white) and creamy. Add confectioners' sugar 1 cup at a time, beating after each addition. Add the milk and vanilla, beating until incorporated. Scrap down the bowl and whisk to combine. Add a touch of pink food coloring, and whisk until incorporated. I may have added a little too much; I was going for pale pink, but it came out a little on the hot pink side. Frosting is best if used right away.
Frost your cupcakes with an offset spatula or fill a pastry bag and pipe the frosting on. Add sprinkles.