Spaghetti with Vodka Sauce
Have you ever heard of the "No recipe recipe?" It's a recipe, yet it's not a recipe. What? I didn't really understand its concept until I was in the kitchen the other night experimenting with a pasta sauce. Now, I completely understand the idea behind the no recipe recipe. It allows the cook the ability to impart their own creativity and flavors into a dish. It's actually quite brilliant. It gives the base for a recipe, but allows room for flexibility. It's good for the timid cook because they have essentials to work with but can go outside the boundaries if they're feeling frisky.
I made a no recipe recipe vodka sauce that can be paired with pasta, chicken parmesan, lasagna, or whatever else you like. It's a very flexible sauce, which means you can add a little of this or a little of that. Make it your own and get creative with it. That's what a no recipe recipe is.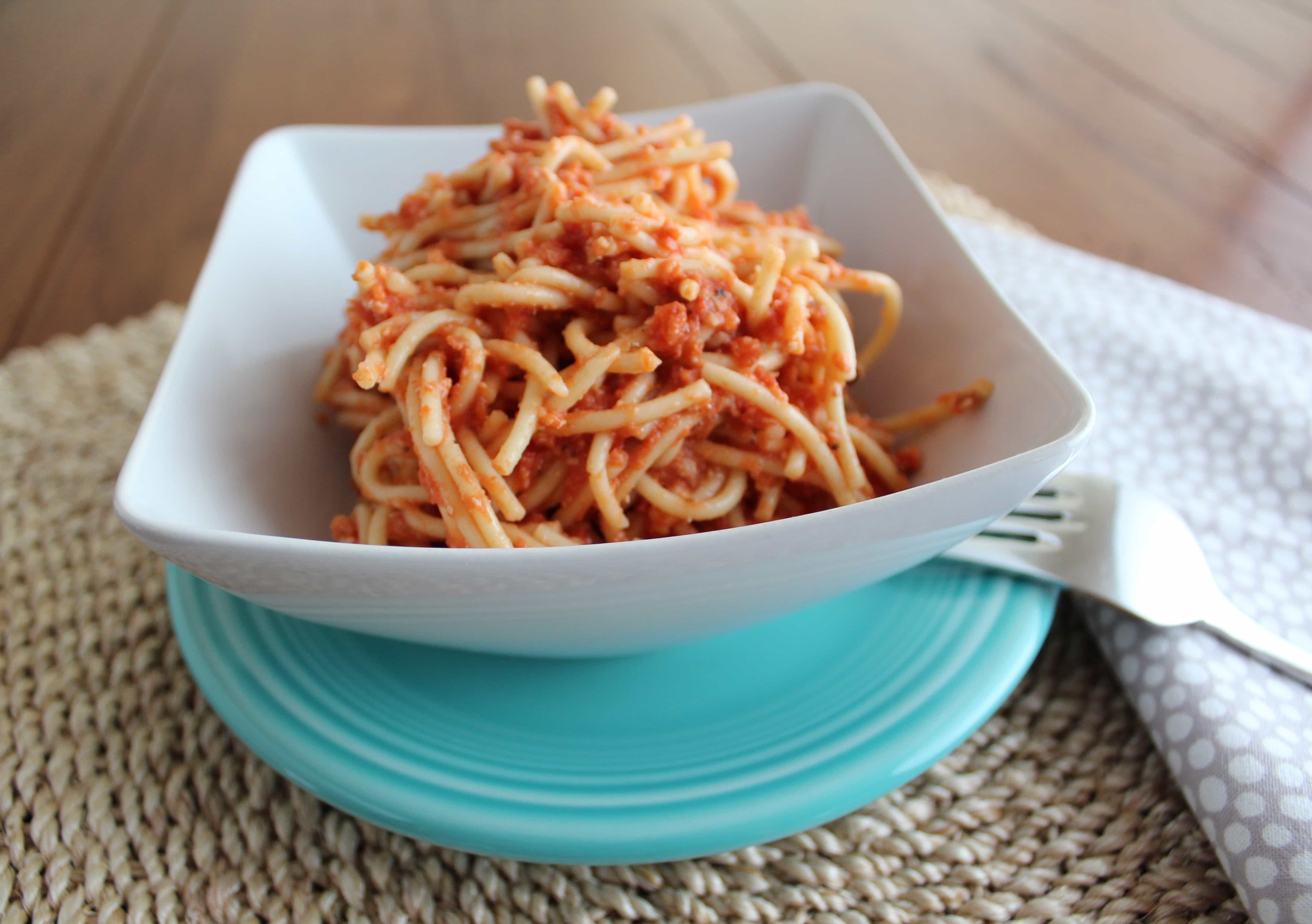 I paired my vodka sauce with spaghetti. Simple, yet delicious. This recipe is great for the busy cook. The sauce is finished in the time it takes the pasta to cook. No lie! I was completely impressed the other night when I made this dish. It was one of those nights when I had a million things to do and I had no idea how I was going to fit in making dinner. But, I did it. And, it only took 20 minutes. Victory feels good!
Add a little wine to the mix and life is good. It also helped me forgot about the many chores I had weighing on my thoughts.
The vodka sauce is extremely flavorful. It may only take about 15 minutes to cook, but it doesn't lack in flavor. It's creamy, cheesy, and slightly spicy. The vodka gets cooked down, but it leaves a nice bite in the background of the sauce. Enjoy!
Recipe:
1/2 cup onion, diced
4 garlic cloves, minced
1/2-1 tsp. red pepper flakes (depending on your spice level)
1 cup vodka
28 oz can crushed tomatoes
3 tbs. parmesan
1/2 cup ricotta cheese
1 tsp. italian seasoning
1/2 tsp. dried basil (3 tbs. of fresh basil if you have it on hand)
1 tbs. sugar
Salt and pepper to taste
1lb pasta
Cook your pasta following the instructions on the pasta box. Don't forget to season the pasta water with salt. It's the only time to impart flavor into your pasta. It definitely makes a difference.
In a large saucepan, heat two tablespoons of olive oil on medium heat. Add onion, garlic, and red pepper flakes. Cook until tender, about 2 minutes. Add vodka and reduce to about half, about 3 minutes. Add crushed tomatoes, italian seasoning, dried basil (if using fresh basil, don't put it in until the sauce is almost finished), and sugar. Cook for about 3 minutes. Using an immersion blender, blend sauce until smooth. If you don't have an immersion blender, feel free to use a food processor or blender. Of course, you're welcome to leave the sauce chunky if that's the way you like it. Add parmesan and ricotta cheese. Cook for about 5 minutes. Add one cup of pasta water to the sauce and stir. Add your cooked pasta to the sauce and serve. Remember, this is a no recipe recipe. You can add or subtract wherever you like. Add a little more heat by adding a bit more red pepper flakes. If you love cheese, add more ricotta or parmesan. It's your sauce, so by all means, add what you love. Enjoy!