Shrimp Linguine with Lemon Butter Cream Sauce
This shrimp linguine with lemon butter cream sauce incorporates the vibrant flavors of summer and comes together in just 15 minutes.
Summer is the season for simple dishes that highlight fresh, seasonal ingredients. It's also the season for meals that require very little effort and come together quickly. There's nothing worse than having to turn on your oven when it's roasting outside.
I tend to reach for seafood in the summer. It's fresh, healthy, and easy to prepare. Shrimp is one of my go-to ingredients in the summer. You can pretty much add it to anything and it will taste amazing.
We're big on lemon butter sauce in my house. My husband requests mahi mahi drizzled with lemon butter (more like swimming in lemon butter) at least once a week. While I love lemon butter sauce, eating the same dish again and again gets old, fast!
Good lemon butter sauce must include the following items: lemon (obviously), real butter (no margarine–absolutely none!), garlic, basil, and chili pepper flakes. Five simple ingredients is all it takes to produce one delicious, and versatile, sauce.
I adore fresh herbs, but I'm known to let them die before I ever get use them for their intended purpose. They end up wilting and withering to a black pulp before I remember they exist.
There's no need to worry about herbs dying an expensive death with Gourmet Garden's new line of Lightly Dried Herbs. All five varieties is the closest thing to fresh in flavor, aroma, and appearance. Once opened, they'll last up to 4 weeks in the refrigerator.
I'd like to think Gourmet Garden had me in mind when they developed their new lightly dried line of herbs.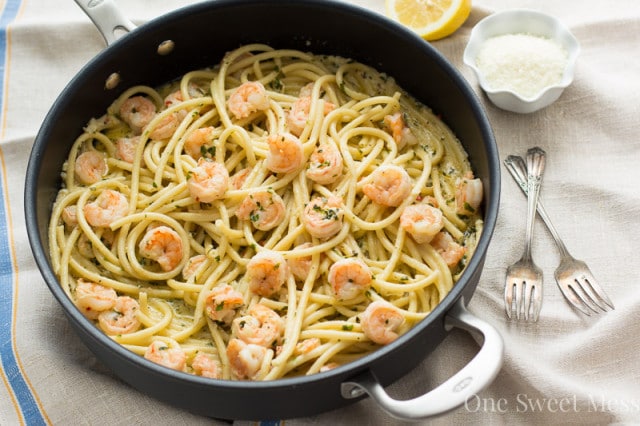 I used their Lightly Dried Basil and Chili Pepper in this recipe. The chili pepper flakes add a subtle spice to the sauce, while the basil gives a fresh burst of summer flavor.
The best part about this dish is that it comes together in 15 minutes, from start to finish. This dish has all the flavor of a dish that took hours to cook, minus the labor. Now you'll have more time to enjoy the weather.
Shrimp Linguine with Lemon Butter Cream Sauce
Fresh flavors of lemon and basil mingle with butter and shrimp for a hearty pasta dish that comes together in just 15 minutes.
Ingredients:
8 ounces linguine pasta
1 stick unsalted butter
4 cloves garlic, minced
1 pound shrimp, peeled and tail removed
1/2 teaspoon chili pepper flakes, such as Gourmet Garden
1/4 cup lemon juice
zest of 1 lemon
1/4 cup heavy cream
1/3 cup reserved pasta water
1/2 cup parmesan cheese
2 tablespoons basil, such as Gourmet Garden
salt and pepper to taste
Directions:
Cook pasta according to package instructions, reserving a 1/3 cup of the pasta liquid.

While the pasta is cooking, melt the butter in a large skillet over medium heat. Add the garlic, chili pepper flakes, and shrimp to the pan. Season with a pinch of salt and pepper. Cook, stirring occasionally for five minutes, or until the shrimp is pink.

Stir in the lemon juice, lemon zest, heavy cream, and reserved pasta liquid. Allow the mixture to simmer for 2 minutes.

Drain the cooked pasta and add it to the sauté pan; stir to combine. Cook for an additional minute to allow the pasta to soak up the sauce. Stir in Parmesan cheese and basil. Season with salt and pepper to taste.

Remove the pan from the heat and allow the pasta to sit for 5 minutes to thicken. Serve with extra Parmesan cheese, if desired.
All images and text ©
.
Whipping up one of my recipes? I wanna know about it! Snap a photo and tag your post with #onesweetmess on Twitter or Instagram. Seeing your creations come to life makes my day!
Want more pasta? Try these recipes:
Pasta Primavera Salad – Hungry Couple
Sesame Shrimp Peanut Noodles – Chocolate Moosey
American Chop Suey – A Family Feast
Veggie-Filled Tortellini Skillet – Cookie Monster Cooking
Disclosure: This recipe was developed for the lovely folks at Gourmet Garden. All opinions are my own. Thank you for supporting my recipes and site while I work with brands I adore.