Chocolate Chip Hot Cross Buns
Warm, fluffy dough studded with mini chocolate chips and topped with sweet, gooey frosting.
Classic hot cross buns… Okay, so they're not quite "classic," but they're most certainly delicious. Why have a classy bun when you can swank it up with some chocolate, am I right?
The word bun always jostles an inner childlike excitement that conjures memories of tangy yeast smells seeping from the oven and butter melting between two fluffy halves of bun.
These chocolate chip hot cross buns are perfect for your Easter festivities. They're sweet, fluffy, and irresistibly buttery. Because I love all things chocolate, I loaded the dough with mini chocolate chips.
I used Red Star Platinum Yeast to achieve the perky buns you see pictured above. I keep several packets in my pantry at all times. Their Platinum yeast achieves the highest rise every time.
After the rolls cool, they get a generous drizzle of sweet, sticky icing that I laced with a hint of cinnamon. I always add extra icing to my buns, which is why the piped cross looks like a drippy mess.
Taste trumps aesthetics…always!
Your pan of hot cross buns will quickly disappear. If you find a lonely bun lingering in the pan, heat it in the microwave for a few seconds to give it that just-out-of-the-oven taste.
Chocolate Chipe Hot Cross Buns
Warm, fluffy dough studded with mini chocolate chips and topped with sweet, gooey frosting.
Ingredients:
Dough:
5 and 1/2 cups all-purpose flour, divided
1 (3/4 ounce) package Red Star Platinum Yeast
1/2 cup hot water (not to exceed 110 degrees F.)
1/2 cup granulated sugar
1 teaspoon kosher salt
6 tablespoons melted butter
1/2 cup milk
1 teaspoon vanilla extract
3 large eggs, divided
1 cup mini chocolate chips
Icing: 
2 cups powdered sugar
2-3 tablespoons milk
1/8 teaspoon cinnamon
Directions:
Add 1/2 cup hot water to a small bowl or measuring cup. Sprinkle the yeast over the water and gently mix to combine. Allow the yeast to bloom and become foamy, about 5-10 minutes.
In the bowl of a stand mixer fitted with the dough hook, add 4 and 1/2 cups of flour, sugar, and salt. Turn the mixer on low and mix for 10 seconds to combine.
In a bowl, whisk together melted butter, milk, vanilla extract, and 2 eggs.
With the mixer on low (speed 2) add the yeast mixture to the bowl of the mixer. Slowly pour in the butter mixture. Continue to mix on low, scraping the flour from the sides of the bowl as you go. Once all of the flour is incorporated into the dough, slowly add and additional 1/2 cup of flour, scraping the sides of the bowl as needed.
Stop the mixer and remove the dough from the hook and scrape down the sides and bottom of the bowl. Turn the mixer on low (speed 2) and gradually add the chocolate chips. Continue to mix on low for 5 minutes.
Transfer the dough to a lightly floured surface. Continue to knead the dough by hand, gradually adding the remaining 1/4 cup of flour to the dough. The process will take an additional 5 minutes. You'll know the dough is ready when it's elastic and no longer sticky.
Place the dough in a large lightly greased bowl. Cover the bowl with a clean, dry towel and let rise for 1 and 1/2 hours.
Gently punch down the dough. Transfer the dough to a lightly floured surface and measure out 15 (95 gram) dough balls–I highly recommend using a scale. Roll each piece of measured dough until it forms a smooth ball. I do this by placing the dough on a smooth surface and rolling my palm over the dough in a cirucular motion.
Grease a 9-inch-by-13-inch pan with butter or nonstick baking spray. Place the dough in the pan, spacing them 2 inches apart. You should end up with 5 rows, each row made up of 3 dough balls. Cover the pan with a clean, dry towel. Allow the buns to rise for 1 to 1 1/2 hours, or until double in size.
Preheat the oven to 350 degrees F.
Make an egg wash by whisking the remaining egg with 1 teaspoon of water in a small bowl. Gently brush the tops of the buns with the egg wash. Bake the buns for 28-30 minutes, or until the buns are a deep golden brown.
Place the buns on a wire rack and allow them to cool completley in the pan. Pipe the tops of the buns with the icing to resemble a cross.
Icing: Whisk together powdered sugar and cinnamon in a large bowl. Whisk in 2 tablepoons of milk. You want the mixture to be thick enough to pipe. If the mixture is too thick, gradually whisk in the extra tablespoon of milk until smooth. Transfer the mixture to a piping bag or large zip-close bag. Snip off the end of the bag.
All images and text ©
.
Whipping up one of my recipes? I wanna know about it! Snap a photo and tag your post with #onesweetmess on Twitter or Instagram. Seeing your creations come to life makes my day!
Baking tools I used to make this recipe:
• Stand mixer
• Digital kitchen scale
• 9-inch-by-13-inch baking pan
If you like this recipe, then you'll love these: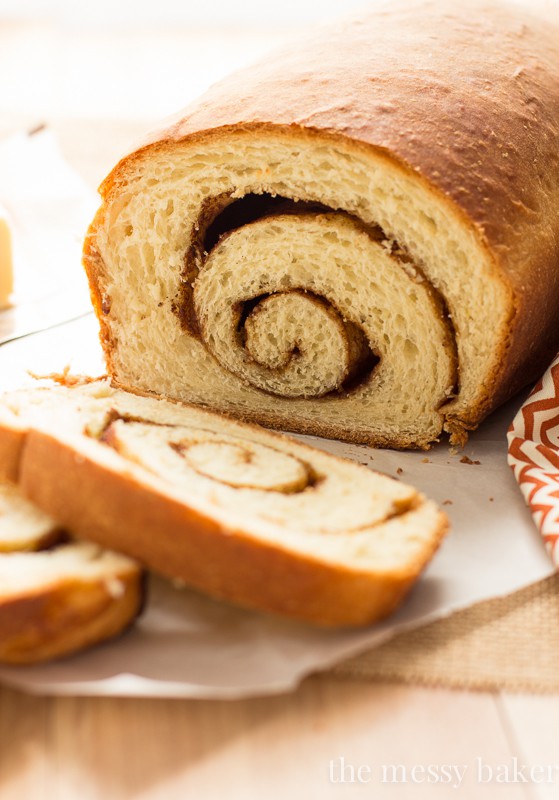 Cinnamon Swirl Loaves
Nutella & Toasted Pecan Sweet Rolls
Disclosure: This recipe was developed for the amazing folks at Red Star Yeast. All opinions are my own. Thank you for supporting my recipes and site while I work with brands I adore.