Cinnamon Swirl Loaves
Homemade bread stuffed with cinnamon, brown sugar, and toasted pecans. Waft the fresh scent of home-baked bread goodness.
Sometimes I use baked goods as a form of apology.
Take the other day, for instance. I was up in the attic collecting my fall decorations when I tripped over a random box of crap. I was able to cling to one of the roof beams to save myself from falling backwards down the attic steps (thank you, Jesus), but not before one of my legs went right through the ceiling–oops!
I pulled my leg out of the ceiling and proceeded to descend the attic stairs to access the damage, all the while singing everything's gonna be all right.
It was not all right. It was far from all right. Sure enough, I managed to bust right through the newly renovated second floor ceiling–oops, again?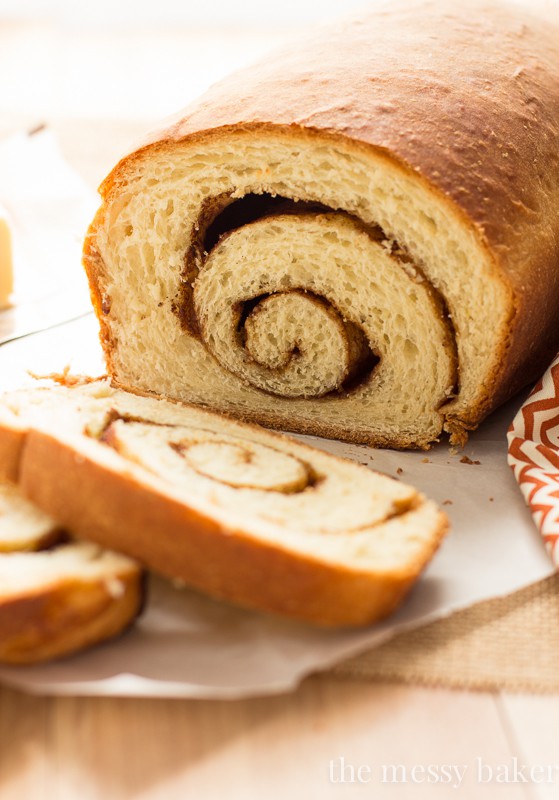 How do you tell a man that just spent a gazillion man hours making your upstairs look purdy that you took a dive through his freshly plastered and painted ceiling?
You don't. You cover up the damage and hope the other person never finds out–kind of like I did with the hole in the living room wall. However, this was a ceiling, and there was no way I was going to cover up the gaping hole with our wedding photo.
I was forced to tell the truth. That's where this recipe for cinnamon swirl loaves from Red Star Yeast come in; because there's no better way to say I'm sorry for falling through the ceiling than with two loaves of sweet, buttery cinnamon bread piping hot from the oven.
Here's how the conversation played out:
Me: I made you two–not one, but two–loaves of cinnamon swirl bread. *walking away with speed* And, I'm sorry for falling through the second floor ceiling.
Squirrel: *holding the bread pan* Um… Hold on, what?
And that's how you tell the truth. It works every time.
This recipe makes two gorgeous loaves of homemade bread swirled with a layer of melted butter, cinnamon, brown sugar, and toasted pecans. The scent of yeast and cinnamon that fills your house as the loaves bake will have you wanting to bake bread every day for the smell alone.
I used Red Star Platinum Yeast in the recipe. Their Platinum Yeast increases volume and strengthens the dough. You'll get a higher rise with more spring and a softer texture. They don't call is superior for nothing. I reach for a packet every time I bake a loaf of homemade bread.
The swirl alone will have you coming back for seconds and thirds.
Cinnamon Swirl Loaves
Homemade bread stuffed with cinnamon, brown sugar, and toasted pecans.
Ingredients:
Bread:
5 to 5 and 1/2 cups bread flour
2 packets Red Star Active Dry or Platinum Yeast ( 4 and 1/2 teaspoons)
1/2 cup granulated sugar
1 teaspoon kosher salt
3/4 whole milk
1/2 cup water
1/2 cup unsalted butter, cut into cubes
2 eggs
Cinnamon Sugar Swirl: 
2 tablespoons unsalted butter, melted
1/2 cup light or dark brown sugar
1 tablespoon ground cinnamon
1/4 cup chopped toasted pecans
Directions:
Add 2 and 1/2 cups bread flour, yeast, sugar, and salt to the bowl of  a stand mixer fitted with the dough hook attachment. Mix on low for 3o seconds to combine the ingredients.
Add milk, water, and butter to a saucepan. Heat over medium-low heat until hot to the touch (110-120 degrees F.).
Add the milk mixture to the bowl of your stand mixer with the flour. Turn your mixer on low and mix until just combined.
Add eggs and blend at a low speed until moistened. Turn the mixer to medium speed and beat for 3 minutes.
Turn the mixer down to low and slowly add the remaining flour until the dough is firm and no longer sticky. Turn the mixer to medium and beat for 6-8 minutes, or until the dough becomes smooth and elastic.
Place the dough in a lightly oiled bowl. Cover with a clean tea towel and place in a warm area of your kitchen. Allow the dough to rise for 1 to 1 and 1/2 hours, or until double in size.
While the dough rises, add brown sugar, cinnamon, and toasted pecans to a small bowl; whisk to combine.
Gently punch down the dough. Divide into 2 parts. Lightly flour a clean surface. Roll each dough half into a 14-by-7-inch rectangle with a rolling pin.
Brush each half with melted butter and sprinkle half of the filling over each dough rectangle. Starting with the shorter side, roll up tightly, pressing the dough gently into the roll with each turn. Pinch the edges and ends to seal. Place each roll of dough in a greased 9-by-5-inch bread pan. Cover and let rise in warm place until double in size, about 1 hour.
Preheat the oven to 35o degrees F. Bake for 35-40 minutes until golden brown.
Cool in the pans for 30 minutes before removing. Transfer to a wire rack to cool completely.
If you don't have bread flour handy, substitute with equal amounts of all-purpose flour.
Whipping up one of my recipes? I wanna know about it! Snap a photo and tag your post with #onesweetmess on Twitter or Instagram. Seeing your creations come to life makes my day!