Cranberry Orange Sangria
This Cranberry Orange Sangria is a holiday crowd pleaser. Its festive red color will have your guests flocking to the bar.
'Tis the season for big pitchers of festive sangria! Wine, fruit, vodka, and a splash of fizzy soda <---Bringing joy to holiday festivities everywhere. Sangria is the batch cocktail that doesn't disappoint. It's layers of boozy fun for every adult girl and boy. Just look at that gorgeous ruby red color... If that doesn't convince you to make this Cranberry Orange Sangria, then I have no idea what will. Batch cocktails are your best friend during the hustle and bustle of the holiday season. Trust me on this one, folks. Do yourself a huge favor this year and make a pitcher of this sangria. Not only will it save you time, but you won't have to double as host and bartender. You deserve to mingle with your guests and enjoy the gathering you put forth so much time and effort to plan.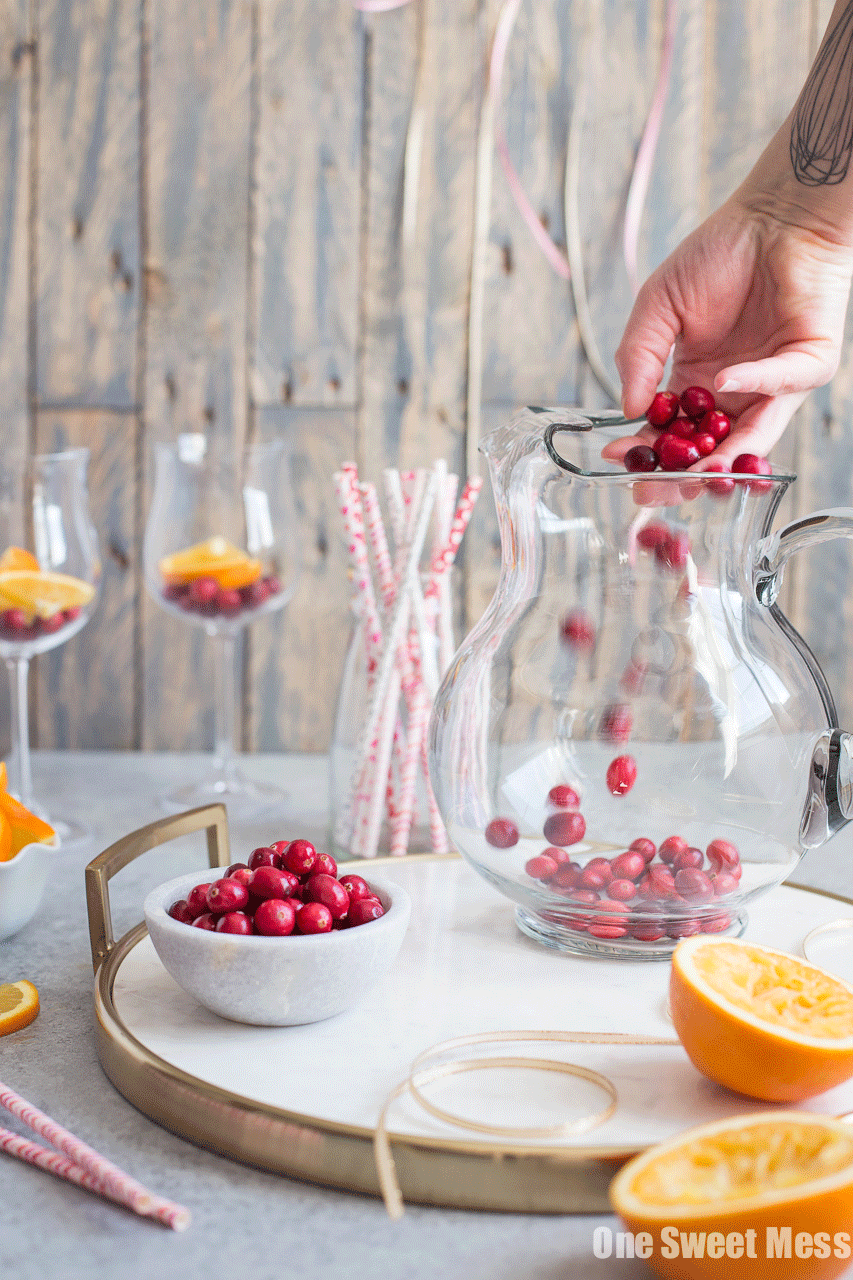 Let's talk about the flavor combo: cranberry and orange. It's only the best of all the holiday flavor duos. It's tart. It's sweet. It's everything.
I used a combination of crisp white wine, tart cranberry juice, fresh-squeezed orange juice, and orange-flavored vodka to create this festive pitcher of joy. The only work involved is adding all of the ingredients to your favorite glass pitcher and giving it a stir. Right before you're ready to serve, add the Mist Twst Cranberry and Mist Twst Lemon Lime to give it a refreshing burst of effervescence. Sangria wouldn't be sangria without its crisp, bubbly fizz. Each bottle is made with a splash of real juice!
I know you guys are going to love this recipe, because it was a huge hit at Thanksgiving. My friends and family loved it so much that they've started putting in their requests for the upcoming holiday parties that I've been invited to this season.
Just call me bartender!
Here's to a lovely holiday season. Cheers!
Cranberry Orange Sangria
Ingredients:
• 1 (750ml) bottle white wine, I used Pinot Grigio
• 1 cup orange vodka
• 2 cups cranberry juice
• 1 cup fresh-squeezed orange juice
• 1 cup Mist Twst Cranberry
• 1 cup Mist Twst Lemon Lime
• Fresh cranberries, for garnish
• Fresh orange slices, for garnish
Directions:
1. Add wine, vodka, cranberry juice, and orange juice to a large glass pitcher. Stir to combine. Place the sangria in the refrigerator to chill for at least 4 hours.
2. Add the Cranberry and Lemon Lime Mist Twst immediately before serving. Serve over ice. Garnish with fresh cranberries and orange slices.
All images and text ©
.
Whipping up one of my recipes? I wanna know about it! Snap a photo and tag your post with #onesweetmess on Twitter or Instagram. Seeing your creations come to life makes my day!
Disclosure: This recipe was developed for the lovely folks at Mist Twst. All opinions are my own. Thank you for supporting my recipes and site while I work with brands I adore.