Spicy Chorizo Meatballs with Chipotle Barbecue Glaze
These Spicy Chorizo Meatballs with Chipotle Barbecue Glaze are perfect for Super Bowl snacking. They're spicy, tender, and glistening with saucy goodness.
I think we can all agree that Super Bowl is all about the food. I'm sure there are a few people that show up for the game, but I'm willing to bet that most of your guests show up for the endless appetizers and various boozy beverages.
Super Bowl is considered a national holiday in my family. We plan menus, send out invites, and request off at work the following Monday. It's a big deal!
Squirrel creates an endless list of "football food" that he then hands off to me with the expectation that I'll make everything on the list–in his dreams! While I do give in and make a few of the recipes on his very long list, I do like to add a few of my own creations.
These Spicy Chorizo Meatballs made the list this year, and they're Squirrel approved! There are so many things I love about these tender little meaty balls, but my favorite has to be the addition of Food Should Taste Good Pinto Bean Multigrain Bean Chips. You read that right. They're chips made with pinto beans, along with flax seed, sesame seeds, and quinoa. They're absolutely delicious and supremely crunchy. They also happen to be gluten-free, vegan, and kosher–everybody wins!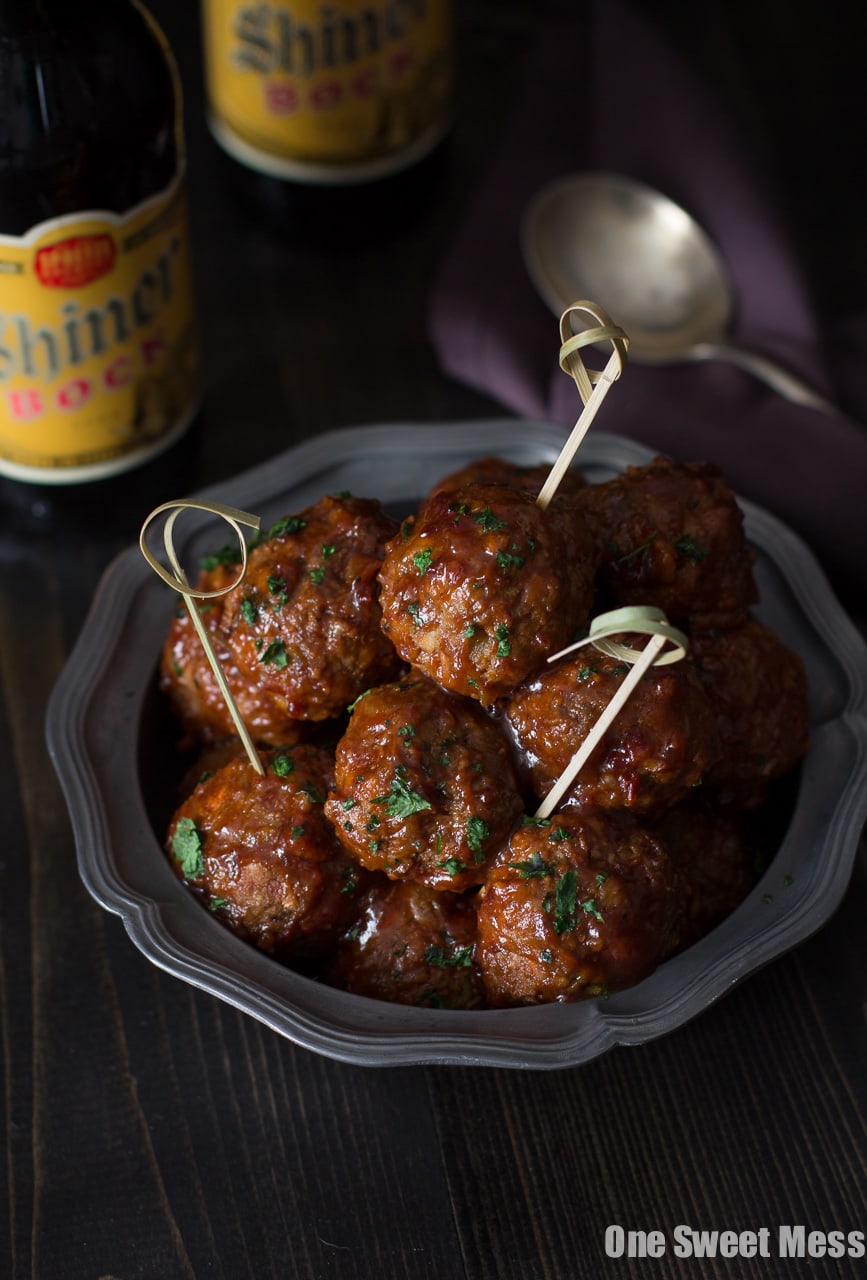 Instead of sticking with conventional ol' bread crumbs to bind the meatballs, I used a handful of crushed up Food Should Taste Good Pinto Bean Multigrain Bean Chips instead. The addition of the chips help bind the meatballs while keeping them gluten-free.
I used a combination of spicy chorizo sausage and ground beef in this recipe. The chorizo adds bold flavor and a hint of spice, but it also helps keep the meatballs juicy. You know, there's nothing worse than a dry meatball, am I right? Meatballs require some sort of sauce–it's the rule. So I whipped up an easy chipotle barbecue glaze to create a sweet and spicy saucy exterior.
Since it wouldn't be a Super Bowl party without a few beers, I'm pairing these smoky meatballs with a lightly-hopped dark lager to balance out the heat. You're guests will be all over the platter of these meatballs, so you may want to double the batch.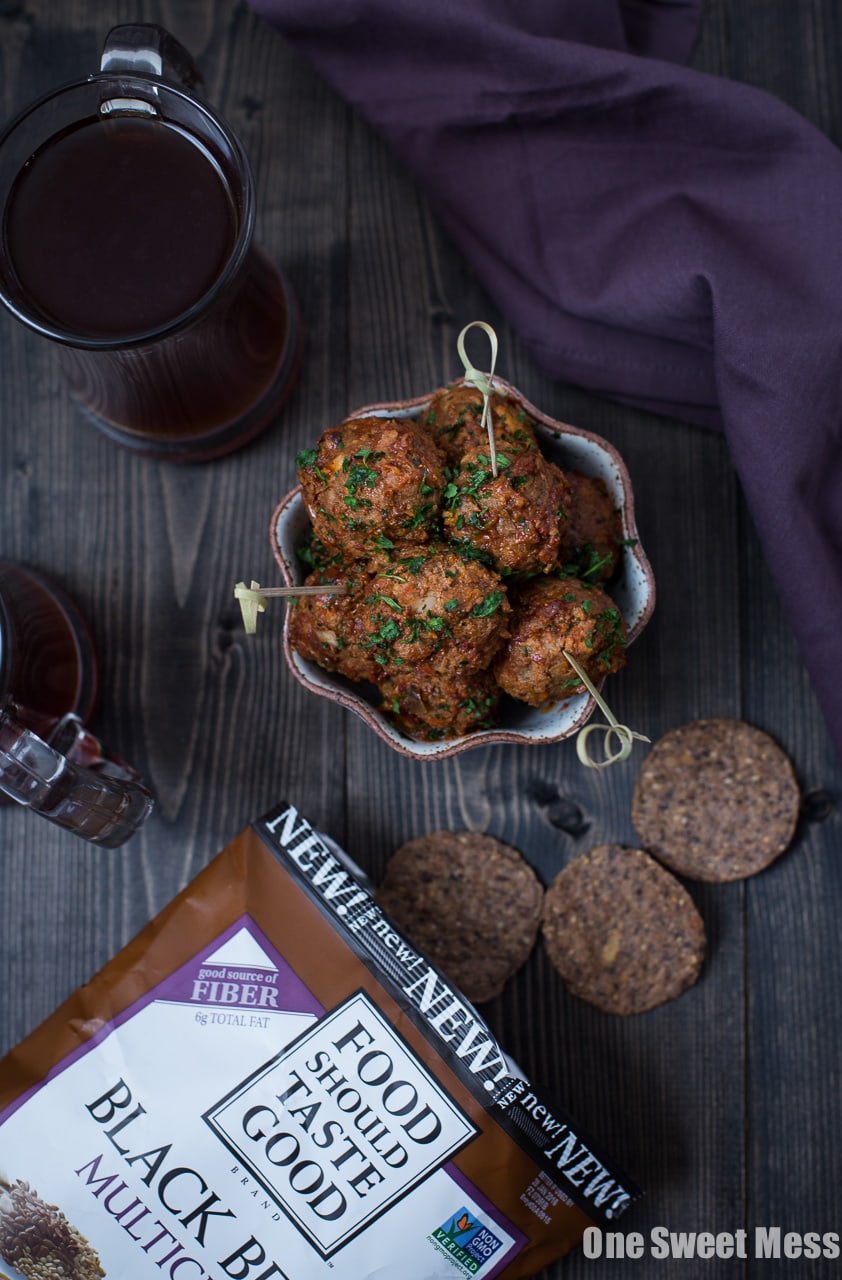 You can find Food Should Taste Good products online and at select specialty retailers. For more recipe inspiration, visit them on Facebook, Twitter, Instagram, and Pinterest.
Spicy Chorizo Meatballs with Chipotle Barbecue Glaze
These meaty bites are perfect for Super Bowl snacking. They're spicy, tender, and glistening with a sweet and spicy glaze.
Ingredients:
Meatballs
1 pound ground beef (I used 80/20)
1/2 pound ground chorizo sausage
1/2 green pepper, roughly chopped
1/2 red pepper, roughly chopped
1/2 medium onion, roughly chopped
1 clove garlic
1 teaspoon kosher salt
1 teaspoon chili powder
1 teaspoon ground cumin
1/2 teaspoon coriander
1/2 teaspoon ground black pepper
1/4 teaspoon smoked paprika
1/4 cup salsa (your favorite)
1 large egg
3/4 cup crushed Food Should Taste Good Pinto Bean Chips
Chipotle Barbecue Glaze
1/4 cup hot sauce
1/4 cup barbecue sauce
1/4 cup honey
2 chipotle peppers in adobo, finely chopped
1 tablespoon worcestershire sauce
Directions:
Preheat oven to 375 degrees F. Line a baking sheet with parchment paper or aluminum foil that has been lightly greased for easy cleanup.
Add the ground beef and chorizo to a large bowl. Add the green pepper, red pepper, onion, and garlic to the bowl of a food processor; pulse until the vegetables are finely chopped. Add the mixture, along with the remaining meatball ingredients, to the bowl with the ground beef and chorizo mixture. Using your hands, mix until the ingredients are thoroughly combined.
Measure out heaping 1-tablespoon size balls. Place the balls on the prepared baking sheet, spacing them 1-inch apart. The recipe will make between 24-28 meatballs, give or take. Bake the meatballs for 20 minutes.
While the meatballs bake, make the glaze by adding all of the glaze ingredients to a large saucepan; whisk to combine. Cook over medium-low heat until the mixture comes to a gentle bubble. Turn off the heat and toss in the meatballs. Serve immediately or transfer them to a slow cooker set to warm until you're ready to serve.
To achieve perfectly crushed tortilla chips, place the chips in the bowl of a food processor and pulse until they become a fine crumb.
All images and text ©
.
Whipping up one of my recipes? I wanna know about it! Snap a photo and tag your post with #onesweetmess on Twitter or Instagram. Seeing your creations come to life makes my day!
Disclosure: Thank you to Food Should Taste Good for sponsoring this post. All opinions are 100% my own. Thank you for supporting my site while I work with brands I use in my kitchen.