Dreamsicle Smoothie
This Dreamsicle Smoothie is infused with fresh oranges and creamy vanilla. It's packed with protein, fresh fruit, and naturally sweetened.
I don't mind eating healthy; in fact, I welcome healthy, wholesome foods into my life with open arms. But I have rules! Technically, it's only one rule, but that singular rule is an important one. All food, no matter the variety, must taste delicious. Whether the food be laden with sugar and butter, gluten-free, vegetarian, paleo (if you're into that sort of thing), or vegan, I have to want to eat it, which is another way of saying it has to taste good.
There is no straying from this rule, either. If it's not tasty, then it's not worth eating. The end!
This Dreamsicle Smoothie is healthy, rich in protein, and naturally sweetened. Since citrus season is officially in full swing, I decided to turn my favorite frozen popsicle–I'm sure you're familiar with the ubiquitous orange popsicle with the creamy vanilla center–into a healthy smoothie. It tastes like a milkshake but has all the health benefits of a smoothie.
I used Friendship Dairies Cottage Cheese to really amp up the protein in this recipe. One serving of their cottage cheese contains 15 grams of protein–that's enough to fill you up and keep you full until your next meal. It's known as the #originalsuperfood for a good reason!
Along with the already protein-rich cottage cheese, I added a few tablespoons of vanilla protein powder. Not only does it boost the protein content, creating a smoothie that can be used to supplement a meal on a busy day or as an on-the-go breakfast option, but the vanilla protein powder enhances the flavor, giving the smoothie a rich, creamy texture that's irresistible.
This smoothie blends up ultra-thick. The combination of cottage cheese, Greek yogurt, frozen mango chunks, and banana create a smooth, creamy smoothie that's just the right amount of sweet. This sip-able orange treat will quickly become your favorite smoothie recipe.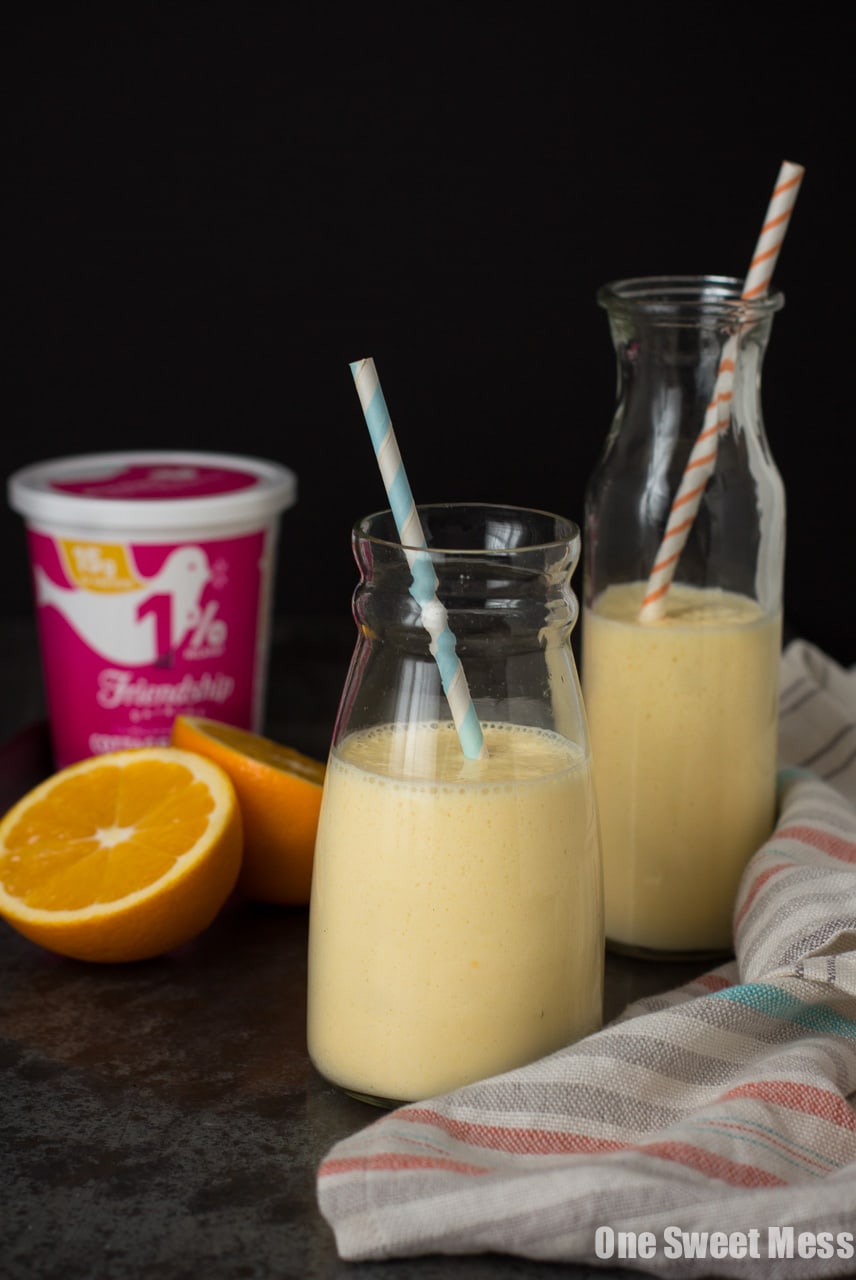 Visit Friendship Dairies.com for more mix-in inspiration using their Superfood Generator.
Dreamsicle Smoothie
This citrus and vanilla-infused smoothie is rich in protein, healthy, and naturally sweetened.
Ingredients:
1 orange, peeled
1/4 cup cottage cheese, such as Friendship Dairies
1/4 cup Greek yogurt
Heaping 1/2 cup frozen mango chunks
2 tablespoons vanilla protein powder
1/2 ripe banana, preferably frozen
1/4 cup orange juice
Directions:
Place all of the ingredients in the bowl of a blender. Pulse until smooth. Serve imediately.
All images and text ©
.
Whipping up one of my recipes? I wanna know about it! Snap a photo and tag your post with #onesweetmess on Twitter or Instagram. Seeing your creations come to life makes my day!
Disclosure: Thank you to Friendship Dairies for sponsoring this post. All opinions are 100% my own. Thank you for supporting my site while I work with brands I use in my kitchen.