Dirty Chai Tea Latte
Chai tea gets down and dirty with a shot of espresso to create this Dirty Chai Tea Latte. It's delicious served over ice or hot.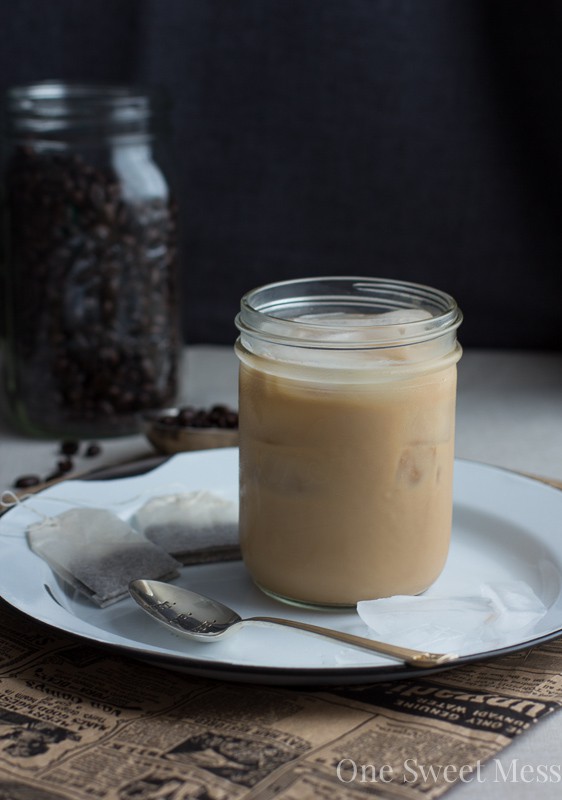 I think I've confessed my love for all things coffee in the past, but I have a major need to do it again. Me and coffee are like this… Wait, you can't actually see me making the universal symbol for close.
Oy!
We're attached at the hip.
Thick as thieves.
Tighter than a pair of Spandex leggings.
Honestly, words can't describe my love of coffee. However, if you ever decide to swing by for a visit, I'll show you just how close we are by introducing you to my coffee station.
Yah, I have a coffee station. It's equipped with several pieces of coffee-making paraphernalia–five to be exact. My newest addition is the iCoffee Opus Single Serve Brewer. I've never been a fan of single serve coffee makers in the past, but this one is different.
The iCoffee brews a bold cup of coffee in less than a minute. I was so excited when I brewed my first cup and it came out piping hot and extra strong. Weak coffee and I do not get along.
The great thing about the iCoffee Opus Brewer is that you dial up or down depending how strong or weak you like your coffee. I tend to dial down for a stronger brew, but that's just me.
Let's talk about this Dirty Chai Tea Latte. Christina from Dessert for Two introduced me to the dirty chai tea in her Espresso Granita post. I remember thinking, "Wha? Dirty chai? That's a real thing?" Of course, the same day, I immediately scuttled off to Starbucks to get with times and try the mashup up flavors.
It was love at first sip, and I immediately planned to replicate the delicious beverage at home, every. single. day.
I put together a short video demonstrating how the iCoffee Single Serve Brewer works and described a few of my favorite features. Check it out:
This dirty chai tea latte is the best of both worlds. You get the warm, spicy flavors from the chai tea and boost of caffeine from the shot of espresso. I prefer to serve mine over ice in the summer, but it's just as delicious hot with a dollop of whipped cream.
Dirty Chai Tea Latte
Spicy chai tea and bold espresso come together to create a delicious beverage. Serve it over ice or hot with a dollop of whipped cream.
Ingredients:
1 ounce espresso
4 ounces chai tea concentrate (such as Tazo)
2 and 1/2 ounces milk (dairy or non-dairy)
Directions:
Combine all indredients in a large cup; stir to combine. Add ice.
All images and text ©
.
Whipping up one of my recipes? I wanna know about it! Snap a photo and tag your post with #onesweetmess on Twitter or Instagram. Seeing your creations come to life makes my day!
For more about the iCoffee Single Serve Brewer, follow them on Facebook and Twitter.
Disclosure: This post was sponsored by iCoffee. All opinions are 100 percent my own. Thank you for supporting my site while I work with brands I love.