Chocolate Brownie Cookies with Sriracha Ganache ~ #SweetTreat
Double Chocolate brownie cookies drizzled with a spicy Sriracha ganache.
I hope you like your sweet with your spicy, because I made you thick, gooey brownie cookies topped with a unique ganache made with spicy Sriracha sauce.
Are you familiar with Sriracha? I only take every opportunity I get to slather whatever I'm eating with the vibrant red chili sauce. It's not overly spicy, but it does pack a wee kick. In the ganache, the Sriracha creates a gentle warmth in the background. I even added a pinch of cayenne pepper—totally optional—for an extra kick of heat.
I was a little nervous about these cookies. Chocolate and Sriracha is a fairly odd combination for most. For years chefs and bakers have been pairing chili with chocolate, but not everyone is a chef or a baker. I was concerned that people wouldn't understand and accept these cookies.
Sriracha in chocolate… Say what?
That's what you're probably thinking, right? One bite is all it will take to fall in love with this unconventional combination.
Squirrel loved them, but I figured as much—the man loves spicy food. I sent the remaining cookies to work with him, and his coworkers gobbled them up. I asked him how the guys liked the cookies, and his response was, "The bowl's empty, isn't it?"
Enough said.
I'm participating in the Baker's Joy "Which Sweet Treat Are You" campaign. Each baker was paired with a specific personality. I was chosen to represent the "Comedic" personality, which meant using an unusual ingredient in my recipe. While Sriracha isn't particularly unusual, you don't often find it paired with a sweet dessert.
Since chocolate and spice go well together, I decided to create a sweet chocolate brownie cookie with a Sriracha ganache.
Baker's Joy fans will have a chance to participate in a "Which Sweet Treat Are You?" personality quiz. Each personality result is represented by a specific "sweet treat" recipe made specifically for this quiz by bakers across the web.
You can take the quiz daily for a chance to win daily prizes and be entered for a chance to win the grand prize. Daily winners will receive a $50 Visa gift card and a year's supply of Baker's Joy. One grand prize winner will win a $500 Visa gift card, a KitchenAid mixer, and a year's supply of Baker's Joy.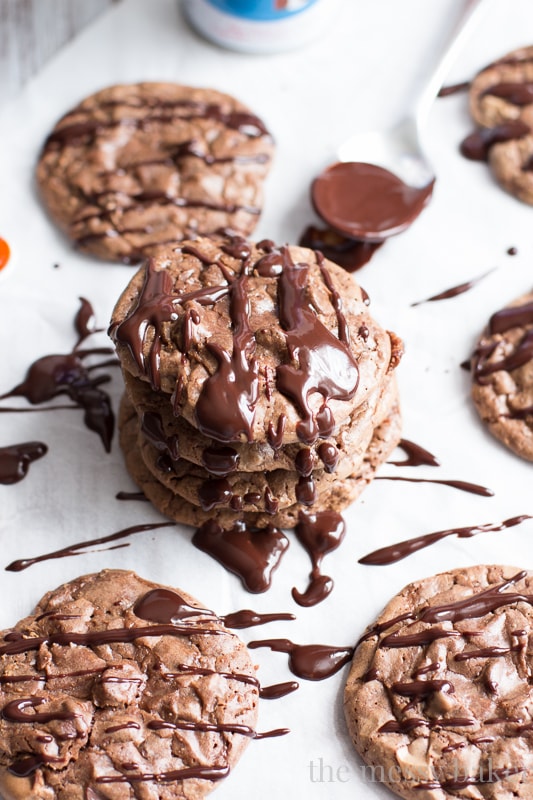 The brownie cookie yields a rich, gooey cookie that isn't shy with the chocolate. What makes this cookie so rich is the 1 cup of melted chocolate that gets mixed in to the batter. If that isn't enough chocolate for you, a generous scoop of chips get folded in at the end.
The key to big, thick cookies is chilling the dough. Do not skip this step. The dough needs to rest in the refrigerator for at least 4 hours. I know it's hard to wait for cookies, but, I promise, they're worth the wait.
These cookies are a bit delicate, so you'll want to line your cookie sheet with parchment and spray the parchment with a light coating of non-stick spray with flour (such as Baker's Joy). Once the cookies are finished baking, allow them to cool on the sheet for at least 5 minutes before removing with a thin spatula and transferring them to a wire rack to finish cooling.
Let's talk about the exciting part: the ganache! If you haven't made ganache before, you'll find it simple and rewarding.
Bring a 1/4 cup of milk to a simmer in a small saucepan over medium-low heat. While the milk is heating, add the chocolate, Sriracha, and cayenne pepper (if using) to a bowl. Pour the hot milk over the chocolate. Allow the mixture to rest for 3 minutes, just enough time to let the chocolate melt. Stir until smooth.
If you're not keen on spicy ganache, feel free to leave out the Sriracha and cayenne pepper.
With a spoon or a fork, drizzle each cookie with a generous drizzle of ganache. The ganache adds a spicy, mildly salty warmth to the top of each cookie. It's a perfect complement to the sweet cookie.
Don't forget to take the Baker's Joy "What Sweet Treat Are You?" quiz uiz for a chance to win some fun prizes.
Chocolate Brownie Cookies with Sriracha Ganache
Thick, gooey chocolate brownie cookies drizzled with a spicy Sriracha ganache.
Ingredients:
Cookies:
2 cups semi-sweet chocolate chips, divided
3 tablespoons unsalted butter, softened
1/2 cup granulated sugar
1/2 cup brown sugar
1 teaspoon instant espresso powder
1 teaspoon vanilla extract
3 large eggs, at room-temperature
1 cup all-purpose flour
1/2 teaspoon baking powder
1/2 teaspoon kosher salt
Sriracha Ganache:
1/4 cup heavy cream
1/2 cup dark chocolate
3/4 teaspoon Sriracha
Pinch of cayenne (optional)
Directions:
 Cookies: 
Simmer 1 inch of water in a medium saucepan. Place 1 cup semisweet chocolate chips and butter in a medium heatproof bowl and place the bowl over, not touching, the simmering water. Melt the chocolate and butter together until the mixture is smooth. Remove from heat and allow the mixture to cool slightly.
In a small bowl, whisk together flour, baking powder, and salt. Set aside.
In a large bowl, whisk together granulated sugar, brown sugar, espresso powder, eggs, and vanilla extract. Add the cooled chocolate mixture to the sugar mixture and whisk until smooth.
Using a rubber spatula, gently fold the flour mixture into the chocolate mixture until just combined.
Fold in the chocolate chips.
Cover the dough with plastic wrap and refrigerate for at least 4 hours before baking. Refrigerating the cookie dough will yield thicker, softer cookies.
Preheat the oven to 325 degrees F. Line a baking sheet with parchment and spray with a light coating of Baker's Joy Non-Stick Baking Spray with Flour.
Using a 1-inch cookie scoop or tablespoon, dollop the batter onto the prepared cookie sheet, spacing the cookies 3 inches apart. Bake for 13 minutes.
Allow the cookies to rest for 5 minutes on the baking sheet before placing them on a wire rack to cool completely. The cookies will be delicate, so be gentle when removing them from the baking sheet.
Sriracha Ganache:
Heat the heavy cream in a small saucepan over medium heat until hot to the touch.
While the cream is heating, add chocolate, Sriracha, and, if using, cayenne pepper to a small bowl.
Pour the hot cream over the chocolate. Allow the mixture to rest for 3 minutes.
Using a small rubber spatula, stir the mixture until the chocolate is melted and smooth.
Using a spoon or fork, drizzle the ganache over the cooled cookies.
All images and text ©
.
Whipping up one of my recipes? I wanna know about it! Snap a photo and tag your post with #onesweetmess on Twitter or Instagram. Seeing your creations come to life makes my day!
Disclosure: I was compensated by Baker's Joy to create a recipe for their "What Sweet Treat Are You?" campaign. All opinions are my own.