Brown Butter Orange Pumpkin Muffins
These Brown Butter Orange Pumpkin Muffins are packed with all the fall flavors. The brown butter adds a mild nutty flavor and aroma. They're absolutely perfect in every way!
It's time for another #MuffinMonday. I was extremely excited when I received this week's recipe, an orange pumpkin muffin. You know how I feel about pumpkin, and I'll take any excuse to bake with it.
At first glance, I wasn't sure how I was going to change this recipe to make it my own. Quite frankly, the muffin recipe sounded perfect with its combination of orange and pumpkin, so I was a tad stumped. I kept coming back to it, and then it hit me. Why not add some brown butter and maybe a sprinkling of white chocolate chips and toasted pecans? So, that's just what I did, and they turned out beautifully.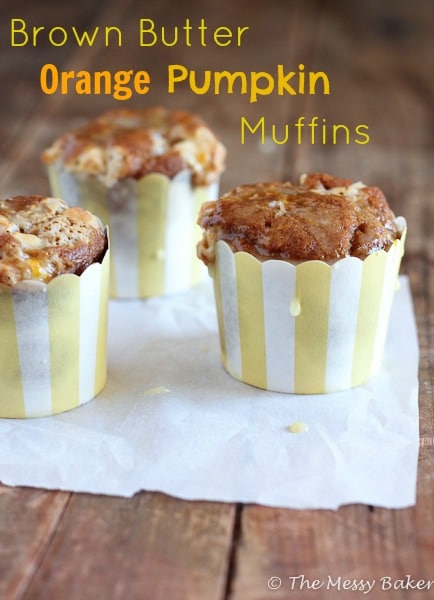 The muffin by itself is amazing, but top it with an orange glaze, and these Brown Butter Orange Pumpkin Muffins are over-the-top delicious!
The flavor of this muffin is extraordinary. Imagine an extremely moist muffin studded with the perfect amount of white chocolate chips and toasted pecans. When you take the first bite, you get the warm flavor from the pumpkin pie spice and cinnamon, then the subtle sweetness of the orange forms on your palate as you continue to devour the muffin. And, if all of those flavors weren't enough, you're hit with the nutty flavor of the brown butter and toasted pecans, then, to top it all off, the sweet orange glaze adds a burst of orange flavor.
Like I said, this is one scrumptious muffin.
Brown Butter Orange Pumpkin Muffins
Ingredients:
Dry
1 and 3/4 cups all-purpose flour
1 teaspoon pumpkin pie spice
1/2 teaspoon cinnamon
1 teaspoon baking soda
1/2 teaspoon baking powder
1/2 teaspoon kosher salt
Wet
3/4 cup brown sugar
3/4 cup granulated sugar
2 eggs
1 stick unsalted butter
1 cup pureed pumpkin
1/3 cup freshly squeezed orange juice
2 teaspoons orange zest
1 cup white chocolate chips
1/2 cup toasted pecans, chopped
Glaze
1 cup powdered sugar
3 tablespoons orange juice
1 teaspoon orange zest
Directions:
Preheat oven to 350 degrees F. Line 2 muffin tins with paper baking cups.
In a small saucepan, add the unsalted butter and let simmer until it becomes brown and gives off a nutty scent, about 5-8 minutes. Take off the heat and let cool.
In a medium-sized bowl, add all of the dry ingredients and whisk to combine.
In a large bowl, add both sugars and eggs. Whisk to combine. Drizzle in cooled brown butter and whisk to combine. Add the pumpkin, orange juice, and orange zest, whisk to combine. Fold in the dry ingredients until just combined. Fold in chocolate chips and pecans. Spoon batter into prepared tins, filling each cup 2/3 of the way full.
Bake for 20-23 minutes or until a toothpick inserted into the center comes out clean. Let cool completely on a wire rack. Drizzle with glaze.
For the glaze: In a small bowl, add powdered sugar, orange juice, and orange zest. Whisk until smooth.
All images and text ©
.
Whipping up one of my recipes? I wanna know about it! Snap a photo and tag your post with #onesweetmess on Twitter or Instagram. Seeing your creations come to life makes my day!