Spiced Pear Gin & Tonic
No holiday is complete without a festive cocktail. This Spiced Pear Gin & Tonic will have your guests minglin' and a jinglin' this holiday season!
I don't like to make promises, but this is a promise I know I can keep. Your guests are going to sip this Spiced Pear Gin & Tonic with enthusiasm. The soft aromatic spices from the spiced pear liqueur is going to tickle their tongues with each sip.
If you're like me, be a straight up creeper and watch as they take their first sip. I'm guaranteeing smiles with this recipe, folks. Watch as their faces light up like a Christmas tree with too many LED lights.
What's in the Shaker?
Gin
Spiced Pear Liqueur
Pear juice
Lemon juice
Thyme
Tonic water
This recipe was a happy accident. I had every intention to make something completely different, but as I was perusing my expansive liquor collection, I came across the bottle of spiced pear liqueur that I found at my local booze store last year. Oh, how quickly plans changed in that moment.
I went down the mixology rabbit hole and came out the proud developer of a new seasonal gin and tonic recipe.
Call it destiny.
Call it luck.
Either way, this Spiced Pear Gin & Tonic is a tasty development that is sure to make your cocktail rotation.
Spiced Pear Liqueur
It tastes like a ripe Bartlett pear with a touch of cinnamon and clove. It's an elegant addition to this Spiced Pear Gin & Tonic, giving it a soft aromatic depth of flavor that brings warmth to the cocktail.
The Method:
This Spiced Pear Gin & Tonic is really quite simple to make, but it does involve a common technique called muddling. If you have a muddler, that's great. If not, a wooden spoon will do the trick. The term muddling is the act of crushing fruit, sugar, or fresh herbs to impart flavor into the alcohol. Basically, you're using a bit of arm work to infuse, in this case, the thyme with the gin and pear liqueur.
Spiced Pear Gin & Tonic
Cinnamon and clove mingle together in the background, giving this Spiced Pear Gin & Tonic that classic pie flavor profile. The spice profile is gentle as to not overwhelm the star of the show here–pear!
This cocktail is well balanced, which, in the mixology world equates to a harmonized cocktail. No one single ingredient dominates in this recipe. It's not too sweet; rather, it's just sweet enough to bring out the flavor of the pear and fresh thyme.
If you like this recipe, give this Honey Cardamom Pear Sangria or this Poached Pear and Brie Salad a try.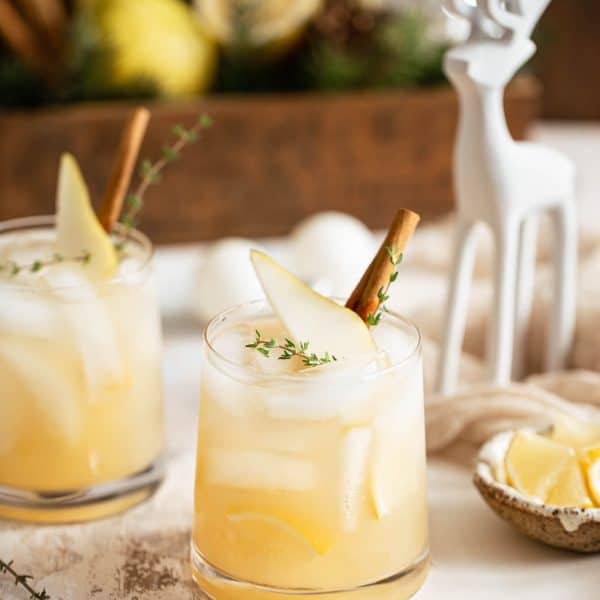 Spiced Pear Gin & Tonic
This Spiced Pear Gin & Tonic is a blend of aromatic gin, sweet pear, fresh thyme and spiced pear liqueur.
Ingredients
2 ounces gin
¼ ounce Spiced Pear Liqueur
1.5 ounces pear juice
Splash lemon juice
1 sprig fresh thyme
3-4 ounces tonic water, Fever Tree is my preferred choice
Instructions
Add gin, spiced pear liqueur and thyme to a shaker. Muddle for 10-15 seconds to infuse.

Add pear juice and lemon juice to the shaker. Add a generous handful of ice. Shake for 20-30 seconds.

Strain into a double old-fashioned glass filled with ice. Top with tonic water to taste. Garnish with a pear slice, sprig of thyme and cinnamon stick (optional).
Notes
If you do not own a muddler, a wooden spoon will work in its place.
Whipping up one of my recipes?
I wanna know about it! Snap a photo and tag @onesweetmess / #onesweetmess on Twitter or Instagram. Seeing your creations come to life makes my day!