Maple-Orange Roasted Pecans
If you're looking for a highly-addictive healthy snack, grab a bag of pecans and preheat the oven, because you're going to need a batch of these Maple-Orange Roasted Pecans for snacking purposes.
These Maple-Orange Roasted Pecans come together easily and utilize a few simple pantry items and fresh orange zest for a quick and healthy snack option. They're naturally sweetened with maple syrup and roast up all toasty with a lovely crunch. Keep them handy in an airtight container so you can quickly grab and go.
Pecans are my very favorite of all the nut options. There's something warm and comforting about a toasted pecan that is unbelievably satisfying. Not to mention they're loaded with 19 vitamins and minerals, provide 10% of your daily recommended dose of fiber and are a natural source of high-quality protein and contain very few carbohydrates and no cholesterol.
You'll need 5 simple ingredients to whip up a batch of these Maple-Orange Roasted Pecans, all of which can be purchased from your local Sprouts Farmers Market:
Pecans
Coconut oil
Maple Syrup
Orange zest
Egg white
I'm a frequent flyer at Sprouts Farmers Market. The store is easy to navigate, the produce is always fresh, the staff is courteous and happy to lend a helping hand, and they offer a plethora of quality products I use in my kitchen daily.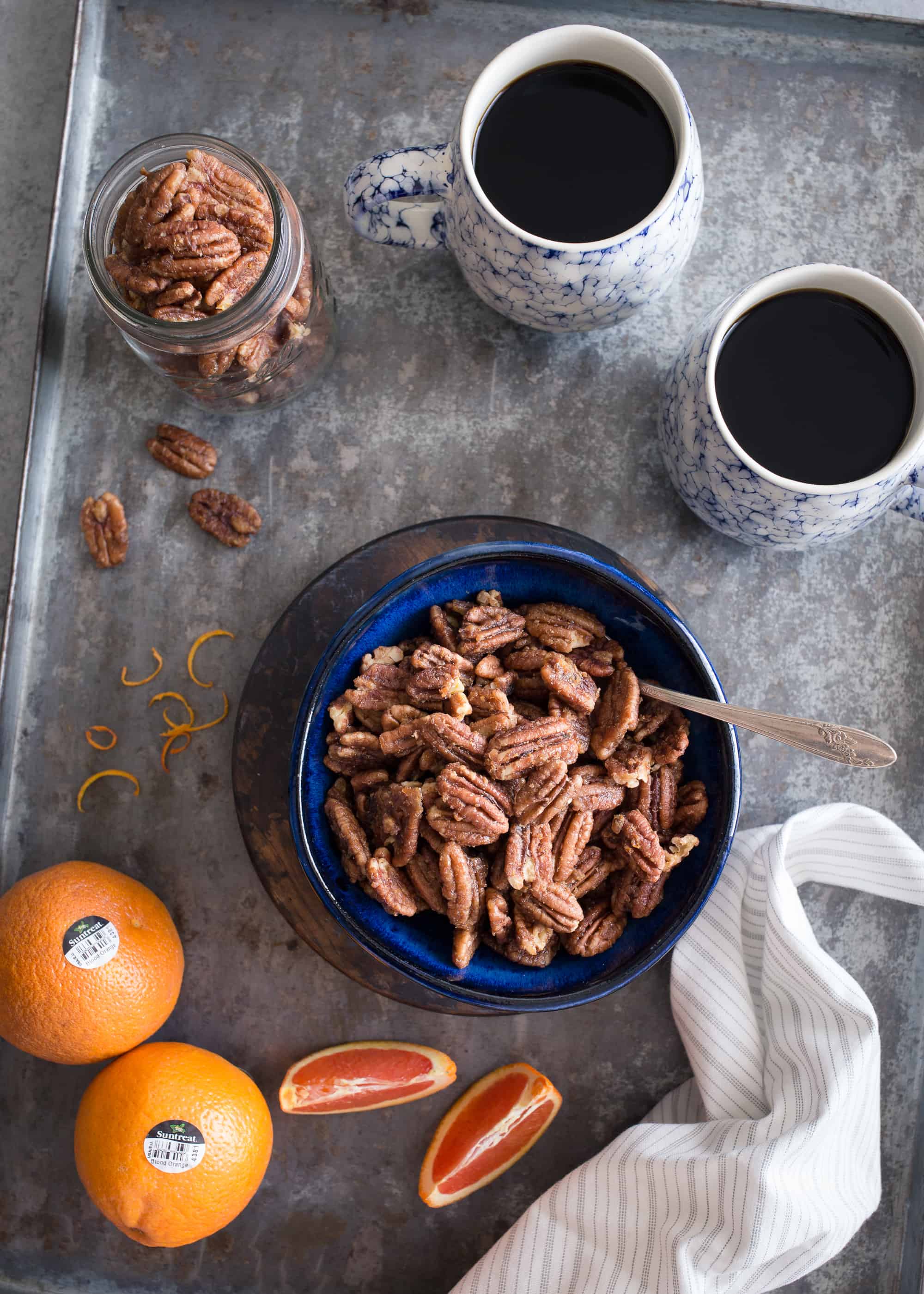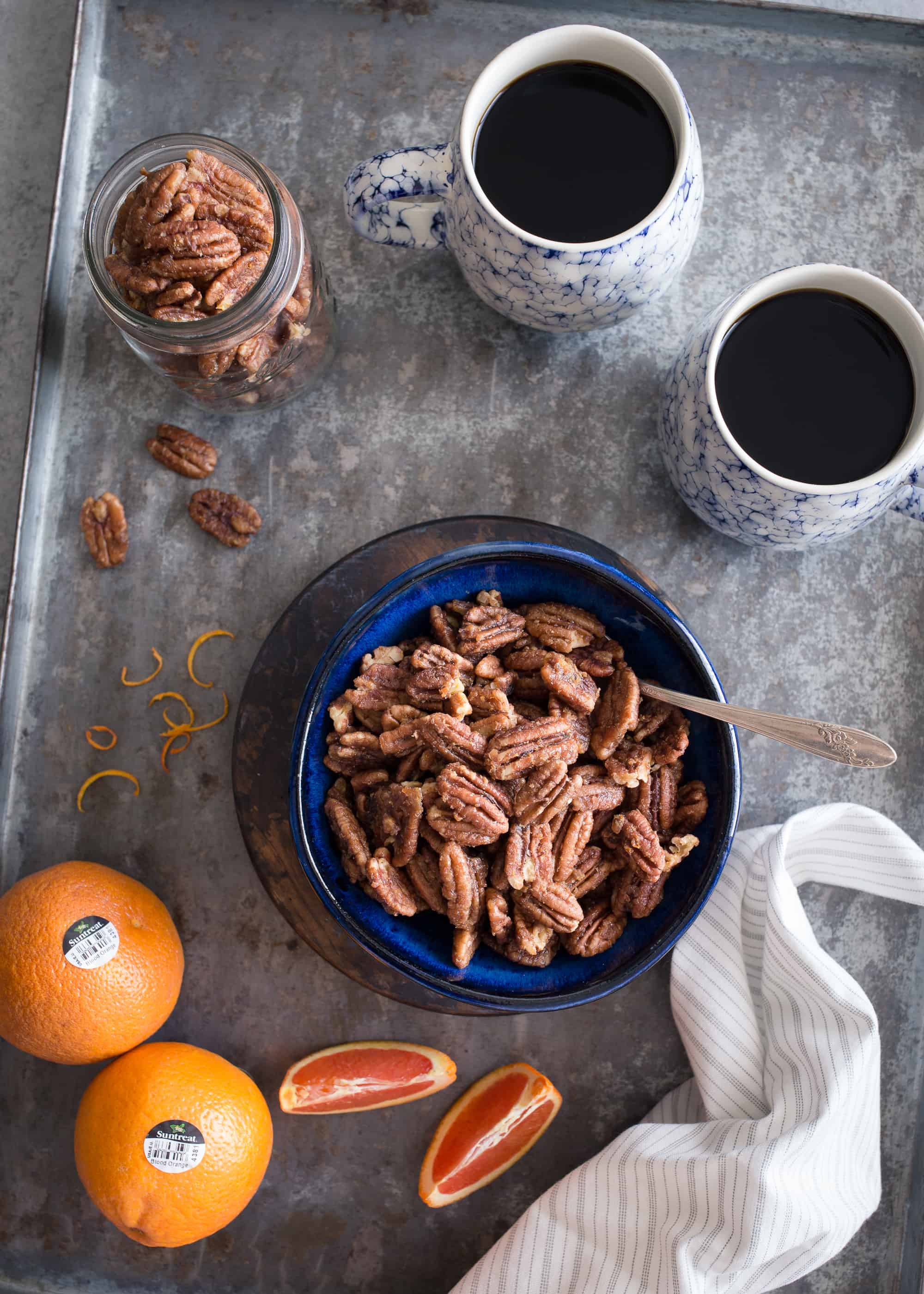 Given that citrus season is in full swing, I took the opportunity to utilize the beautiful cara cara oranges Sprouts had to offer the day I visited the store. I zested the oranges to add a big punch of orange flavor to the pecans, and, boy, did it pay off. A little zest goes a long way where flavor is concerned.
The pecans get slow roasted at 250 degrees F. for maximum toasty crunch and flavor. Allow them to cool completely on the pan after roasting and store them in an airtight container to keep them fresh for up to 2 weeks…if they last that long. Doubtful.
I keep a glass jar on the kitchen table at all times for easy access when the urge strikes.
Let's recap… These Maple-Orange Roasted Pecans are easy to prepare, healthy, naturally sweetened, and gluten-free. I believe it's safe to say they're the whole package?
Maple-Orange Roasted Pecans
Ingredients
4 cups pecan halves
½ cup maple syrup
2 teaspoons orange zest
2 tablespoons coconut oil, melted
½ teaspoon kosher salt
1 large egg white, at room-temperature
Instructions
Preheat oven to 250 degrees F. Line a baking sheet with parchment paper.

Add pecans to a large bowl. Add maple syrup, coconut oil, orange zest, and kosher salt. Using a rubber spatula, fold until pecans are evenly coated.

In a small bowl, whisk egg white until frothy. Add to the bowl with the pecans and fold until evenly combined.

Transfer the pecans to the prepared baking sheet in an even layer. Bake for 40-45 minutes, or until golden brown and toasted. Allow the pecans to cool completely on the baking sheet. Store in an airtight container for up to 2 weeks.
Whipping up one of my recipes?
I wanna know about it! Snap a photo and tag @onesweetmess / #onesweetmess on Twitter or Instagram. Seeing your creations come to life makes my day!