Glazed Gingerbread Men
These warm, spicy Glazed Gingerbread Men are fun to make and eat! They're a delicious treat for all ages and bake up crisp with all the warm spices of winter. The sweet glaze and festive sprinkles make these cookies extra special.
'Tis the season for all things cookies! Last year I made a double batch of roll-out gingerbread cookies that I dipped in glaze and topped with festive sprinkles to celebrate the holidays. They ended up being everyone's favorite cookie, and the tin quickly disappeared.
I've always been a fan of gingerbread men, but I find the decorating process tedious and time-consuming. Sure, they look dapper with their cute little smiles, trio of buttons, and ruffled icing cuffs. But one fact remains: I'm just too lazy.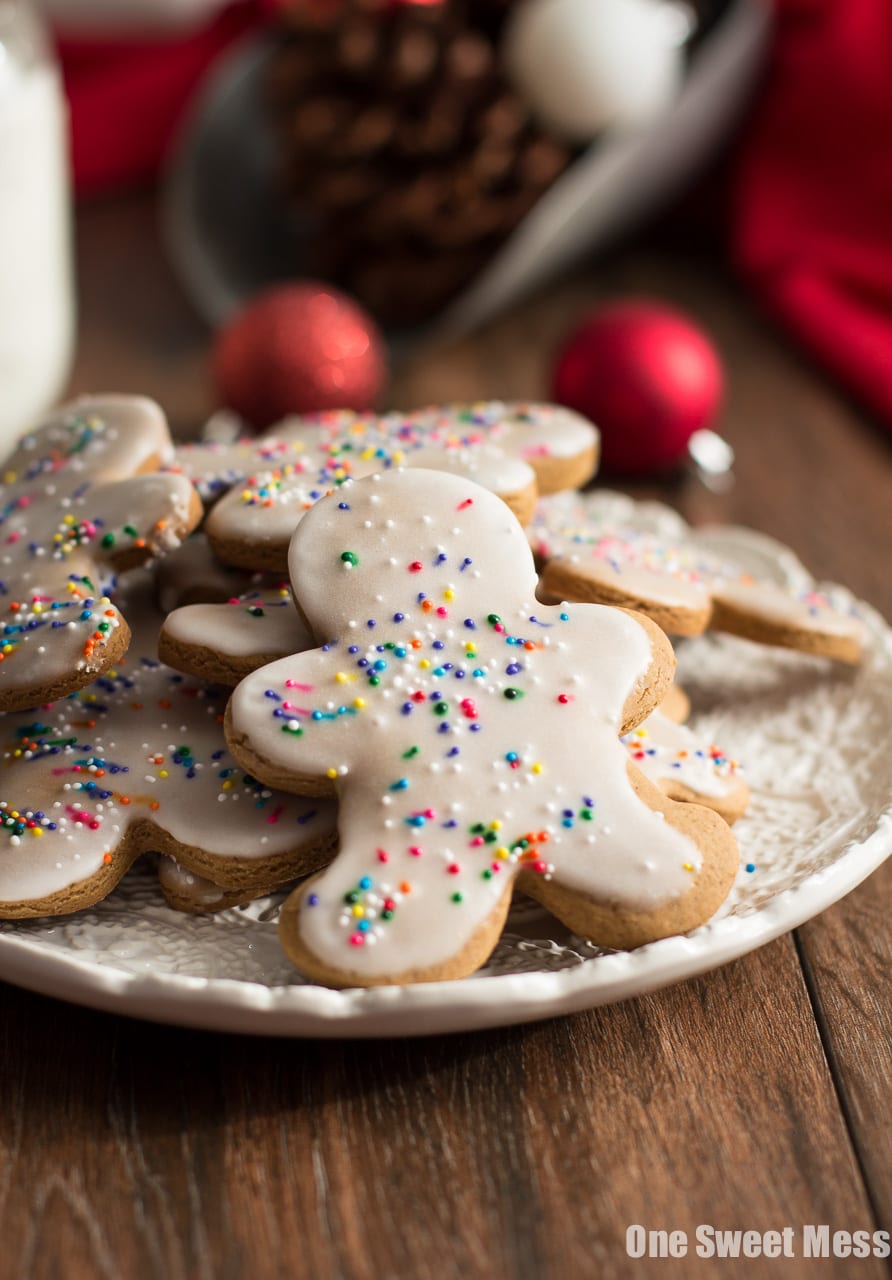 In an effort to make life easier and less stressful during the holidays, I whipped up a creamy glaze instead. Rather than filling a piping bag and making extra dishes, I dipped each gingerbread peep into the sweet, creamy glaze before topping them with colorful sprinkles.
The great thing about the dough is that it comes together easily. After a short rest in the refrigerator, the dough rolls out with little effort and the cookies hold their shape when they bake.
These cute little cookies are everything I love about gingerbread. They'll quickly disappear at your next gathering.
Gingerbread Peeps
These warm, spicy gingerbread cookies are crisp on the outside with a soft center. They get dipped in a sweet glaze and topped with festive sprinkles.
Yield: 25-30 cookies
Total Time: 35 minutes
Prep Time: 30 minutes
Cook Time: 12-15 minutes
Ingredients:
Cookies
1/2 cup unsalted butter
1/2 cup brown sugar
1/3 cup molasses
1 large egg, at room-temperature
2 teaspoons vanilla extract
3 and 1/4 cups all-purpose flour
2 tablespoons ground ginger
2 and 1/2 teaspoons cinnamon
1/2 teaspoon allspice
1/2 teaspoon cloves
1/2 teaspoon baking soda
1/2 teaspoon salt
Sprinkles for topping
Glaze
1 and 1/2 cups powdered sugar, sifted
2 and 1/2 tablespoons milk
1/2 teaspoon vanilla extract
Directions:
Cookies
In the bowl of a stand mixer fitted with the paddle attachment, cream butter and brown sugar until combined. With the mixer on low speed, slowly add the molasses. Continue to mix until combined. Scrape down the sides of the bowl as needed. Beat in the egg and vanilla extract until combined.
In a bowl, whisk together flour, ginger, cinnamon, allspice, cloves, baking soda, and salt.
With the mixer on low speed, slowly add the flour mixture until combined. The dough will thick and sticky. Transfer the dough to a large piece of plastic wrap. Tightly wrap the dough and pat down to create a disc. Place the dough in the refrigerator for at least 4 hours or overnight (do not skip this step). The dough can be made 3 days in advance.
Preheat oven to 350 degrees F. Line 2 cookie sheets with parchment or silicone baking mats.
Unwrap the disc and cut it in half. Lightly flour your work surface. Roll out one half of the disc, flouring the surface as needed, until the dough is a 1/4-inch thick. Cut into shapes. Place the cookies on the prepared baking sheet, spacing the shapes 1-inch apart. Re-roll until all the dough is shaped. Repeat with the remaining half of dough.
Bake for 9-10 minutes, rotating the pan halfway through. Allow the cookies to cool on the pan for 5 minutes. Transfer to a cooling rack to cool completely.
Dip the cooled cookies into the bowl of glaze, allowing the excess glaze to drip off before placing the cookies back on the cooling rack. Top with sprinkles. Allow the glaze to set and harden before storing in an airtight container. Cookies will stay fresh for up to 5 days.
Glaze:
Add powdered sugar to a small bowl. Whisk in vanilla extract and milk until smooth. Set aside.
All images and text ©
.
Whipping up one of my recipes? I wanna know about it! Snap a photo and tag your post with #onesweetmess on Twitter or Instagram. Seeing your creations come to life makes my day!
5 Responses to "Glazed Gingerbread Men"

Leave some love. It makes me happy!