Cheesy Chicken & Veggie Chowder
A thick and creamy soup loaded with hearty chunks of tender chicken, a variety of seasonal veggies, and lots of sharp cheddar cheese. This Cheesy Chicken & Veggie Chowder will quickly become a family favorite.
I'm excited to bust out my first soup of the season! The weather did a complete 180 degree turn over the weekend. The temperature went from sunny and 70 degrees to a cold and cloudy 50 degrees.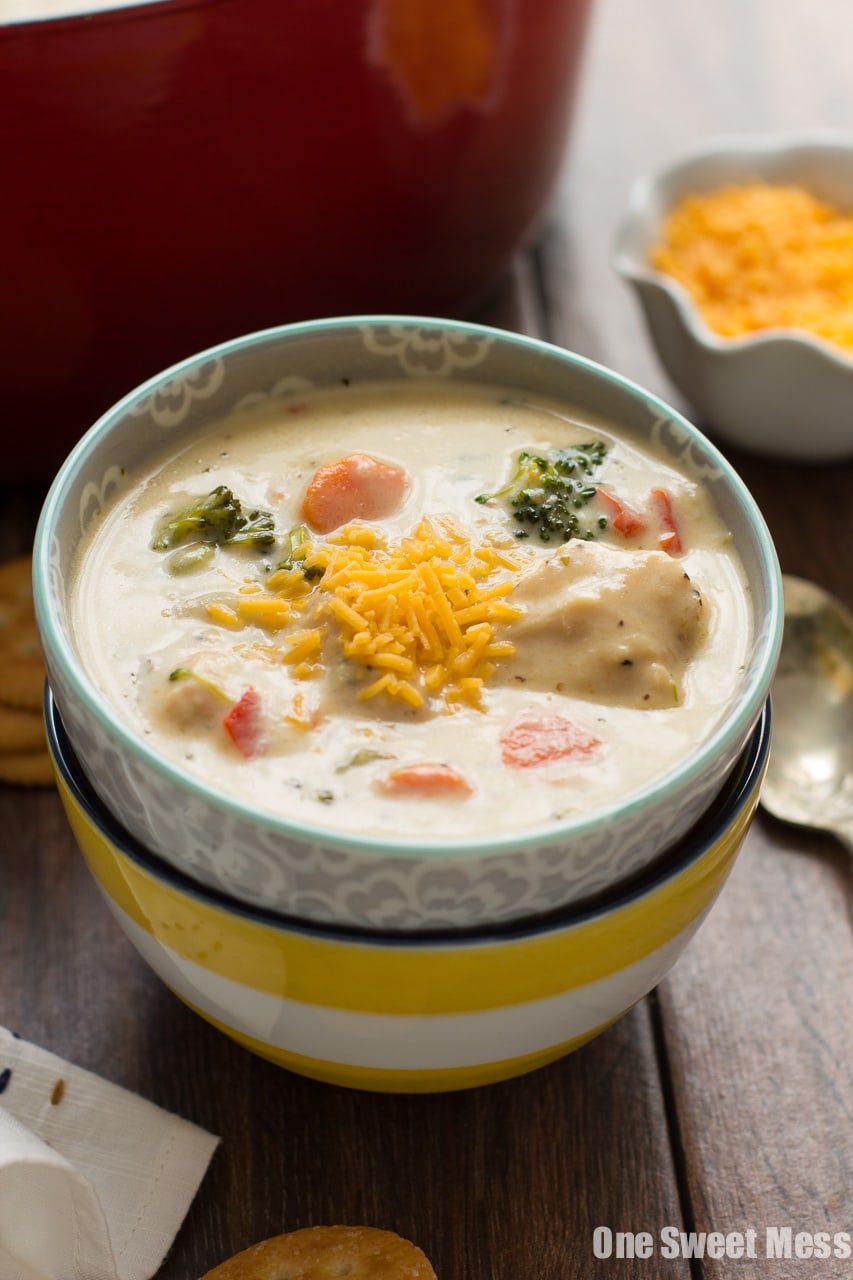 Squirrel has been bundled up under a fuzzy blanket sipping hot tea like it's going out of style. He even went so far as to turn on the heat (gasp!). Give it a couple of weeks and he'll start layering his thermal underwear under his jeans. I did notice yesterday that he had on his wool hunting socks, which has me highly doubting his ability to survive the wilderness elements if this is how he's acting in 50 degree weather. I can't help but shake my head.
What he didn't realize was that I quickly turned off the heat when he wasn't looking. It's just too early to start donating extra money to the electric company, don't ya think?
Obviously, a steaming hot bowl of soup is welcome in this household, even if it isn't quite yet what I would define as "cold weather," but some people–Squirrel!–in this house would beg to differ.
The inspiration for this soup came from my love for broccoli cheddar soup. Thick, creamy, and full of cheese–what's not to love? While I love broccoli cheddar soup, I find that it's not enough to fill me up. A little chicken action takes care of that situation. I used 2 whole pounds of PERDUE® Perfect Portions Boneless, Skinless Chicken Breasts. That's a lot of chicken, folks! Their Perfect Portions come individually wrapped and packaged in a 1.5-pound bag, which I love since we're a family of two and don't always use all the chicken that normally comes in a pack. I love that I can take out what I need and store the rest in the freezer without having to unpack and divide the remaining portions into freezer bags.
The chicken cooks up tender and melt-in-your-mouth delicious. Since I was a bit heavy handed with the chicken, every spoonful of soup is guaranteed a chunk of two. This recipe makes a HUGE pot of soup. I mean it when I say it's a lot of soup. A LOT! One pot will easily feed a family of six. If you're, say, a family of two like Squirrel and I, you'll have plenty of leftovers to divide into freezer bags and save for a later date. However, since there was plenty of soup to go around, I packed it into the truck and took it over my parents' house to share with the family. Our family of five ate the entire pot in one sitting, some of us even indulged and scooped out two helpings.
Sharing is caring, right?
I'm extremely honored to be working with PERDUE® in the fight against hunger and to help feed families in need. Every time you redeem one of Perdue's specially marked coupons for easy, convenient PERDUE® Chicken Products, Perdue Foods will donate 4 ounces of protein to Feeding America® to help provide a meal through its nationwide network of food banks. Maximum donation: 450,000 pounds of protein.
Learn more on how to Get Deals and #DonateMeals at PERDUE®
For more recipe inspiration follow PERDUE® on Facebook, Twitter, and Pinterest. For a chance to win some sweet rewards, join the Perdue Crew.
Cheesy Chicken & Veggie Chowder
A thick and creamy soup loaded with hearty chunks of tender chicken, a variety of seasonal veggies, and lots of sharp cheddar cheese.
Ingredients:
Soup
2 tablespoons butter
3 tablespoons olive oil, divided
2 pounds boneless, skinless chicken breasts
3 stalks celery, chopped
1 large onion, diced
4 large carrots, cut into thin rounds
1 red pepper, chopped
3 cloves garlic, chopped
2 bay leaves
1/2 teaspoon red pepper flakes
5 cups chicken stock
2 medium russet potatoes (about 3 cups), peeled and diced
1 and 1/2 teaspoons Italian seasoning
1 teaspoon seasoned salt
1 small head broccoli (about 3 cups), chopped
2 cups shredded sharp cheddar
Salt and pepper
Roux
6 tablespoons unsalted butter
3 cups milk (I used 2%)
1/3 cup all-purpose flour
1/2 cup heavy cream
1/2 teaspoon worcestershire sauce
Directions:
Cut the chicken breasts into 1-inch pieces. Season liberally with salt and pepper.
Heat butter and 2 tablespoons of olive oil in a large stock pot or dutch oven over medium-high heat. Brown the chicken in 2 batches, about 5-7 minutes per batch. Transfer the chicken to a bowl; set aside.
In the same pot you browned the chicken, add the remaining 1 tablespoon of olive oil. Stir in the celery, onion, and carrots. Cook, stirring occasionally, until the veggies are tender, about 5 minutes. Add the garlic, red pepper, bay leaves, and red pepper flakes to the pan; cook, stirring often, for 2 minutes.
Add the chicken stock, potatoes, Italian seasoning, season salt, and browned chicken to the pot; stir to combine. Turn the heat down to medium-low; cover the pot and cook for 30 minutes.
While the soup continues to cook, make the roux by heating butter in a saucepan over medium heat until melted. Whisk in the flour until smooth; cook, whisking constantly, for 1 minute. Slowly whisk in the milk. Bring to a gentle boil and allow the mixture to thicken, about 3-4 minutes. Whisk in the heavy cream, worcestershire sauce, and a generous pinch of salt and pepper. Cook for an additional 1 minutes. Remove from the heat and set aside.
Add the broccoli to the pot of soup and cook for an additional 3-4 minutes.
Stir in the milk mixture. Allow the soup to come to a gentle boil; continue to cook for 4-5 minutes. Turn off the heat and gradually stir in the shredded cheese. Season with salt and pepper to taste.
All images and text ©
.
Whipping up one of my recipes? I wanna know about it! Snap a photo and tag your post with #onesweetmess on Twitter or Instagram. Seeing your creations come to life makes my day!
Disclosure: This recipe was developed for the lovely folks at PERDUE®. All opinions are my own. Thank you for supporting my recipes and site while I work with brands I adore.