Mahi Mahi with Roasted Tomatoes and Fennel
Pan-seared mahi mahi topped with roasted tomatoes and fennel.
Valentine's Day is right around the corner, so I decided to make you love birds a romantic meal for two. This mahi mahi with roasted tomatoes and fennel is the perfect way to celebrate your love and all things mushy.
Today, I've partnered with Gallo Family Vineyards to make the occasion even more special with the addition of wine. As we all know, Valentine's Day is all about proclaiming your unwavering love to each other. In order to perform a proper toast, one must have a glass of wine.
I prefer a crisp glass of white wine when I'm serving fish. Gallo Family Vineyards' Riesling is the perfect accompaniment to this dish. Their Riesling is crisp and semi-sweet with hints of honeysuckle, peach, and bright citrus notes. It enhances to dish perfectly and helps balance the spice of the roasted tomato and fennel sauce.
If you prefer red wine, Gallo Family Vineyards' Sweet Red is a great alternative. It's bursting with flavors of red fruit, black cherry, and raspberry. It's fruity acidity and soft finish make this sweet red variety easy to enjoy.
When I make fish, I prefer a fish that isn't too "fishy." I know that sounds strange since, well, it's fish, but I prefer a more milder fish with a clean finish. I keep a big bag of mahi mahi stocked in my freezer for whenever the mood strikes, which is usually once a week. It cooks up nice in the pan or on the grill without falling apart. It's a meatier fish that can stand up to higher heat better than, say, flounder or orange roughy.
The spicy tomato topping is made with roasted grape tomatoes, fennel, a little Pinot Grigio, fresh basil, and some spicy red pepper flakes.
For this recipe, I rubbed each side of the mahi mahi fillets with a little ground cumin and a generous pinch of salt and pepper. The cumin adds a subtle smoky flavor and beautiful crust to the fish.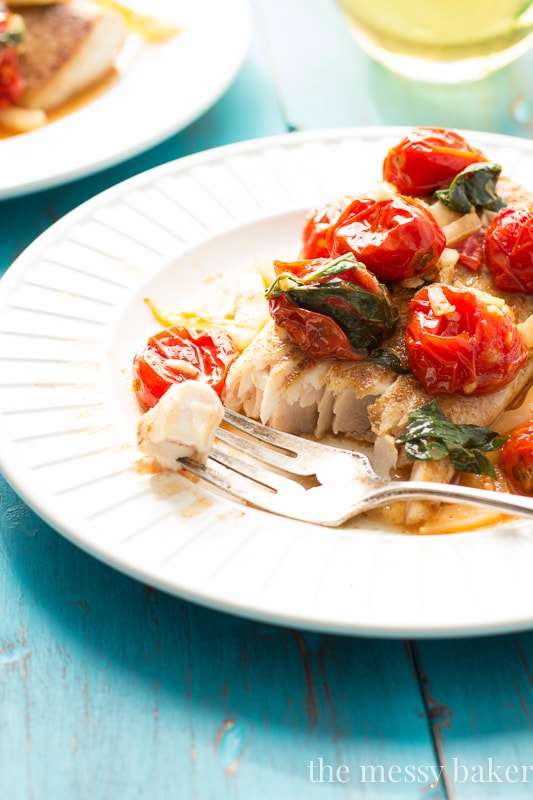 I sear the fish over medium heat with a little olive oil until the fillets are tender and begin to flake. After I remove the fish, I begin to compose my sauce in the same pan.
This dish is elegant, delicious, and extremely easy to make. If you're a new cook looking to make Valentine's Day special for your sweetie, this recipe comes together with very little effort.
This dish will impress the pants off of your sweetie!
Mahi Mahi with Roasted Tomatoes and Fennel
Cumin-rubbed mahi mahi gets pan seared and topped with a spicy mixture of roasted tomatoes, crisp fennel, and Pinot Grigio.
Ingredients:
Mahi Mahi: 
1 and 1/2 tablespoons extra-virgin olive oil, divided
2 pieces mahi mahi, about 1/2-3/4-inch thick
1/2 teaspoon ground cumin
1/2 cup thinly sliced fennel
1 clover garlic
1/2 teaspoon red pepper flakes
1/2 cup Pinot Grigio
2 tablespoons chopped basil
salt and pepper
 Roasted Tomatoes:
1 pint grape or cherry tomatoes
1 tablespoon extra-virgin olive oil
salt and pepper
Directions:
Roasted Tomatoes: 
Preheat oven to 375 degrees F.
Spread tomatoes onto a baking sheet. Drizzle with olive oil and add a generous pinch of salt and pepper. Roll the tomatoes around to coat.
Bake for 30-35 minutes, or until the tomatoes are wilted.
Mahi Mahi: 
Heat 1 tablespoon of olive oil in a saute pan over medium heat. Season the fish with a generous pinch of salt and pepper on each side. Rub 1/8 teaspoon of ground cumin on each side of the mahi mahi. Add the fish to the hot pan. Cook for 4 minutes on each side. Remove the fish from the pan and set aside.
Turn the heat down to medium-low. Add the remaining 1/2 tablespoon of olive oil. Add the fennel to the pan and cook until tender, about 2 minutes. Stir in the garlic and red pepper flakes. Cook, stirring often, for 1 minute.
Stir in the wine. Allow the wine to reduce by half, about 2 minutes. Stir in the basil and roasted tomatoes.
Plate the fish. Spoon a generous amount of the roasted tomato mixture over each piece of fish. Serve over rice or couscous.
All images and text ©
.
Whipping up one of my recipes? I wanna know about it! Snap a photo and tag your post with #onesweetmess on Twitter or Instagram. Seeing your creations come to life makes my day!
Disclosure: Compensation was provided by Gallo Family Vineyards via Sunday Supper, LLC. The opinions expressed herein are those of the author, and are not indicative of the opinions or positions of Gallo Family Vineyards.