Tequila-Lime Chicken Chopped Salad
A fresh and hearty salad topped with tequila and lime marinated chicken. This vibrant salad is loaded to the brim with seasonal summer veggies.
Some evenings are just so dang busy around here. I work all day, sit in a traffic jam for an hour, and finally arrive home an hour late to a starving husband and droopy-eyed dog.
Dinner ain't gonna make itself. Sometimes Squirrel will cook, but when he has household chores to complete, there's no getting him to make dinner on top of mowing his precious grass (the dude is obsessed with his grass).
So, I have no choice but to take charge and make a meal that's both filling and easy to prepare.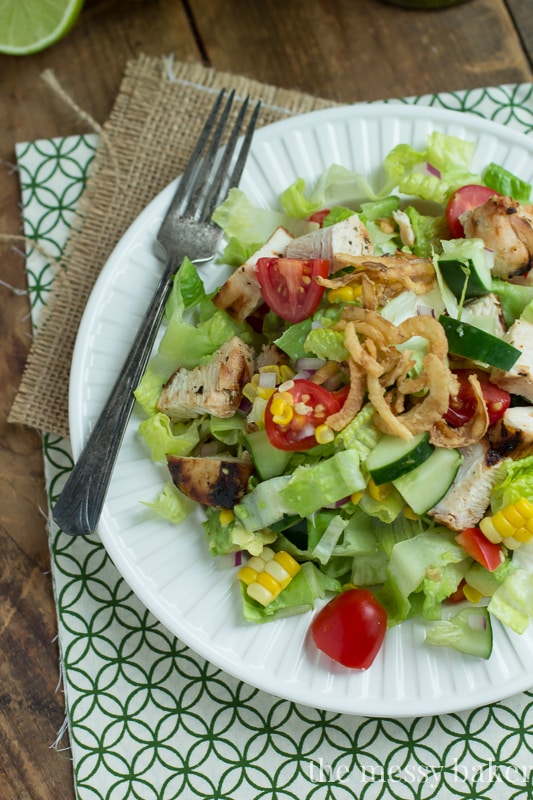 That's where salad comes in handy. This tequila-lime chicken chopped salad takes minutes to prepare, making it the perfect salad for a busy weeknight. Topping it with protein-packed chicken ensures that our bellies will be full after one (or two) bowls.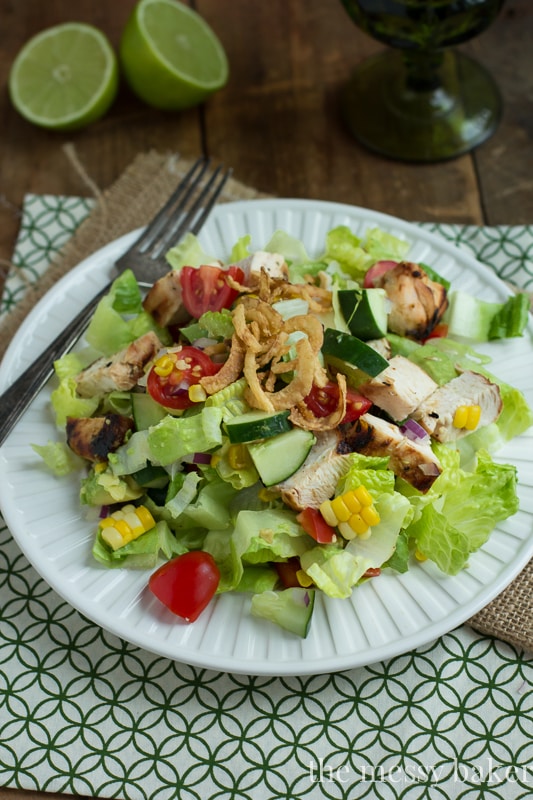 Since Squirrel and I love a fresh, hearty salad on a hot summer evening, this recipe is the perfect addition to our summer salad rotation.
I recommend preparing the marinade for the chicken the night before. You could get away with marinating the chicken for 8 hours, but I prefer the flavor the marinade produces if the chicken is prepared the night before.
Grilled to perfection and sliced thin, the chicken is a moist and flavorful addition to the top of the salad. The salad can be made with whatever summer veggies you have laying around. I happened to have some leftover grilled corn, tomatoes and cucumbers from my garden, half a red onion, and an over-ripe avocado. I tossed it all together with some crispy romaine and topped it with crispy onions and my cilantro-lime vinaigrette that made a few nights before. If you prefer a creamy dressing, try my homemade buttermilk ranch dressing.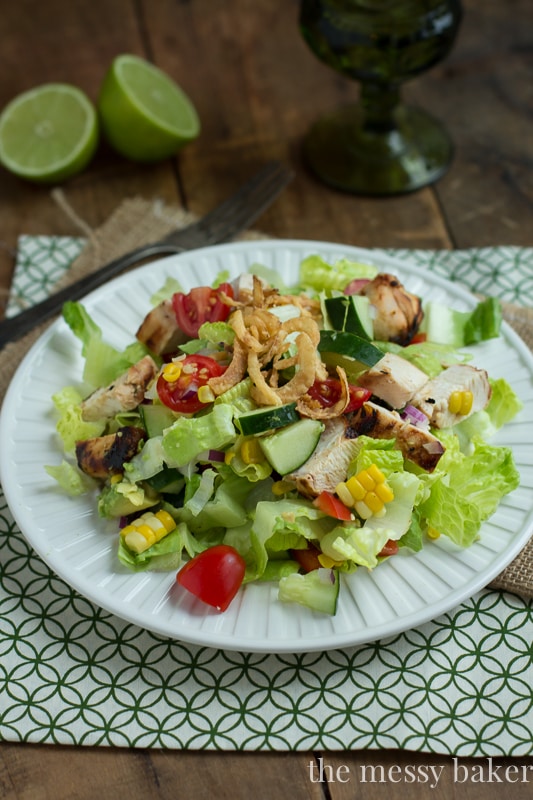 Grab your fork and don't fret about extras–it's healthy!
Tequila-Lime Chicken Chopped Salad
Grilled tequila-lime chicken gets sliced thin and topped on a fresh bed of crunchy greens and seasonal summer veggies.
Ingredients:
Tequila-Lime Chicken:
2 boneless, skinless chicken breasts
1/4 cup tequila
juice of 2 limes
1 tablespoon olive oil
2 cloves garlic, chopped
1 jalapeño, chopped
1/4 cup cilantro, chopped
1 teaspoon ground cumin
1/2 teaspoon kosher salt
1/4 teaspoon black pepper
Salad:
1 large head romaine lettuce (about 4 cups)
1/2 pint cherry tomatoes, halved
1 cup grilled corn kernels
1 cucumber, quartered and chopped
1 avocado, chopped
1/3 cup red onion, finely diced
1 cup crispy onions
1 recipe Buttermilk Ranch Dressing or Cilantro-Lime Vinaigrette
Directions:
In a small bowl, whisk together tequila, lime juice, olive oil, garlic, jalapeño, cilantro, cumin, kosher salt, and black pepper. Add the chicken breasts to a plastic zip-top bag and pour in the marinade. Place the chicken in the refrigerator overnight.
Preheat the grill to high. Sprinkle the chicken with a pinch of kosher salt. Grill for 5-6 minutes on each side, or until the juices run clear and the chicken is cooked through. Allow the chicken to rest for 5 minutes before slicing into bite-sized pieces.
Toss all of your salad ingredients in a large bowl. Top with sliced chicken and drizzle with dressing of your choice. Serve immediately.
All images and text ©
.
Whipping up one of my recipes? I wanna know about it! Snap a photo and tag your post with #onesweetmess on Twitter or Instagram. Seeing your creations come to life makes my day!
Disclosure: I was compensated for work by AmFam. All opinions are my own.