Lemon Cupcakes with Lemon Glaze
Bright, sunny lemon cupcakes drizzled with a sweet lemon glaze.
I made you cupcakes.
I hope these lemon cupcakes with lemon glaze make up for the fact that I skipped Cinco de Mayo yesterday.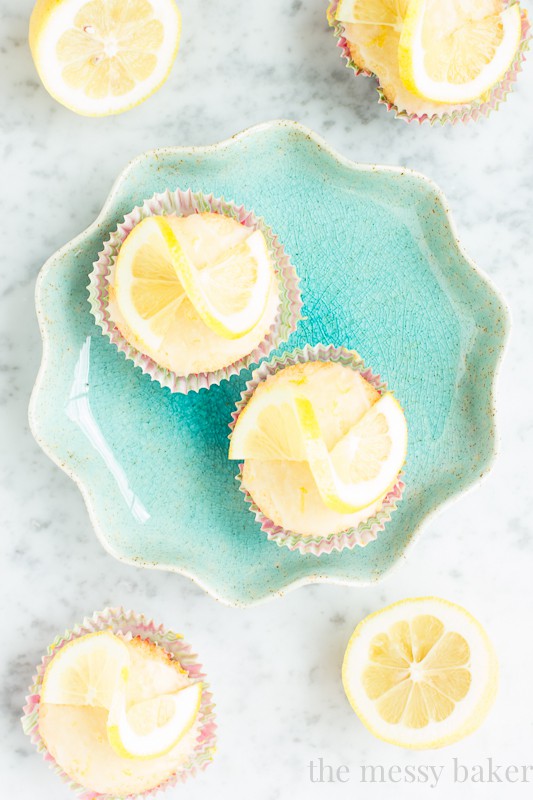 I had big plans that involved making you a delicious margarita recipe. I wrote my list and headed off to the store with a giddy exuberance I always get when I'm about to create a recipe that involves booze. I walked up to the citrus bin,  and I winced. Limes were priced at $.99 each! They were more expensive than the lemons. Um, what gives, limes? I thought maybe it was just that particular store, so I got back in my truck and headed to yet another grocery store. Not only were the limes the same price, but they were small and wrinkled, as if someone stuck a straw in each of them and sucked out all of their juice.
After a bit of research (I Googled "high lime prices"), I learned that the lime crops in Mexico are suffering from a bacterium infection.
There was no way I was spending a fortune to make a margarita, so I skipped the Cinco de Mayo party. Yeah, you can thank the limes.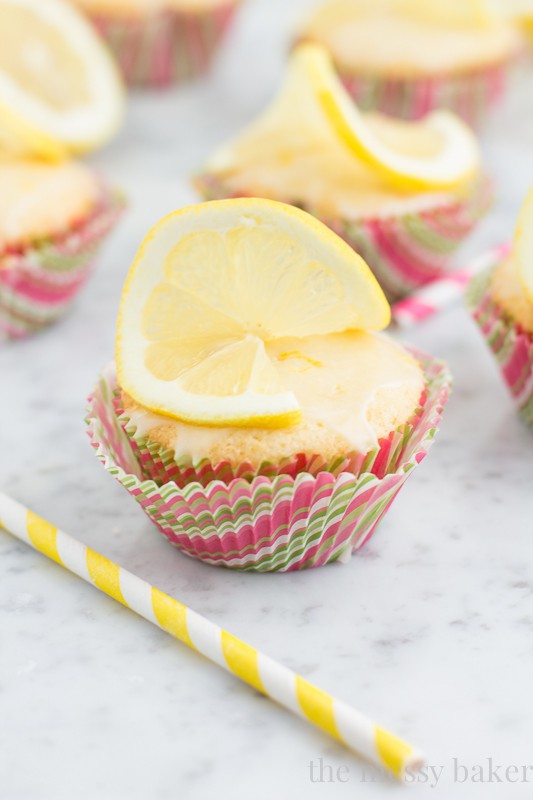 Today, we're celebrating Georgia of The Comfort of Cooking and the upcoming birth of her first baby. It's a girl! What better way to celebrate than with a cupcake. I have no doubt Georgia's wee one will appreciate a lemon-infused cupcake.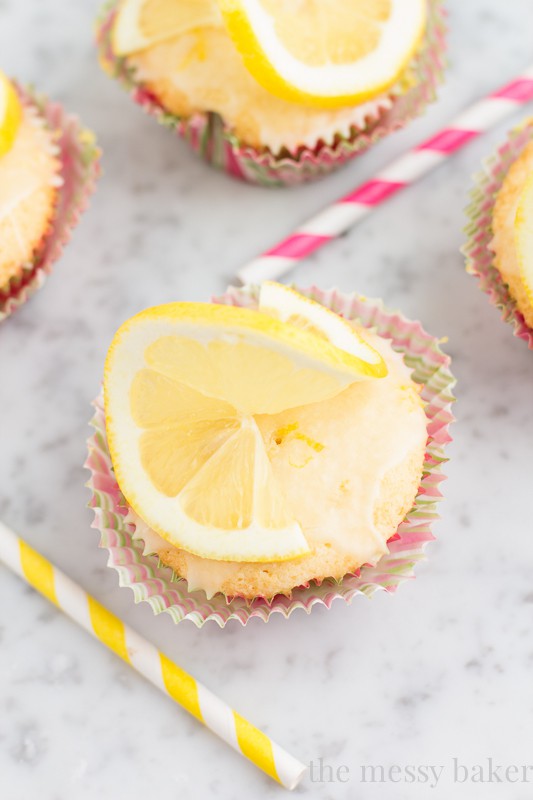 These cupcakes are bursting with lemon. I added the zest of 2 lemons to the batter. I hope you like lemon! The cupcake is moist, tender, and perfectly tart.
I wanted the cupcake to remain light and delicate, so I chose to drizzle them with a glaze instead of mounding them with frosting. If you love frosting, these would be perfect with a tart lemon buttercream or lemon cream cheese frosting.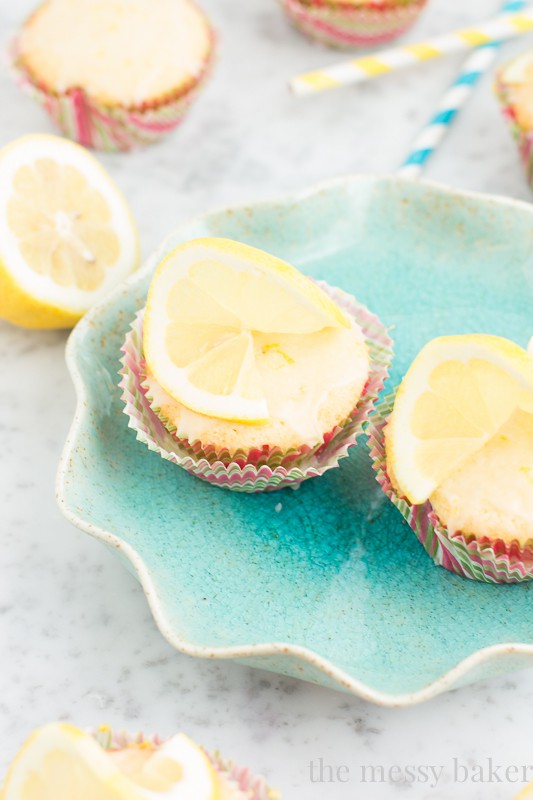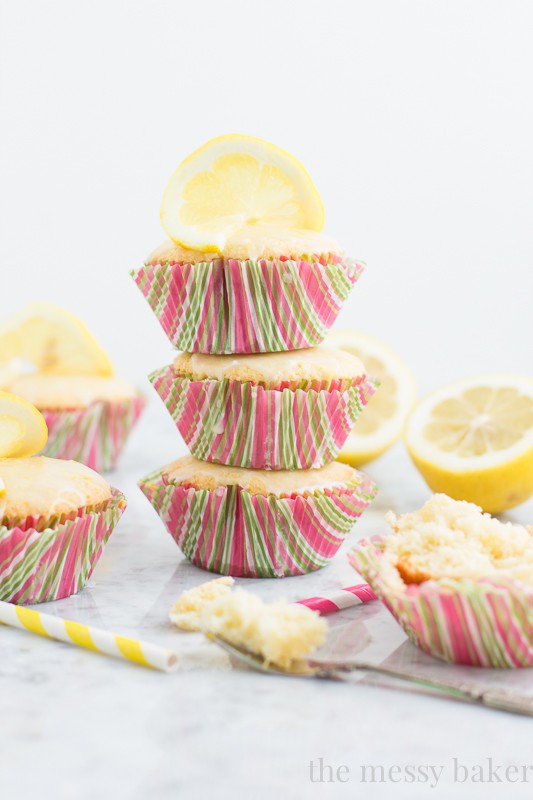 When making cupcakes, you want to keep a few things in mind:
Don't over beat the batter after adding the dry ingredients. Over beating can cause your cupcakes to sink in the center.
Don't overfill your tins. I find that filling each tin 2/3 of the way full is plenty. If you want to get really scientific about it, you can fill and bake one cupcake to test how high the batter will rise before baking the remaining batches. Lucky for you, I'm here to do your dirty work. I test each and every recipe to ensure you're getting the perfect cupcake every time.
Make sure your oven temperature is precise. Oven thermometers are fairly inexpensive. If you're serious about baking, I highly recommend investing in one.
Always follow the recipe. Baking is a science. Use measuring cups for dry ingredients and a measuring glass for wet ingredients.
Always taste test at least two cupcakes before serving… Okay, I may have made this one up. Honestly, the baker deserves a reward for all of their hard work and cupcake efforts. It's only fair.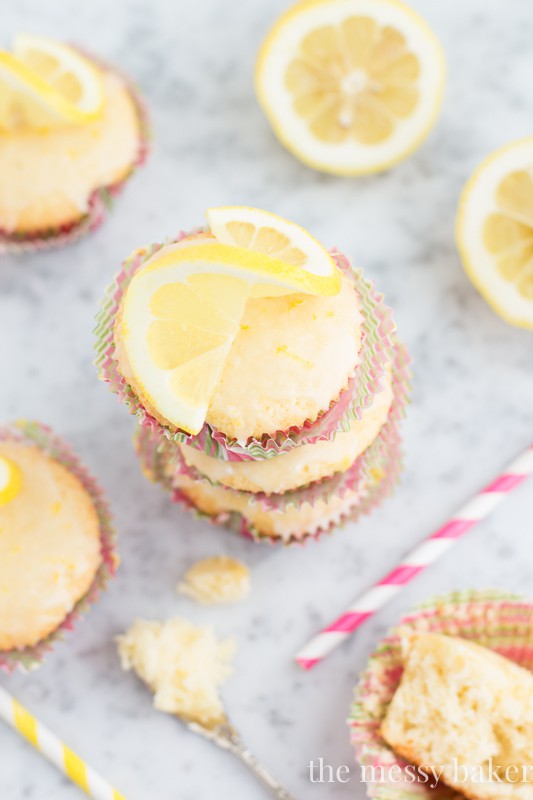 After the cupcakes come out of the oven, allow them to cool in the pan for 5 minutes. Place a wire rack on top of a piece of wax or parchment paper. Transfer the cupcakes to the wire rack and slowly drizzle the lemon glaze over the warm cupcakes. A slow stream of glaze will allow the warm cupcakes to soak up the glaze.
When you bite into the cupcake, you get the crunch from the tart glaze that leads to the moist, pillowy cupcake beneath.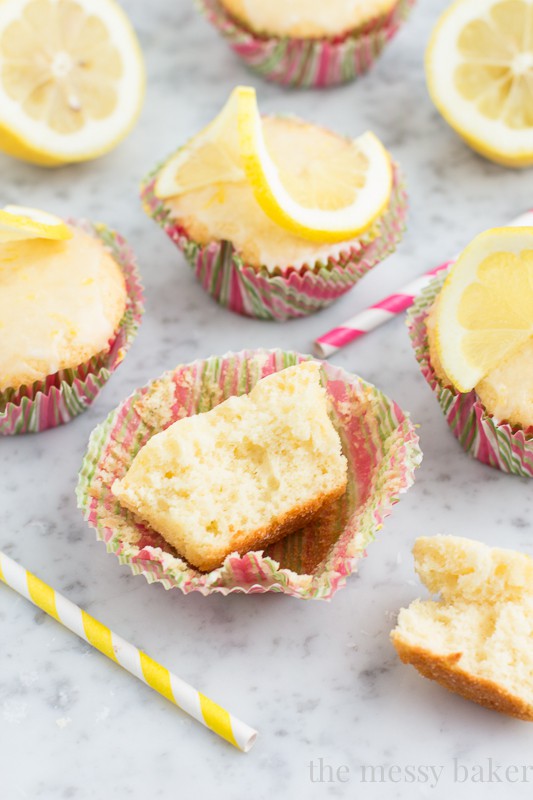 A big congratulations to my friend Georgia and the upcoming birth of her first baby. I can't wait to see pictures!
Lemon Cupcakes with Lemon Glaze
Bright, sunny lemon cupcakes drizzled with a sweet lemon glaze.
Ingredients:
Cupcakes:
1 1/2 cups all-purpose flour
1 teaspoon baking powder
1/2 teaspoon kosher salt
1/2 cup (1 stick) unsalted butter, at room-temperature
1 cup granulated sugar
2 eggs
zest 2 lemons (about 1 1/2 tablespoons)
1 teaspoon vanilla extract
1/2 cup buttermilk
Glaze:
1 cup powdered sugar
2 teaspoons lemon zest
4 tablespoons lemon juice
Directions:
Preheat oven to 350 degrees F. Line a 12-cup muffin tin with liners.
In a small bowl, add flour, baking powder, and salt. Whisk to combine. Set aside.
In the bowl of a stand mixer attached with the whisk attachment, cream butter and sugar until light and fluffy, about 3 minutes. Scrape down the sides of the bowl.
Add eggs, lemon zest, and vanilla. Beat until smooth, scraping down the sides of the bowl as needed.
With the mixer on low, add the flour mixture to the wet ingredients in 2 additions, alternating and ending with the buttermilk. Scrape down the sides of the bowl after each addition. Beat until just combined (do not over mix).
Add 2 tablespoons of batter to each tin. Bake for 20-22 minutes, or a toothpick inserted in the center comes out clean. Allow the cupcakes to cool in the tin for 5 minutes. Place a wire rack on top of a piece of parchment or wax paper. Transfer the cupcakes to the wire rack to cool completely.
To make the glaze, add powdered sugar, lemon zest, and lemon juice to a small bowl. Whisk until the mixture is smooth. Drizzle the glaze evenly over the warm cupcakes, allowing the glaze to soak into each cupcake slightly.
All images and text ©
.
Whipping up one of my recipes? I wanna know about it! Snap a photo and tag your post with #onesweetmess on Twitter or Instagram. Seeing your creations come to life makes my day!
Check out the other Think Pink recipes: