Peanut Butter Oat Balls
A deliciously sweet combination of peanut butter, oats, honey, and mini chocolate chips.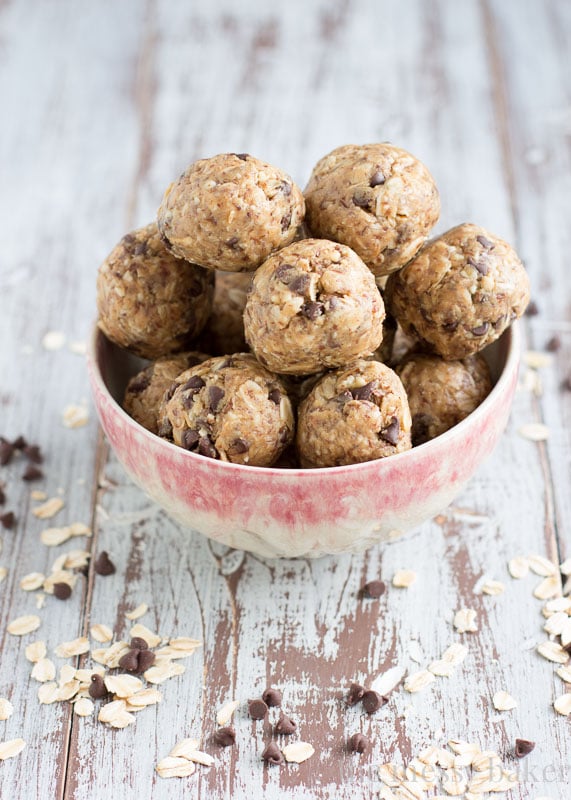 This recipe was a happy accident. I started off making one thing and ended up not having all of the ingredients (typical), so I fudged it and made something happen anyway.
Who knew it would turn out so delicious. Sometimes happy accidents end up tasting amazing. I wasn't going to share this recipe, but, since I journal every single recipe I create (it's the blogger in me), I knew I couldn't keep this one a secret.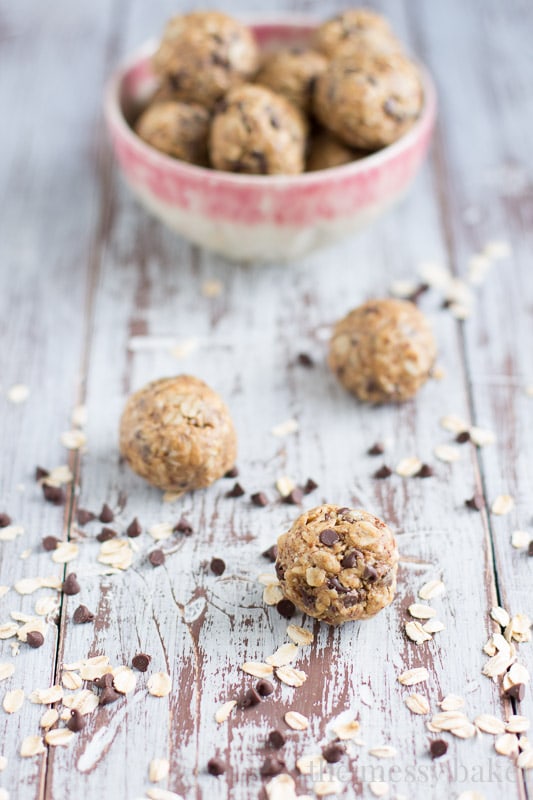 These little balls may be healthy, but they sure don't taste healthy. They remind me of candy…specifically, a Reese's peanut butter cup, only in ball form.
The balls are a mixture of oats, peanut butter, flax seed meal, honey, vanilla extract, and mini chocolate chips. Simple ingredients. One delicious–and healthy–treat.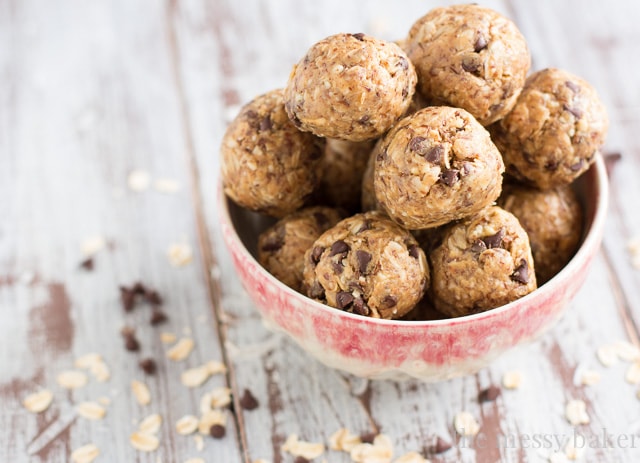 There's no need to set aside a ton of time for this recipe. One rubber spatula and one bowl is all you need. Everything gets plopped in the bowl and stirred together. Give the mixture a roll in the palm of your hand, and you have yourself a cookie sheet full of peanut butter oat balls.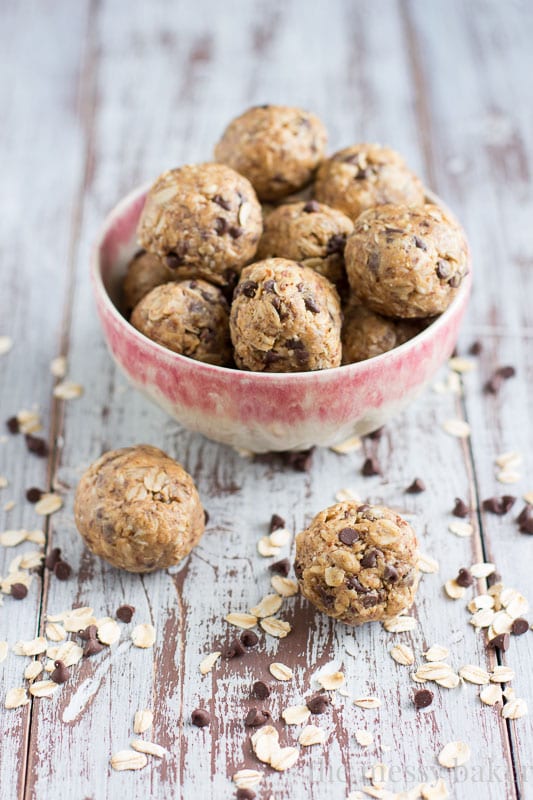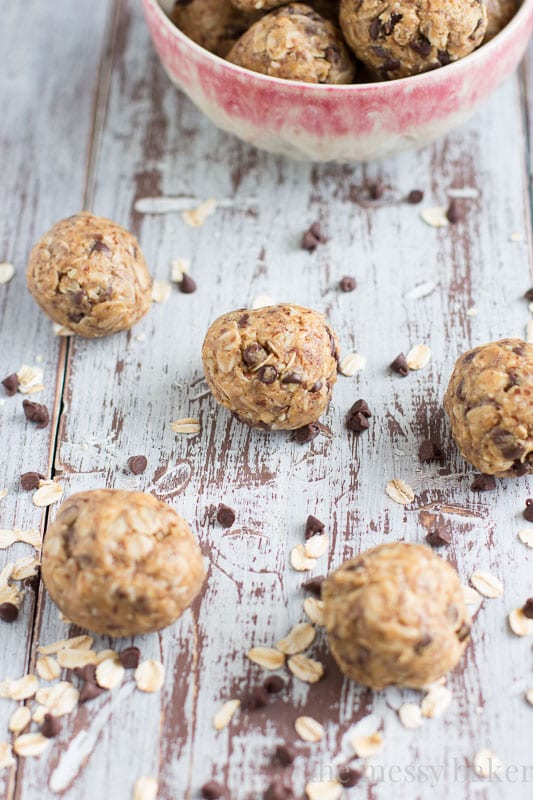 From start to finish, this recipe took me 8 minutes to complete. Store the balls in the refrigerator until you're ready to eat.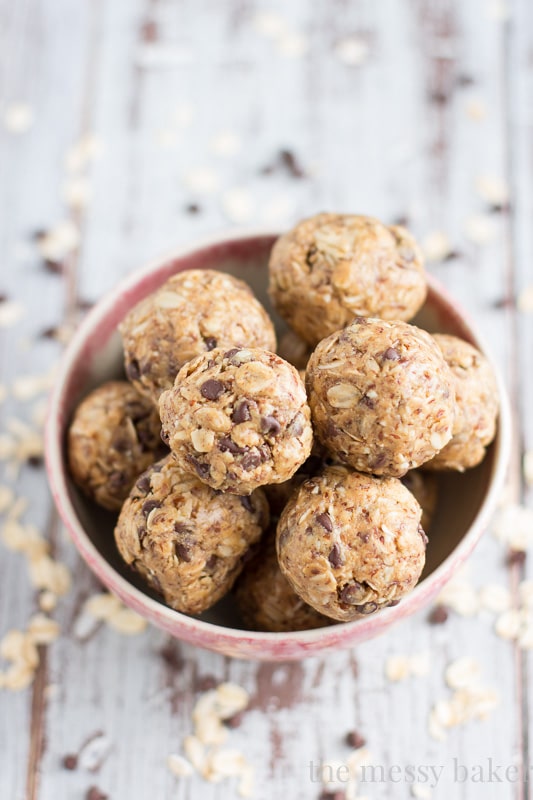 I like to call these balls a fake out snack. You're body is getting the nutrients it needs, but all your mouth tastes is sweet, peanut buttery deliciousness. Everyone's happy.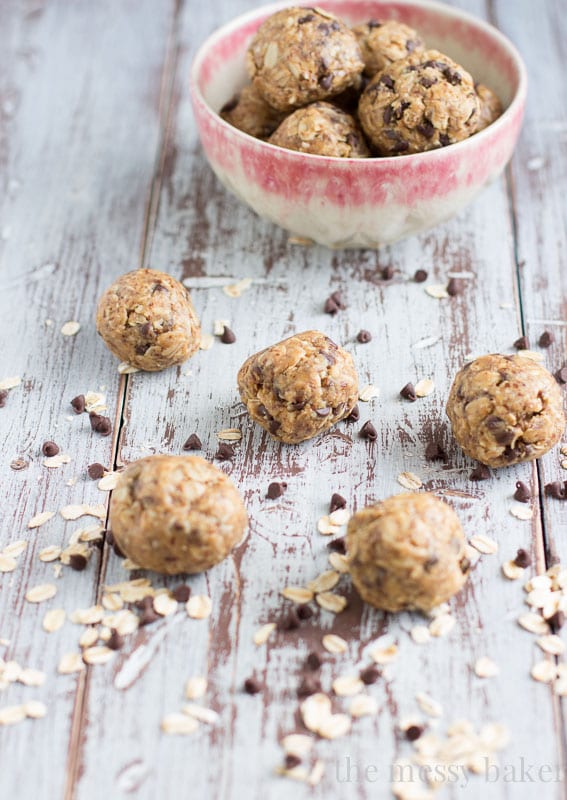 Snack away, my friends!
Peanut Butter Oat Balls
A deliciously sweet combination of peanut butter, oats, honey, and mini chocolate chips
Ingredients:
1 1/2 cups old-fashioned oats
1/2 cup flax seed meal
1/2 cup mini chocolate chips
1 cup creamy peanut butter
1/4 cup honey
1/2 teaspoon vanilla extract
Directions:
Add oats, flax seed meal, and mini chocolate chips to a large bowl. Stir to combine.
Add peanut butter, honey, and vanilla extract. Using a wooden soon or rubber spatula, stir until thoroughly combined. The mixture will be very thick.
Shape the mixture into tablespoon-sized balls. Transfer the balls to an airtight container, separating each layer with wax paper. Store in the refrigerator until ready to eat.
All images and text ©
.
Whipping up one of my recipes? I wanna know about it! Snap a photo and tag your post with #onesweetmess on Twitter or Instagram. Seeing your creations come to life makes my day!