Toasted Almond & Cherry Ice Cream ~ #IceCreamWeek
Sweet, creamy cherry ice cream loaded with plump black cherries and toasted almonds.
Welcome to Day 6, the final day of Ice Cream Week 2014! This year the event is hosted by Kim of Cravings of a Lunatic and Susan of The Girl in the Little Red Kitchen. We have teamed up with 25 amazing bloggers to bring you ice cream treats all week long. I hope you all threw out the scales this week. Better not to look!
I've been a cherry junkie this summer. Bag after bag of sweet, ripe cherries are no match for this cherry lover. I was able to spare a few for this toasted almond & cherry ice cream.
You're welcome.
There's nothing better than a big bowl of homemade ice cream. Not only is it rewarding, but it tastes so much better than anything you'll find in the store.
The thing I love most about making ice cream at home is that I'm in complete and total control. I decide what ingredients I mix into each batch, and I'm able to seek out the freshest ingredients for each batch of ice cream that I produce.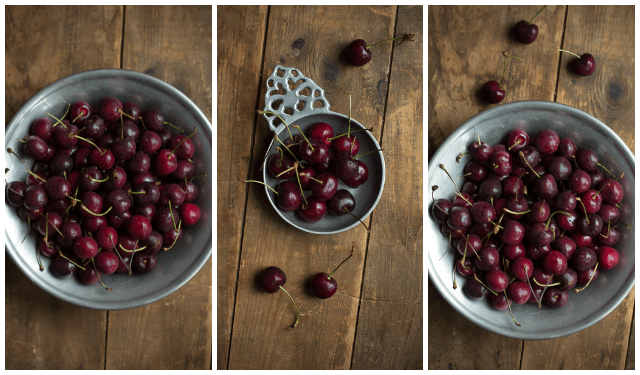 For this batch, I hand picked and pitted more than my fair share of black cherries. Worth every stained fingernail.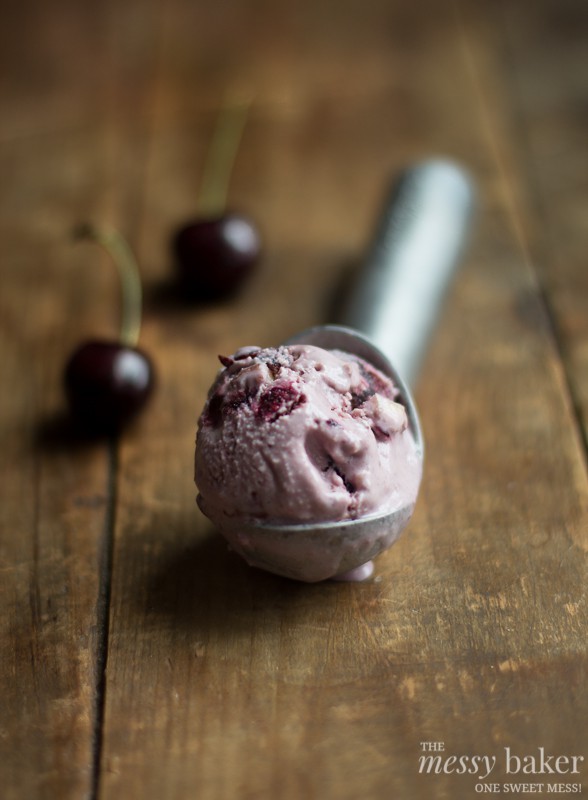 This toasted almond & cherry ice cream has quickly become a favorite of mine. The base of this ice cream is made with 2 cups of sweet pitted cherries that get cooked down into a thick syrup and blended with the vanilla ice cream base. I added a touch of almond extract to enhance the natural flavor of the cherries and stirred in some toasted almonds because…yum!
If you really want to make this ice cream special, you can stir in some chopped dark chocolate.
I'm not ashamed to admit that I ate the entire quart of this creamy ice cream all by my lonesome.
Get your scoop ready!
Our sponsors for the event have provided us with some great prizes. A huge thanks to Cake Boss,Anolon, Microplane, WÜSTHOF, Page Street Publishing andQuarry Spoon. Kim of Cravings of a Lunatic and Susan of The Girl in the Little Red Kitchen have tossed in a bonus prize of a Cuisinart Ice Cream Maker because they think everyone should own one!
Here's what is up for grabs (one winner takes all):
Toasted Almond & Cherry Ice Cream
Yield: 1 quart
Prep Time: 8 hours
Cook Time: 15 minutes
Total Time: 8 hours 15 minutes
Ingredients:
Cherries:
2 cups pitted cherries
1/4 cup granulated sugar
Ice Cream:
1 cup whole milk
1/2 cup granulated sugar
2 cups heavy cream
5 egg yolks
1 and 1/2 teaspoons vanilla paste (or extract)
1/8 teaspoon almond extract
1 cup cherries, pitted and roughly chopped
3/4 cup toasted almonds, chopped
Directions:
Cherries: Add cherries and sugar to a saucepan. Bring the mixture to a simmer over medium-low heat. Simmer for 10-12 minutes until the mixture thickens slightly and the cherries become tender.
Ice Cream:
In a large bowl, add 1 cup of heavy cream and place a mesh strainer on top.
In a medium bowl, add the egg yolks. Whisk to combine.
Heat the milk, sugar, and remaining cup of heavy cream in a medium saucepan over medium-low heat just until the mixture is hot to the touch (do not boil).
Slowly pour the heated milk mixture into the egg yolks, whisking constantly. Add the egg mixture back to the saucepan and cook over medium heat, whisking constantly until the mixture thickens, about 4 minutes. Pour the mixture through the strainer and stir into the cream. Stir in the vanilla and almond extract. Add the mixture to the blender with the cherry syrup. Pulse until smooth. Place the mixture in an airtight container and chill completely before churning, at least 8 hours.
When the mixture is completely chilled, place it in your ice cream maker and churn according to the manufacturer's instructions. When the ice cream is finished churning, stir in the chopped cherries and toasted almonds with a rubber spatula. Place ice cream in an airtight container and freeze.
If you make one of my recipes, I want to know! Snap a photo and hashtag it #OneSweetMess.
Be sure to visit all of today's Ice Cream Week Participants:
Oreo Ice Cream Cake by Cravings of a Lunatic
Coffee and Donut Sundae by The Girl in the Little Red Kitchen
Pinot Noir Ice Cream by The Redhead Baker
Triple Peach Ice Cream by Cookistry
Root Beer Float by My Catholic Kitchen
Black Forest Ice Cream Shots by The Life and Loves of Grumpy's Honeybunch
Ice Cream Sundae with Homemade Hot Fudge by Hezzi-D's Books and Cooks
Key Lime Pie Milkshake by Love and Confections
Caramel Toffee Apple Parfaits by Farm Fresh Feasts
Orange Creamsicle Float by Noshing with the Nolands
Gluten Free Baked Alaska by Gluten Free Crumbley
Toasted Almond and Cherry Ice Cream by The Messy Baker
Gluten Free Toasted Marshmallow Brownie Batter Ice Cream by Cupcakes & Kale Chips
Coconut Ice Cream Snowballs by Mother Would Know
No Churn Low Carb Zesty Citrus Ice Cream by Yours and Mine are Ours
Pina Colada Ice Cream with Dark Chocolate Magic Shell by Quarter Life (Crisis) Cuisine
Disclosure: This event was sponsored by several vendors. All opinions are my own. 
16 Responses to "Toasted Almond & Cherry Ice Cream ~ #IceCreamWeek"

Trackbacks/Pingbacks

Leave some love. It makes me happy!