Chocolate Cherry Coke Cake
If there was one thing that I absolutely couldn't live without, it would have to be cake. Life would be drab and boring without its soft, tender layers and creamy frosting. I love that cake is so versatile. It's like a blank painter's canvas, begging to be transformed and have its tender layers painted with exotic flavors.
This month, An and Lora Challenged the #BundtAMonth group to use cherries. I love cherries! You know spring has arrived when the beautiful scarlet orbs line the grocery store shelves. Brilliant reds, pale pinks, and black gems. Mmm, I love them all.
My aunt requests a cherry cake every year for her birthday in March. I don't even bother to ask her what type of cake she wants to make her because it's always the same answer–cherry! So, for my aunt's birthday, and this month's cherry themed #BundtAMonth, I'm making a chocolate cherry coke cake. Yum, right? My aunt is one lucky lady.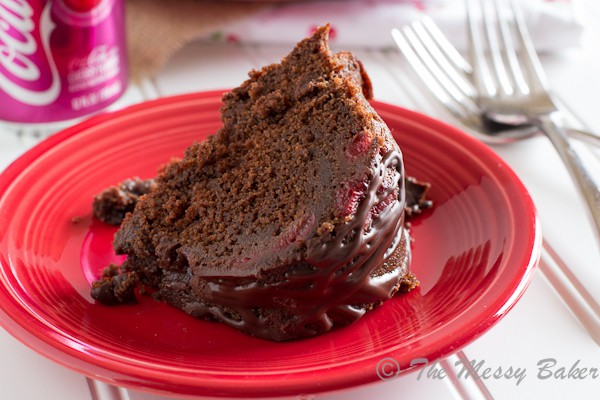 This was my very first attempt at a cake that was completely developed by me. Math was involved… A heck of a lot of math. So much math that I had a headache after adding, subtracting, dividing, and multiplying. I'm no math wiz (hence the degree in English), but I pulled through. Tah dah!
This cake is fudgy and perfectly moist. It's sweet, but not too sweet. Each bite includes a burst of cherries that pairs perfectly with the rich chocolate. My aunt gobbled it up!
The chocolate ganache is smooth and velvety. The cake is good with or without the ganache, but who can resist almond spiked ganache?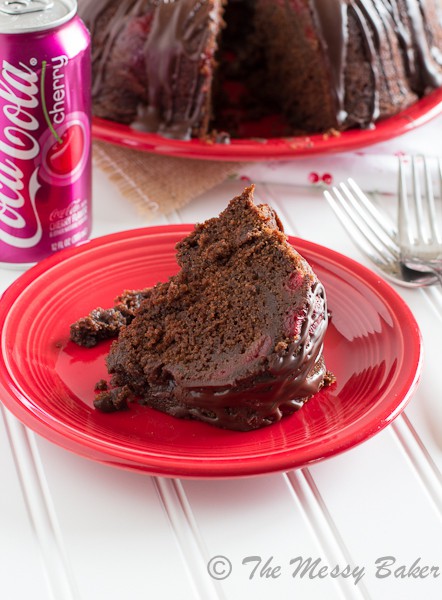 Enjoy!
Chocolate Cherry Coke Cake
Recipe Type
:
Cake, Chocolate
Author:
Prep time:
Cook time:
Total time:
Ingredients
Cake
1 3/4 cups granulated sugar
13 tbs. unsalted butter, at room-temperature
1 tsp. vanilla extract
1/2 tsp. almond extract
3 eggs, at room-temperature
1 cup cherry coke
1/2 cup boiling water
1/2 cup cocoa powder
2 3/4 cups all-purpose flour
1/2 tsp. baking powder
1/2 tsp. baking soda
1/2 tsp. kosher salt
1-21 oz. can cherry pie filling
Ganache Drizzle
1 cup heavy cream
1 cup dark chocolate
1/4 tsp. almond extract
Instructions
Cake
Preheat the oven to 350 degrees F. Liberally grease and flour a bundt pan.
In a medium-sized bowl, whisk together flour, baking soda, baking powder, and salt. Set aside.
In a small bowl, whisk together boiling water and cocoa powder until smooth (the mixture will be thick). Gently whisk in the cherry coke until just combined. Set aside.
In the bowl of your stand mixer attached with the paddle, cream butter and sugar until light and fluffy, about 5 minutes. Add the eggs one at a time, mixing well after each addition and scrapping down the sides of the bowl. Whisk in vanilla and almond extracts.
Turn the mixture down to low and slowly add the flour mixture in three batches, alternating and ending with the cherry coke mixture, scraping down the bowl after each addition. Whip the batter until smooth. Fold in the cherry pie filling.
Transfer the batter to the bundt pan. Bake for 1 hour, or until a toothpick inserted in the center comes out clean. Cool on a wire rack in the pan for 30 minutes; remove from pan and allow to cool completely before drizzling on the ganache.
Ganache
Add heavy cream to a small saucepan. Heat the cream over medium-low heat and bring it to a boil. Take the cream off of the heat once it comes to a boil and add the chocolate. Whisk until smooth, then whisk in the almond extract. Drizzle the ganache over the cooled cake.
43 Responses to "Chocolate Cherry Coke Cake"

Trackbacks/Pingbacks

Leave some love. It makes me happy!