Sweet Potato Bourbon Bundt Cake
Welcome to another #BundtAMonth series. This week we were encouraged to use booze in our cakes. Booze!
I've been known to throw back a cocktail or two (or three), so when I heard that December's bundt theme was "Boozy Cakes," I did a little dance. I love incorporating alcohol into my baked goods. Besides, who doesn't enjoy a little cake with their booze? Wink, wink.
The idea for this cake derived from my grandfather's love for sweet potato pie. Every year I ask him what he'd like to see on the dessert table for Thanksgiving, and every year his answer is always the same, "I wouldn't mind a sweet potato pie." I don't even know why I continue to ask. I didn't make  him a pie this year, but I sure did fancy up a sweet potato bundt cake for him.
Since this month's theme is "Boozy Cakes," I decided to give my sweet potato bundt a little bourbon buzz. The bourbon is not shy in this cake, but it's not overwhelming either. It's the perfect balance of earthy sweet potato and warm, spicy bourbon.
I'm going to let the cake speak for itself. Drum roll, please!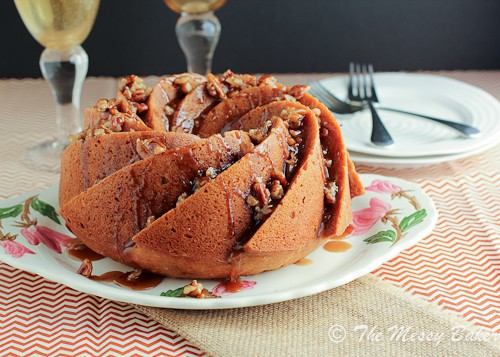 Isn't she a beauty?
I swear the cake knew she was the best dessert at the table. She had this haughty attitude going. "Hmph, you other desserts have nothing on me. I mean, just look at me with my gooey, sweet maple bourbon glaze and my dense, moist interior. I'm the star of Thanksgiving!"
I gotta hand it to her; she was right. Everyone adored this cake. There were oohs and aahs echoed throughout the room as everyone passed the cake dishes around. My grandmother even tried stealing a sliver before dinner, but I shot her down.
I was nervous as I handed my grandfather the first slice of cake, then I proceeded to stare at him intently, waiting for him to take the first bite and for his approval. I received a thumbs up, which is code for yum. I don't think he'll be missing the sweet potato pie any time soon.
This cake is my new favorite cake. It's moist, slightly sweet, but not overly sweet. The sticky glaze soaks into the cake, creating a crisp, sugary crust. The toasted pecans add a warm crunch, and the bourbon kisses your lips with its warm, boozy tingle.
Have a boozy holiday…responsibly, that is.
Sweet Potato Bourbon Bundt Cake
Author:
Prep time:
Cook time:
Total time:
Ingredients
Cake:
4 large eggs
2 cups granulated sugar
1/2 cup canola oil
1/2 cup unsalted butter, melted
2 tsp. vanilla extract
2 cups pureed sweet potatoes
3 cups all-purpose flour
1 1/2 tsp. cinnamon
1/2 tsp. ground nutmeg
1 tsp. baking powder
1 tsp. baking soda
1/2 tsp. kosher salt
1/2 cup bourbon
1/2 cup buttermilk
Glaze:
1/2 cup brown sugar
1/4 cup unsalted butter
2 tbs. maple syrup
1/2 cup toasted pecans, chopped
3 tbs. bourbon
Instructions
Preheat the oven to 350 degrees F. Generously grease and flour a bundt pan.
In the bowl of a stand mixer, beat eggs and sugar at high speed (speed 6 on my Kitchen-Aid) for 3 minutes or until thick and pale. Add oil, melted butter, and vanilla, beating at a low speed until just combined. Add the sweet potato puree, beating until just combined and stopping to scrape down the sides of the bowl.
In a separate bowl, add flour, cinnamon, nutmeg, baking powder, baking soda, and kosher salt. Whisk to combine.
In a measuring cup, whisk together the bourbon and buttermilk.
Gradually add the flour mixture to the egg mixture, alternating with the buttermilk mixture. Beat at a low speed after each addition until just combined.
Pour the batter into the prepared bundt pan. Bake for 50-60 minutes, or until a toothpick inserted into the center comes out clean. Cool in pan on a wire rack for 30 minutes. Remove from pan and allow to cool fully on the wire rack.
Glaze: While the cake is baking, bring brown sugar, butter, and maple syrup to a boil in a small saucepan over medium heat. Boil for 2 minutes, then add the pecans. Remove from heat and stir in the bourbon.
Drizzle the glaze slowly over the warm bundt cake, allowing it to soak into the cake.
36 Responses to "Sweet Potato Bourbon Bundt Cake"

Trackbacks/Pingbacks

Leave some love. It makes me happy!