Maple Pecan Bundt Cake
Well, hello November. It's so nice to see you, even if you arrived sooner than expected. Thanksgiving is only 15 days away. Fifteen! Wasn't it just August and warm? Now it's blustery and cold and almost mitten season.
I have a very special treat for you guys today. My friend An from Bakerstreet and Lora from Cake Duchess invited me to participate in #BundtAMonth. What's #BundtAMonth? It's an entire month dedicated to bundt cakes, of course. An and Lora pick an ingredient and announce it the first week of every month. If you're a bundt lover, all you have to do is use the ingredient to create a delicious bundt, mini or large, and link it up to An and Lora's blogs throughout the month. Fun, right? A month that celebrates cake- I don't mind if I do.
This month's theme is Spicy November. I chose apple pie spice and made a maple pecan bundt cake with a maple and apple pie spice glaze.
This cake has everything. Moist? Check. Filling? Check. Maple and apple pie spice glaze? Check and check. I made this cake for my mom's birthday and it was devoured by her party guests.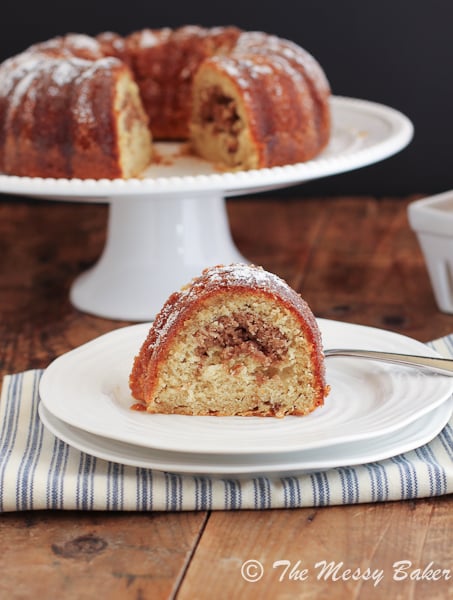 What makes this cake so special is the sweet, nutty filling. Pecans, brown sugar, maple, and butter create a dense filling that livens up the cake.
Enjoy!
Maple Pecan Bundt
Recipe Type
:
cake, dessert
Cuisine:
Adapted from Nigella Lawson
Author:
Prep time:
Cook time:
Total time:
Ingredients
Pecan Filling:
1/2 cup all-purpose flour
2 tbs. unsalted butter, at room temperature
1 tsp. apple pie spice
1 1/2 cups pecans, toasted and chopped
1/2 cup maple syrup
Cake:
2 cups all-purpose flour
1 tsp. baking powder
1 tsp. baking soda
1/2 tsp. apple pie spice
9 tbs. unsalted butter, at room temperature
3/4 cup sugar
2 eggs
1 cup sour cream
Glaze:
1/2 cup maple syrup
1 tbs. fresh squeezed orange juice
1/4 cup powdered sugar
1/4 tsp. apple pie spice
Instructions
Preheat oven to 350 degrees F. Grease and flour your bundt pan.
Pecan Filling:
In a small bowl, add flour and butter. Using a pastry cutter or fork, cut the butter into the flour until coarse crumbs form. Mix in apple pie spice, pecans, and maple syrup until well combined. The mixture will be thick and sticky. Set aside.
Cake:
In a large bowl, add flour, baking powder, baking soda, and apple pie spice. Whisk to combine.
In the bowl of an electric mixer, cream butter and sugar until fluffy and pale in color.
Beat in eggs one at a time, mixing well after each addition.
Add the flour and beat until just combined.
Beat in the sour cream. Scrap down the sides of the bowl and make sure the mixture is well mixed. The batter will be thick.
Spoon a little more than half the batter into the prepared bundt pan. Take your spatula and create a shallow well, causing some of the batter to go up the sides of the pan to create a rim. This well will house the pecan filling and prevent it from leaking and sticking to the sides of the pan.
Spoon the maple filling carefully into the well , then cover the filling with the remaining batter. Smooth the top and bake for 35-40. Test the cake with a toothpick where it hits the cake and not the filling (as the filling will stick to your tester).
Let the cake cool on a wire rack for 15-30 minutes before removing it from the pan.
Glaze:
In a small bowl, whisk together maple syrup, orange juice, powdered sugar, and apple pie spice.
Drizzle the warm cake with the maple glaze.
39 Responses to "Maple Pecan Bundt Cake"

Trackbacks/Pingbacks

Leave some love. It makes me happy!